Colorado Rockies: Six Things to be Thankful for Today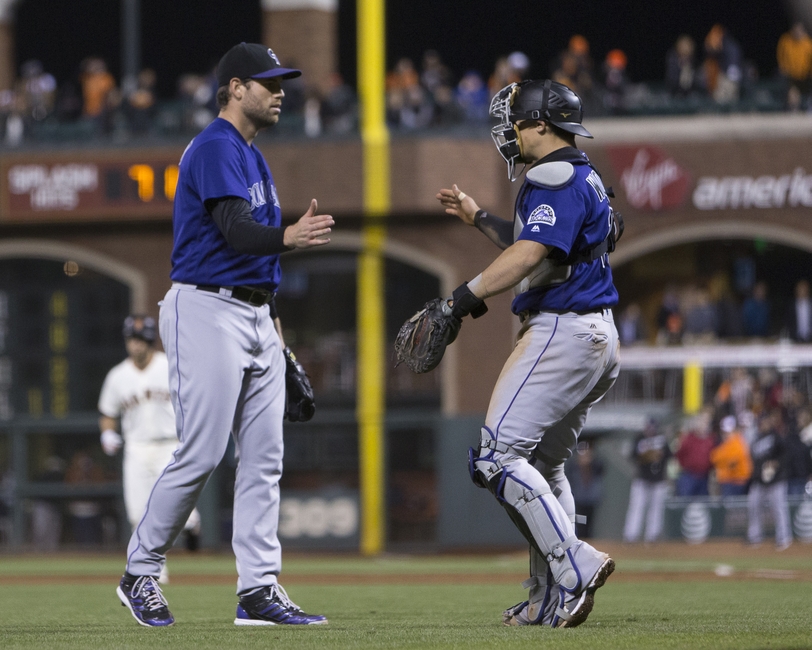 Today is a day around the United States set aside to give thanks. We here at Rox Pile are certainly thankful for many things when it comes to the Colorado Rockies. Here are just a few of those things.
#NolanBeingNolan
Yes, he finished fifth in the most recent National League MVP voting race, but there are few players in Major League Baseball today who can compare to Nolan Arenado when it comes to offense and defense. This year not only brought a Silver Slugger for Arenado, but also his fourth consecutive Gold Glove.
We're thankful to have him on the hot corner for plays like the ones you'll see below.
Coors Field
Sure, go ahead and talk about the thin air and handicap some of Arenado's MVP buzz because of playing there, but we're counting the days already until we're back at 20th and Blake. If the baseball can match the sunsets this season, it's going to be an amazing year.
Filthy. Nasty. Unhittable at times. Just ask the San Diego Padres, who struck out 16 times against Gray in an 8-0 Colorado win on September 17.
He struck out eight or more in 12 of his 29 starts last season. When Gray's slider is on, it's going to be a good night for the Rockies. We're expecting plenty of those in 2017.
Speaking of sliders, the Rockies will have, barring unforeseen circumstances, Ottavino's services for a full year for the first time since the 2014 season.
Last year, he set a new Colorado record with 31.1 innings of scoreless relief spread out over 37 appearances. There's plenty of talk about the Rockies chasing a big-name closer like Denver-area native Mark Melancon. However, a full season of Ottavino and his slider will certainly make the end of the Colorado bullpen stronger, whether the Rockies land a big name in free agency or not.
Colorado's forgotten bullpen man is Diaz, who flashed his potential at the end of the 2015 season before suffering a season-ending injury prior to the start of the 2016 campaign. His return will bolster a bullpen looking for someone to be dominant in the late innings.
The future
David Dahl. Trevor Story. Tony Wolters. Tom Murphy. Jon Gray. Tyler Anderson. They're all 26 years old or younger. And they're not the only ones on the roster who are coming into their prime. Tyler Chatwood, Raimel Tapia, Jeff Hoffman and Arenado fall into that grouping as well.
Those names right there give a lot of reason for excitement in the 2017 season and beyond for the Rockies. Add Carlos Gonzalez, DJ LeMahieu, and Charlie Blackmon and you can see why the immediate and near-term future looks very bright for the Rockies.
This article originally appeared on