Colorado Rockies Rumors: Team Interested in Extending Carlos Gonzalez?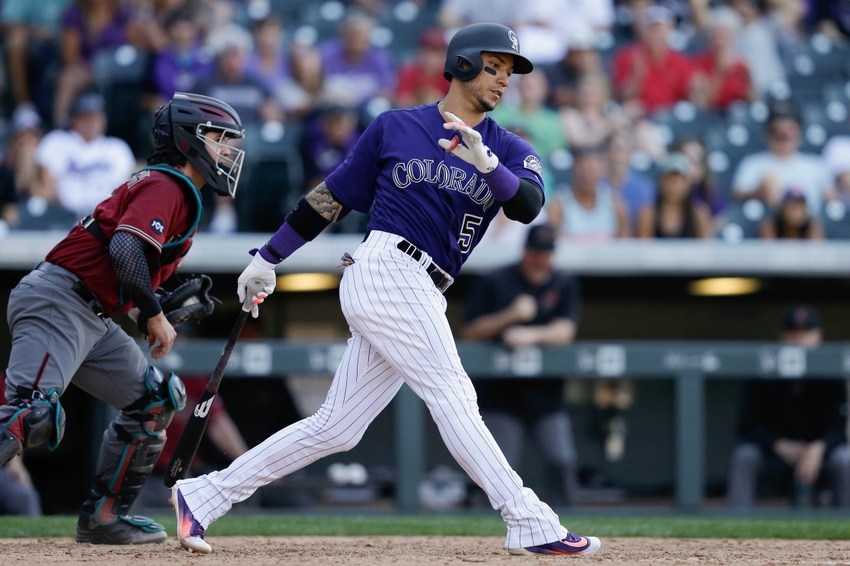 Despite being a rumored trade candidate for years, the Colorado Rockies could reportedly still extend Carlos Gonzalez.
A little more than eight years ago, the Colorado Rockies acquired Carlos Gonzalez from the Oakland Athletics as a big part of the Matt Holliday trade. Gonzalez has since gone on to have an excellent career.
Gonzalez's breakout year came in 2010, when he hit .336/.376/.598 with 34 home runs and 117 RBI. His .336 batting average and 197 hits led the National League. In the subsequent offseason, he was rewarded with a relatively team-friendly seven-year, $80 million extension.
Though injuries have been a factor in the years since, Gonzalez has continued to produce at an All-Star level. Between 2011-13, he hit .300 and averaged roughly 25 home runs per season. Though he had a down year in 2014, he has performed very well in each of the past two seasons. He hit 40 home runs in 2015, and he drove in 100 runs for the second time in his career last year.
For quite a while now, Gonzalez's name has been tossed around in trade rumors. With only one year remaining on his contract, it was perfectly reasonable to think that this winter might finally be the time. However, Gonzalez has reportedly indicated to Venezuelan journalist Wilmer Reina that an extension remains a possibility.
CarGo sobre su contrato "Ellos (#Rockies) quieren una extensión, pero hay muchas cosas que hay que negociar para que se cumpla"

— Wilmer Reina (@WilmerReina) November 22, 2016
When translated, the tweet explains that although there is interest in an extension, "there are many things that need to be negotiated." Further complicating matters is the fact that the Rockies' outfield is rather crowded.
Gerardo Parra will be entering the second year of a three-year, $27.5 million deal. Rookie David Dahl put up a very impressive showing through 63 games last year. Center fielder Charlie Blackmon has been rock-solid for several years now and just won his first Silver Slugger award. Prospect Raimel Tapia, who made his MLB debut last season, has torn it up in the minor leagues.
At first glance, it is indeed tough to see how there will be enough room for everyone. With Mark Reynolds now a free agent, however, the Rockies do seem to have an opening at first base. If Gonzalez stays, putting him at first may at least be an option worth exploring. Gonzalez and Nolan Arenado could perhaps form one of the better corner infield combos in the league.
More from Call to the Pen
Though Colorado hasn't reached the postseason since 2009, last season's team showed signs of improvement. In an extraordinarily talented NL West, the Rockies finished in third place for the first time since 2010. If the Rockies believe that they can compete next year and beyond, extending Gonzalez does make sense.
This article originally appeared on