Colorado Rockies Rumors: Cubs Looking at Charlie Blackmon?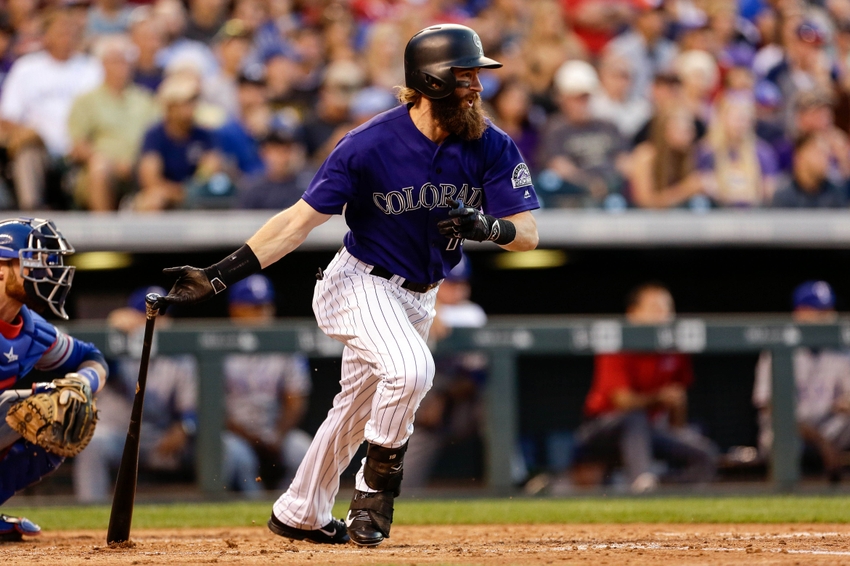 Another week brings another team potentially interested in Colorado Rockies outfielder Charlie Blackmon becoming a part of their team.
According to reports out of Chicago, the defending World Champion Cubs are interested in Blackmon taking over in center field at Wrigley Field. With the potential loss of Dexter Fowler (a former Rockies outfielder) to free agency, the Cubs are said to be looking at Blackmon to take over not only in the outfield but at the top of the lineup as well.
It's not the first time that we've heard about the Cubs (or other teams) expressing interest in Blackmon. Last season, Blackmon was linked to the Washington Nationals in a potential trade before last season's trading deadline. This offseason, both the Cubs and their arch-rival, the St. Louis Cardinals, have floated the idea of Chuck Nazty playing center field for them.
The issue, however, with the latest rumor is what would the Cubs send to the Rockies in return? Colorado's biggest needs are at first base and in the bullpen. Both the Cubs and Rockies are in a "win now" mode and have their eyes set on the 2017 postseason rather than building for the future. Unless the Cubs (or any other team) would have someone ready to step in and make an impact in either of those positions, the Rockies probably won't be listening.
We detailed our thoughts about the potential of Blackmon being traded to any team in this article. Spoiler alert: We don't think it's a good idea for the Rockies.
While the Rockies outfield may be crowded with Blackmon, Carlos Gonzalez, David Dahl and Gerardo Parra, as well as prospects Raimel Tapia and Jordan Patterson who played for Colorado in September, moving Blackmon hurts the Rockies in terms of speed as well as a potent bat at the top of the lineup.
While the rumors continue to swirl (and will continue to swirl) around Blackmon, it's good to see that Chuck Nazty is taking it all in stride. After all, how stressed can you be when you're enjoying part of the holidays at Waffle House?
This article originally appeared on