Colorado Rockies Rumors: 4 Bold Winter Meetings Predictions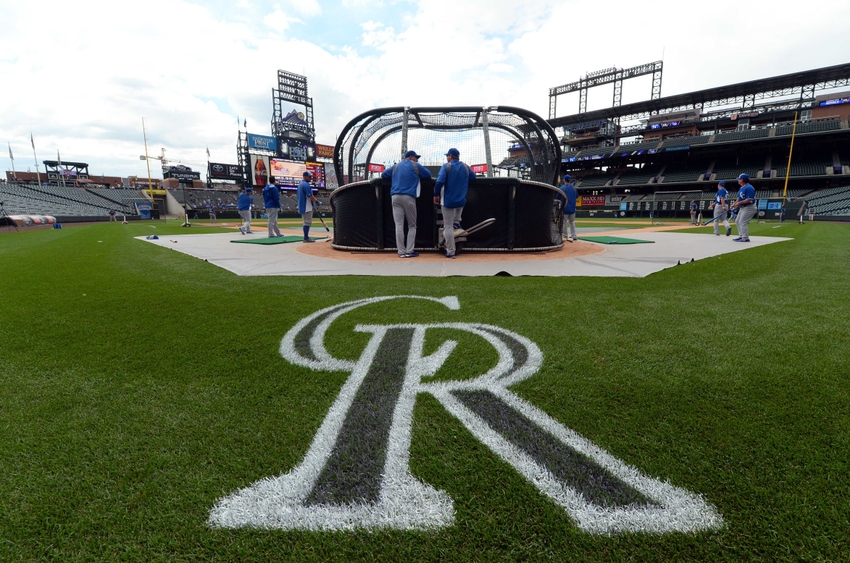 With a new Collective Bargaining Agreement in place and plenty of rumors flying, baseball's winter meetings are officially underway at the Gaylord National Resort & Convention Center. For a few days, this massive hotel just south of our nation's capital will serve as the center of the universe for all things baseball, including the near- and possibly long-term future of the Colorado Rockies.
Representatives of the Rockies will join their colleagues from 29 other Major League Baseball teams for the meetings. Of course, the biggest question is … what exactly will happen during the gathering?
There are all sorts of theories and rumors out there when it comes to the Rockies. Of course, their biggest need is the bullpen and first base. There are plenty of options out there for Colorado … but which ones will they pursue and which free agents will be a part of the Colorado roster for the 2017 season?
By not offering contracts to Matt Carasiti and Stephen Cardullo, the Rockies currently have 37 players on their 40-man roster. That leaves the team room to maneuver during the winter meetings if they so choose.
But will they? That's where the following four bold predictions come in. While we may not have the inside track on a national scale that a Chris Cotillo might (which is exactly why he asked him for his expert opinion on the winter meetings in this exclusive podcast), we are ready to go out on a limb with our predictions of what might happen with the Rockies in the upcoming week.
It's going to be a fun week ahead full of surprising moves and signings. With that in mind, let's dive into our first bold prediction…
Prediction #1: Will Trumbo finally come to Denver?
Jon Morosi of MLB Network caused a few hearts around the Denver region to beat a little faster on Saturday when he tweeted out that the Rockies were still interested in Mark Trumbo for their opening at first base.
We've made the case for and against Trumbo as a member of the Colorado Rockies in this article. Boiling it all down, the Rockies would be signing a right-handed slugger who could potentially mash numerous tape measure homers at Coors Field. They would, however, be inking a massive long-term contract while giving up the 11th overall pick in next year's draft. That's the highest possible draft pick that could be surrendered as picks 1 though 10 are protected.
Will the Rockies pay a lot of money and sacrifice a high pick to land Trumbo? We're going to predict that they won't. While the Rockies might be in a "win now" frame of mind, signing someone like Trumbo for such a high price and a pick's sacrifice isn't something that falls into Colorado's ways of doing things in recent years.
There are other options at first base for the Rockies so we predict the team will take a safer, cheaper, shorter-term option to fill the position and still have the "win now" mentality.
Want your voice heard? Join the Rox Pile team!
Signing a slugger to a one-year contract to help the Rockies win in 2017 while letting their young talent like Jordan Patterson or even Ryan McMahon develop makes sense. And that's why we're boldly predicting Trumbo will not be on the Colorado roster next season.
Prediction #2: So Who Will Be at First Base? Here's our guess.
We've said it before and we'll say it again … we think the Rockies will sign Mark Reynolds to a one-year contract and bring him back for his second season in Colorado.
Reynolds makes sense for the Rockies at the position. We outlined a number of reasons for that in this article. He's strong on defense and had a solid season last year in Denver despite numerous injuries in August and beyond.
He's a less expensive option and the Rockies can sign him to a short contract. He also brings a presence to the clubhouse that, by all observations last season, was positive. Reynolds can serve as a mentor to the younger players (like Patterson or McMahon) who could take his place in 2018.
Reynolds can be a presence at the plate and also not a liability in the field. The same can't be said for Chris Carter, who posted negative metrics at first base last season.
Plenty of Rockies fans would love to see a reunion with Matt Holliday to fill the first base void, but watching Holliday man the position on a daily basis after never playing it for more than 10 games in his career is a roll of the dice. Taking chances at first base isn't something a team hoping to contend for the postseason should be doing. UPDATE: Holliday is off the board after signing with the New York Yankees.
Yes, our second bold prediction is that the Rockies will re-sign Reynolds to play first base.
So we've solved the first base problems, but what about the bullpen? Let's dive into our third bold projection…
Prediction #3: Will the Rockies Land a Big-Name Closer?
OK, so when we say "Colorado Rockies" and "big-name closer" in the same sentence, we know we're talking about Mark Melancon. The Rockies have indicated no interest in Aroldis Chapman or Kenley Jansen, but have been tied to Melancon on more than one occasion this offseason.
On the surface, it makes sense. The Rockies, according to many people, need a closer. As a side note, I'm not one of those people. I think a full year of a healthy Adam Ottavino is exactly what the Rockies need in a closer role. Melancon, a native of the Denver area, is looking for a home and a nice, big contract. The possibilities are there … but there are a lot of things that would have to go right for the Rockies to land Melancon.
One of the biggest of those things is that Melancon would choose Colorado over the San Francisco Giants or the Washington Nationals. Despite the hometown connection, that's a stretch. The Giants have deep pockets and need to solidify their bullpen and seem to currently be the favorites to land Melancon.
While we wait to see Melancon in the same division, we're not only boldly predicting that Melancon won't choose the Rockies, but he will also sign with the Giants. Colorado fans will see plenty of Melancon next year. It just won't be in purple pinstripes.
So what will the Rockies do at the winter meetings? That's our final bold prediction.
Prediction #4: What the Rockies Will Do at the Meetings
Our fourth and final bold prediction may not be the most popular sentiment out there, but we think that the Colorado Rockies will be somewhat quiet during the winter meetings.
There will be plenty of big contracts and announcements made during the upcoming talks … but we are predicting that none of the eye-popping news will involve Colorado.
That's not to say that the Rockies won't make moves, but would the signing of a Mike Dunn (we talked about him in this article) or Reynolds create that much national excitement? Probably not.
What about the signing of a Brad Ziegler or someone not named Chapman, Jansen or Melancon? Possibly. We talked about what Ziegler or some other names with less buzz might bring to the Rockies in this article.
We also predict several teams will talk to the Rockies about the availability of Charlie Blackmon or Carlos Gonzalez but nothing will happen. After all, Colorado has set itself up for potentially great things during the 2017 season. Taking away Chuck Nazty or CarGo for prospects completely goes against that thought.
One other bonus bold prediction … the Rule 5 draft will be very quiet for the Rockies. Here's why.
It's going to be a fun week ahead with the winter meetings. However, we don't think the Rockies will make as much news as other members of the media do. We'll see just how clear or cloudy our crystal ball is very soon.
This article originally appeared on