Colorado Rockies: Ranking the 40-Man Roster: 36-31
Nolan Lees/FanSided via Rox Pile

Fansided
Our countdown of the Colorado Rockies 40-man roster continues today with an interesting mix of players in various stages of their careers. We start by dissecting a tie in our rankings.
As a reminder, we compiled this list by asking each of our six contributors to Rox Pile to rank each member of Colorado's 40-man roster from 1-40. To reach our final standings, we combined the points to see who fit where. The more points, the lower the ranking.
Number 36 (Tie)
Antonio Senzatela: Right Handed Pitcher Points: 216 Highest Rank: 34 Lowest: 39
We covered Senzatela in more detail a few weeks ago in our Colorado Rockies prospect countdown. While he's never been considered a top prospect by most, Senzatela has produced outstanding numbers at nearly every stop of his career thus far. Since his minor league debut five seasons ago, Senzatela has a 41-19 record, a 2.45 ERA and a 1.06 WHIP across four different levels of play.
So why so low on the list? Well, first off, no one is sure how long Senzatela's arm will hold up. He spent most of the 2016 season on the disabled list after being shut down with shoulder inflammation in June, and while the hope is that he's back to full strength, there's no guarantee Senzatela's shoulder can hold up to the demands of being in a big league rotation.
Even if Senzatela is fully healthy for the entire season, he'll still have a hard time carving out a role on the big league club in 2017. In all likelihood, he'll open the season in Double-A, where Colorado will take things slowly and monitor his workload. If he pitches well, a call-up to Triple-A is certainly possible, but it would probably take a rash of injuries for the Rockies to call up Senzatela anytime soon.
It's hard to put Senzatela high in the 40-man roster ranking for these reasons, but that doesn't mean we're down on him necessarily. He's a young, talented pitcher who probably won't have a large role in Denver this season. However, in a few years, I would expect him to rank higher on this list.
It's fitting then, that he ended up tied in the rankings with another player that could be described in a very similar fashion…
Number 36 (Tie)
Yency Almonte: Right Handed Pitcher Points: 216 Highest Rank: 34 Lowest Rank: 40
To be clear: Almonte and Senzatela finished with the same exact point total from our six-man panel. So even though we're discussing Senzatela 36th and Almonte 35th, as a group, we view the two equally.
Colorado Rockies: Ranking the 40-Man Roster: 37-40
That makes sense, because the two have a lot in common. Both are 22, both started their careers as teenagers, and both reached the highest level of their career when they briefly scratched the surface of Double-A in 2016.
Almonte, however, has the advantage of coming off a healthy, full and successful season. Colorado acquired him from the Chicago White Sox in exchange for relief pitcher Tommy Kahnle during last offseason, and after a moderately strong showing in high A-Ball, Almonte was summoned to Double-A.
While the sample size was admittedly tiny, Almonte pitched well for Hartford. In five starts, he pitched 30 innings and went 3-1 while logging an even 3.00 ERA. Almonte will likely begin 2017 back in Hartford, but if he continues to post the kind of numbers he did last year, he could advance to Triple-A quickly.
But again, much like Senzatela, it's hard to picture a scenario in which Almonte plays a significant role for the Rockies in 2017. Then again, no one knows for sure how injuries and other situations could impact Almonte's arrival time. This time last year, no one was talking about Tyler Anderson as a fixture in the rotation.
Almonte is probably still at least another season away from being ready to contribute at the big league level, but the fact that Colorado felt compelled to add him to the 40-man roster shows that they believe he isn't all that far off from the major leagues.
If Almonte has another strong year in 2017, it's possible we could see him in Denver as soon as this season. However, we probably won't know how good Almonte can be for at least another few years.
Number 34
Sam Moll: Left Handed Pitcher Points: 201 Highest Rank: 31 Lowest Rank: 38
Moll is a 25-year-old lefty reliever out of the state of Tennessee. A third round pick of the Rockies from the University of Memphis in 2013, Moll started six games in his first professional season before being converted into a full-time reliever.
After a slow start to his career that saw him spend two full seasons in Low-A Ball, Moll started figuring things out in 2015. Moll put up good numbers in High-A Modesto before being promoted to Double-A, where he was all but unhittable. When the season ended, the Rockies rewarded Moll with a trip to the prestigious Arizona Fall League.
However, 2016 didn't go nearly as smoothly for Moll. Pitching for Triple-A Albuquerque, his ERA ballooned up to 4.94. Perhaps more worrisome, Moll walked more hitters than ever before (career-high 3.6 BB/9) while simultaneously striking out fewer (career-low 7.4 K/9). That's a bad combination for a pitcher looking to crack the big leagues.
That being said, Moll may have the clearest path to a spot on the big league roster out of anyone in this part of the countdown. The Rockies left-handed relief options are sparse: Mike Dunn and Jake McGee are the only proven later-inning options, and while I personally believe Chris Rusin is underrated, Colorado seems content using him as a long reliever/emergency starter.
Moll has significant right-left splits: RHB hit .320 against him in 2016, but lefties hit just .246. In a best-case scenario, he could become a LOOGY for the Rockies, potentially as soon as this season if he shows improvement in his second stint in Triple-A.
Number 33
Chad Qualls: Right Handed Pitcher Points: 189 Highest Rank: 26 Lowest: 37
Qualls is a unique case, and that uniqueness is reflected in the variance of his rankings from our panel. No player in this section of the countdown received a rank higher than his 26, but multiple voters also had him outside of their top 35.
The entire list so far has been young guys with most of their careers still in front of them. Qualls is decidedly not that. He turns 39 in August, and if he makes the big league roster, it will be his 14th big league season.
Want your voice heard? Join the Rox Pile team!
Qualls' 13th big-league season was not one he'll look back on fondly. He was hit extremely hard in the first half of the year, then missed over three weeks and dropped 16 pounds as he dealt with a nasty stomach illness.
The end result was an ugly 5.23 ERA in just 32.3 innings. However, examining Qualls' season more carefully shows that wasn't a terrible year all-around, so much as it was just a terrible start. Qualls had a 5.84 ERA in the first half of the season, then posted a very 3.38 respectable mark in the second half.
Now obviously, you can't just say the bad part of the season doesn't count, and Qualls didn't pitch much nearly as much in the second half. But there's reason to believe Qualls simply started poorly, and would have had much better numbers if he hadn't missed the better part of a month.
In his 13-year MLB journey, Qualls has had multiple seasons where it looked like he was done, only to bounce back with a strong season the next year. There may not be much left in the tank, but the Rockies may just be able to squeeze one last good season out of Qualls.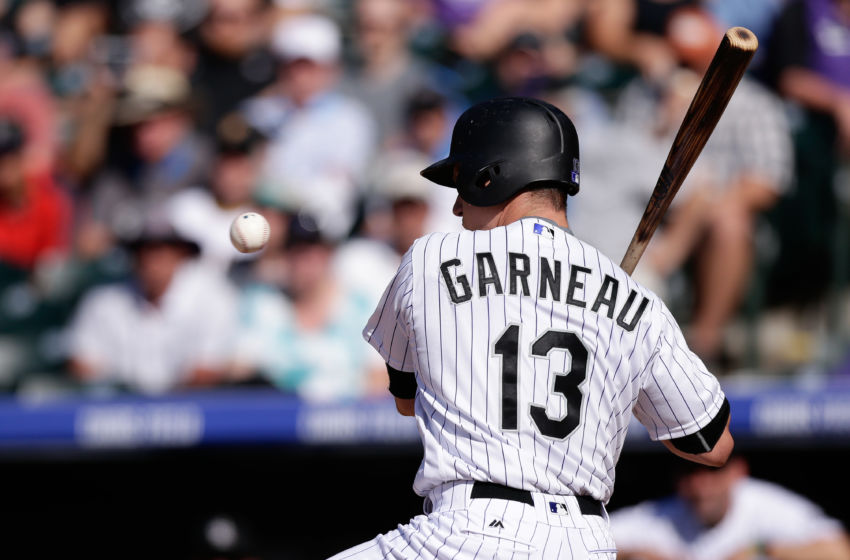 Number 32
Dustin Garneau: Catcher Points: 187 Highest Rank: 27 Lowest: 34
One of the most depressing parts of professional baseball that is that for every player realizing their big league dreams, there's always another guy who's chances are now worse.
Last season, one of the most surprising stories in Colorado coming out of Spring Training was the emergence of Tony Wolters. The former middle infielder was shockingly good at the game's toughest defensive position, and didn't look overwhelmed in his first year facing MLB pitching.
Rockies fans quickly embraced Wolters and his unique backstory. So it's easy to forget that his emergence was a crushing blow to the career path of a guy who's definitely paid his dues in his own right.
Garneau was a 19th-round draft pick in the 2009 MLB draft, a member of the same class as Nolan Arenado, DJ LeMahieu and Mike Trout. When a team drafts a player in the 19th round, they aren't picturing a future MLB superstar. A majority of 19th round picks will be never even be considered for a 40-man roster.
The climb through the minor league ladder has been a slow, tough one for Garneau. He spent four seasons struggling to get out of A-Ball, and he was already 27 years old when he made his MLB debut in 2015.
Last season, while Wolters won over Rockies fans and Tom Murphy destroyed Triple-A pitching, Garneau quietly put together the best offensive season of his professional career, posting a .292/.367/.595 line in Albuquerque.
The problem is, big league teams generally only carry two catchers, and the two the Rockies will likely carry in 2017 are both younger and more talented than Garneau. So in all likelihood, he will spend a ninth season in the minor leagues and wait for either an injury or a September call-up.
Alas, baseball, much like life, is not always fair.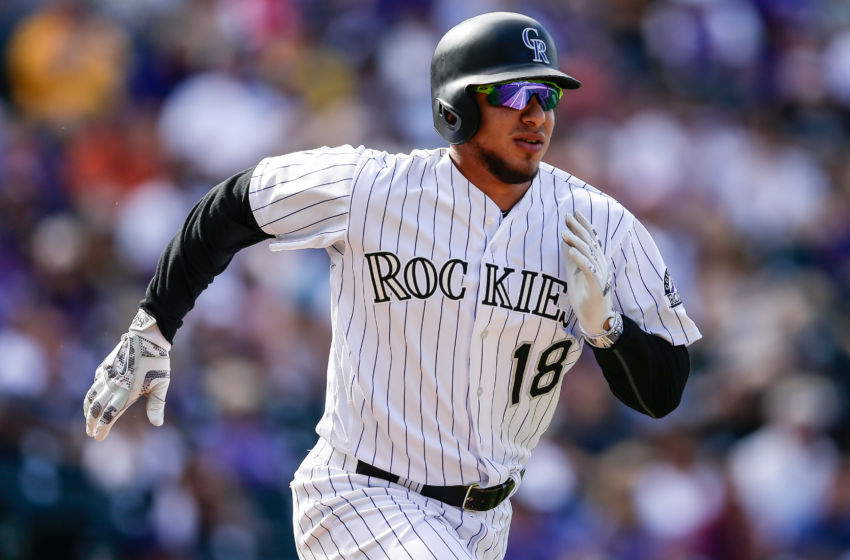 Number 31
Cristhian Adames: Infielder Points: 184 Highest Rank: 27 Lowest: 36
"Quad-A player" is a term for a player that consistently posts terrific numbers at the highest levels of the minors, but never seems to be able to replicate that success in the big leagues. The player is, as the saying implies, too good for Triple-A, but not good enough for the majors.
Adames is dangerously close to earning this label.
In 2014, he earned a late-season promotion from Double-A to Triple-A, and spent the rest of the year crushing the ball, hitting .338 in 145 at-bats. Back in Triple-A in 2015, Adames proved it wasn't a fluke, as he hit well over .300 with a reasonable amount of power.
If you only know Adames from his time in the big leagues, all of this may be hard to believe. After brief call-ups in 2014 and 15, he spent the entire season with the Rockies in 2016, and the results were ugly.
Adames had a .218/.304/.302 line. There's a strong case to be made that he was the worst offensive player on the team last season. The Rockies could possibly live with that feeble production if Adames was a Gold Glove caliber defender, but "mediocre" would be a friendly review of his defensive work in 2016.
Writing Adames off entirely would probably be premature. He's still only 25 years old, and trying to figure out the big leagues while also dealing with the unpredictable nature of the utility infielder role was a lot to ask of him. If Adames gets another chance in 2017, the numbers will likely improve.
That's far from certain though. If the Rockies believed Adames was capable of filling the role again in 2017, they wouldn't have signed Alexi Amarista this off-season. There just aren't that many at-bats to go around for young hitters looking to earn a spot with the Rockies right now, and after flaming out so badly last year, Colorado may be hesitant to give Adames another chance.
He's still on the 40-man roster, so he's still got a shot. But the odds of Adames becoming a long-term fixture with the Rockies have undeniably fallen dramatically over the last year.
This article originally appeared on