Colorado Rockies Move On from Four More Coaches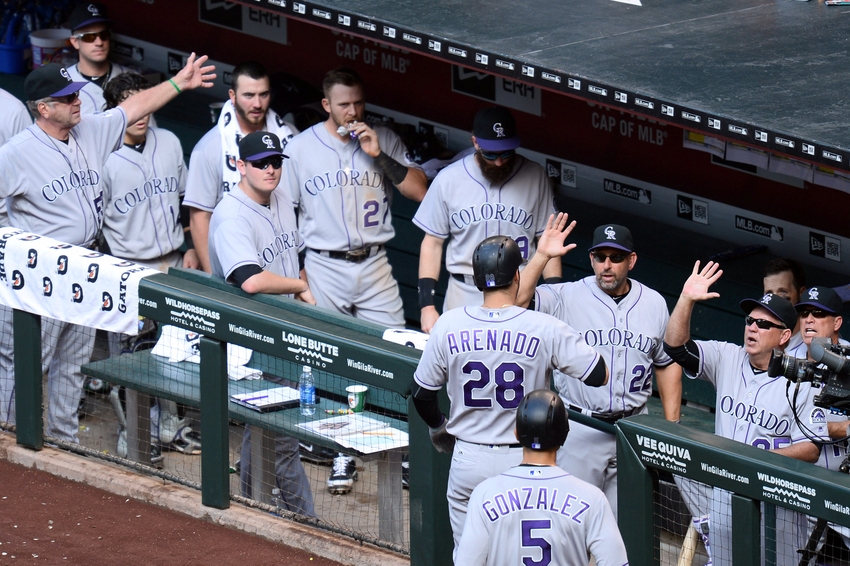 It has already been an eventful offseason for the Colorado Rockies. After manager Walt Weiss stepped down last week, the club has now relieved four other coaches of their duties.
Walt Weiss was one of three managers that will absolutely not be brought back to lead their teams in 2017. He joins Robin Ventura and Chip Hale as guys that will be moving on this winter. There also remains one other managerial position open as the Braves are still waiting to see if they'll bring back interim manager Brian Snitker. However, as I outlined in my piece about about the firing of Atlanta's pitching coach, Roger McDowell, when a manager is let go it does not spell good things for their staff.
Predictably, with the Colorado Rockies moving on from Weiss, they have have also fired four members of his former coaching staff, according to Bob Nightengale of USA Today. Hitting coach Blake Doyle, first base coach Eric Young, bench coach Tom Runnells and catching/defensive positioning coach Rene Lachemann have all been informed that they will not be back with the Rockies in 2017.
Colorado Rockies Continue Shakeup, Release Four Coaches
Doyle may be the biggest surprise of the bunch because of the performance of the offense since he joined the Rockies in 2014. He's overseen the development of all star caliber players in Nolan Arenado, Charlie Blackmon and D.J. Lemahieu among others that have been some of the best hitters at their position. Granted, it is much easier to have success with the altitude of Coors Field, but there is no doubt that Doyle has produced immediate results in his short time in Colorado.
Runnells was the longest tenured member of the Rockies organization to be relieved of his duties. After being in the organization for six years, Chad Tracy hired him as a bench coach in 2009. Overall he's seen three different managerial regimes and has worked under two of the managers in the dugout.
Eric Young had been the third base/baserunning and outfield coach since 2014. Young had been a player with the Colorado Rockies for five seasons of his 15 year career. He stole a total of 465 bases throughout his time in the majors, swiping 50 or more bases three different times in a single season. However, the Rockies ranked 20th in MLB in stolen bases, successfully stealing 66 while being thrown out on 39 occasions, which is tied for the 7th most in the league.
Lachemann had been on the staff for the past four seasons with three of those coming as the team's catching/defensive coach. Colorado ranked 27th in the majors posting a .982 fielding percentage in 2016.
More from Call to the Pen
This leaves three members of Weiss' staff still on on board for next season even with the team still not naming a full-time manager. Pitching coach Steve Foster remains with the Rockies even with his pitching staff posting a team ERA of 4.91, which is fourth worst in MLB. An important caveat is that pitching has always been a problem for the Rockies given the conditions in which they play. The team also saw some solid moments from younger starters Jon Gray, Tyler Anderson and Jeff Hoffman throughout the season. Bullpen coach Darren Holmes has been retained by the organization as well.
Stu Cole has also not been let go by the front office. The fourth year third base coach has been with the Rockies for 21 seasons as he held multiple positions throughout the club's minor league system during that span.
It's interesting that this was not an entire cleaning of the deck given that the Rockies are set to have a new manager, but the roles of the three coaches that remain are certainly not set in stone. When a manger is fired, usually it's a sign of things to come and that's exactly what's happened in Colorado.
Stay tuned.
What do you think of what's happened with the Rockies' coaching staff so far? Share your thoughts in the comment section below.
This article originally appeared on