Colorado Rockies: Jon Gray Up For MLB Best Performance Award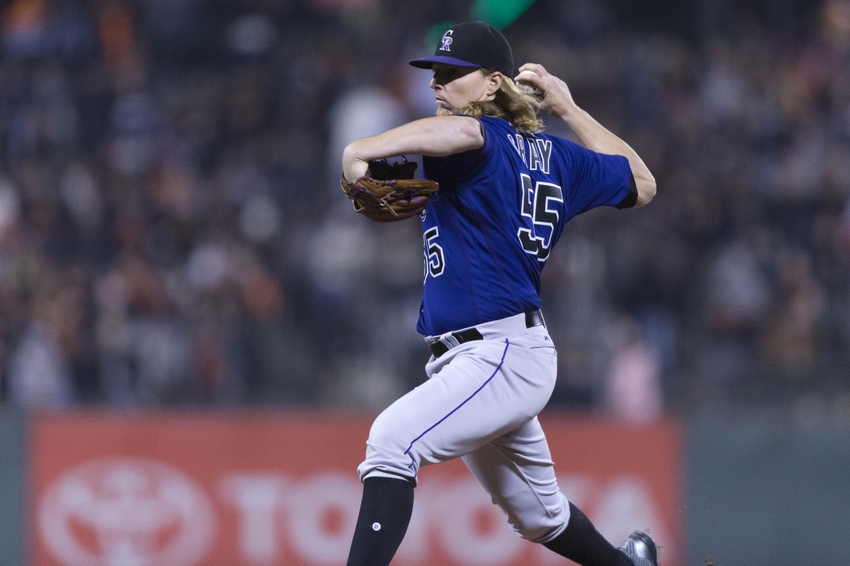 Colorado Rockies starting pitcher Jon Gray is a nominee in the Best Performance Category for the 2016 MLB Awards, which is his franchise-record 16-strikeout effort versus the San Diego Padres at Coors Field on September 17.
First of all, to recap Gray's night for the Rockies:
Win, 9 IP, 4 H, 0 R, 0 BB, 16 K.
Because Gray had complete command of the strike zone on both sides of the plate and he mixed in his nasty slider with his fastball and curveball, this led to him to a level where he completely dominated the game.
Furthermore, the Best Performance Award is for 2016's top single-game effort. Other nominees in this category include Boston's Mookie Betts (three home runs, eight RBIs versus Arizona on August 14, Chicago Cubs' Kris Bryant (5-for-5, three HRs versus Cincinnati on June 27), Washington's Max Scherzer's 20-strikeout game versus Detroit on May 11 and the Mets' Noah Syndergaard's two-HR game and win against the Dodgers on May 11.
Additionally, here is the link where you can go and vote for Gray.
All you simply do is click on the vote button below Gray's performance. And the only thing you need to vote is a valid email address and there is no limit to the number of votes cast.
Since voting ends Friday, November 11th at 2.00pm ET, you have another month to vote for the Gray Wolf!
In conclusion, the 2016 MLB Awards are unveiled on the 2016 MLB Awards show on MLB Network and MLB.com on Friday, November 18, 2016.
This article originally appeared on