Colorado Rockies Focusing on Speed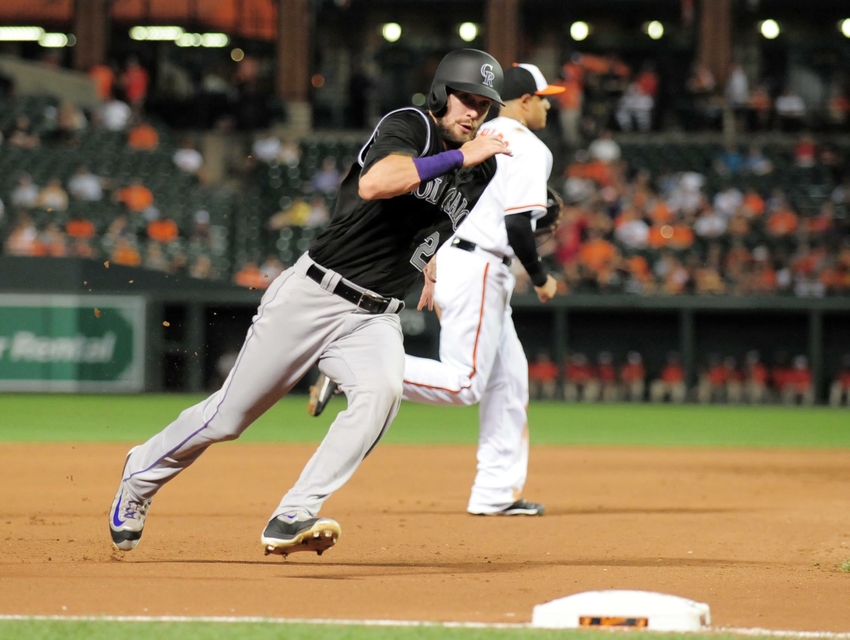 The Colorado Rockies generally have one of the better offensive teams in the National League, partially due to the thin air in which they play–but they could add a new tool to their roster in the coming years.
The thin air in the altitude that surrounds Coors Field has done wonders for the Colorado Rockies bats, and has given plenty of pitchers nightmares. This winter baseball Twitter has had some fun thinking about some of the game's biggest sluggers that also happen to be free agents, and putting them in a Rockies uniform.
While daydreaming of the day that a ball would eventually land off the bat of an Edwin Encarnacion or a Mike Napoli is pure fun, the Rockies could be going in a different direction.
Across nearly all levels of the minor leagues, the Rockies' affiliates put up staggering stolen base numbers. The lone exception was in Triple-A Albuquerque, who ranked towards the bottom of the Pacific Coast League with 81 steals on the season. In Double-A Hartford and Short Season Boise, the teams accumulated the most stolen bases in the league. Boise finished with the highest total (137) in the entire level across both the New York-Penn League and the Northwest League, while Hartford's 145 finished tied for second overall in Double-A.
In High-A Modesto, the Nuts stole 208 bags, placing them second in the California League, one back of the Lancaster JetHawks, who will be their affiliate come 2017 with the Houston Astros and Texas Rangers set to join the Carolina League. That total of 208 was just under a full Yoan Moncada away (he had 36 steals) from the Salem Red Sox, who led all of High-A with 241 bags taken.
Finally, there was Asheville in A Ball that finished 6th in the league with 141 steals.
Before we get into some of the players that are thieving their way up the organizational ladder, let's answer one basic question: Is it worth it? Generally, if a player has a 70% success rate, then attempting to steal is a good idea. So how did each of these clubs do?
Who's Stealing
Well, Boise was successful 137 times out of 179 attempts, which gives them a percentage of 76.5 as a team. Hartford was much less efficient on the base paths, stealing 145 bags in 230 attempts for a success rate of 63 percent. The team's number four prospect Raimel Tapia was the biggest offender here, as he attempted to steal a base 31 times, and was only successful 17 times, good for a 54.83 percent success rate. For what it's worth, he was 3-for-3 in stolen base attempts in the big leagues, but his minor league numbers don't suggest that will continue without some work, as he has converted just 62.8% of his attempts. On the plus side, he had a .363 on-base percentage in the minors in 2016, so if he figures it out then he already has a knack for getting on base.
More from Call to the Pen
Rosell Herrera was Hartford's best base stealer, converting a team-high 36 stolen bases in 44 attempts, both of which are career highs. The 24-year-old outfielder bucked his own trend in 2016, as he had been prone to struggle in his first exposure at a new level before breaking out the following season at the same level. Spending the entire year with the Yard Goats, Herrera hit .292 with a .374 OBP and a .753 OPS to go along with his stolen bases. His .753 OPS is roughly the mark of an average hitter at the Major League level, but if he can get on base at a clip somewhat close to what he did last year, his speed could become a weapon. He is not on the Rockies 40-man roster with seven years in professional ball under his belt, so there is a chance that he is selected in the Rule 5 Draft in December.
Modesto had four players finish with over 20 stolen bases, with Wes Rogers (43), Max White (36), Emerson Jimenez (28) and number nine prospect Forrest Wall (22) doing the bulk of the damage. The quartet combined to steal a total of 129 bases at an 80% clip. While Wall is the only one of the four to appear on MLB Pipeline's top 30 ranking for the Colorado Rockies, he was also the least efficient, stealing 22 bases in 33 attempts. His speed grades at a 65 on the 20-80 scale, so if he can harness that speed on the bases, he should be a real stolen base threat in time.
Finally, for Boise, a large portion of the stolen bases came from two players: Garrett Hampson (36) and Steven Linkous (30) who combined to go 66-for-77 (85.7%). Both were taken in the 2016 June Draft.
What it All Means
Now I don't have any special sources to go off of here, but it appears as though this is an organizational initiative to add another facet to the big league squad. Yes, many of these players are still at least a year away, and yes not all of them will make it to the majors–but if you preach a philosophy in the minor leagues, then the ones that do make it to Colorado will already be well versed in what the team is trying to do in the majors.
If the Rockies are able to add speed to their lineup, which already had eight players hit over ten home runs, and four of those reach 25+, then the lineup becomes that much more fearsome. A full season of David Dahl should help out, as he could approach 15-20 stolen bases next season and had a 74% success rate in his minor league career. As a team last year, they stole just 66 bases in 105 attempts, good for 62.9%. Improving that figure would be a huge boost.
At home, the Rockies held a wRC+ of 100 and hit the second-most home runs of any team playing in their white unis (or alternates for that matter). On the road, they held an 84 wRC+ which is third from the bottom in all of baseball. The good news is that the Padres and Giants were the two teams below them. The bad news is that they'll have to come up with a new way to score runs, since their 88 home runs (116 at home) on the road ranked 17th in baseball.
Stealing bases is a lost art form in today's game, but if a team can be successful in the act, then it's worth exploring. The Rockies only need a couple of players to be able to steal bases for them so that they don't sacrifice too much of their power, and right now they're trying to find out which players those will be down on the farm by seemingly giving everyone a green light. It's a bold strategy, but if it helps figure out how to compete both at, and away from Coors, then it's certainly worth exploring.
This article originally appeared on