Colorado Rockies: Don't Forget About Trevor Story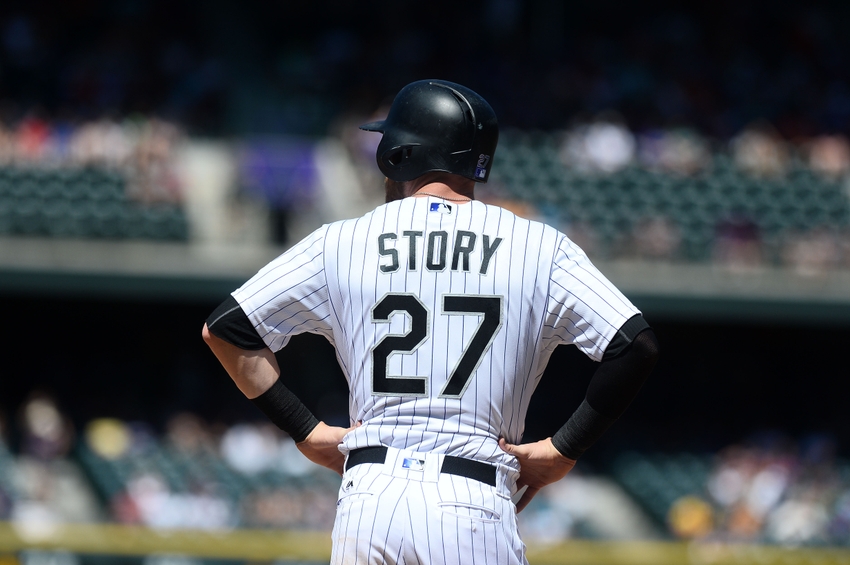 No In-Editor Preview for 120 Sports Videos
Video Details
ID: 202887782
Source: 120 Sports
The Colorado Rockies may have had a rough season of rebuilding. But they have a lot to look forward to, especially in their young players like Trevor Story.
Trevor Story was on pace to break a number of records this year. But the rookie's season ended prematurely. On July 31st against the New York Mets, he slid into second base and injured his hand. Later that day, Story attempted a diving play to his right that aggravated the injury even more. Later that week, the Colorado Rockies announced Trevor Story would be out for the rest of the 2016 season with a torn ulnar collateral ligament in his left thumb.
Trevor Story's 2016 was absolutely incredible. In 97 games, he hit 27 home runs while slashing .272./.341/.567. Today, with about a week of games remaining in the season, Story still leads the entire MLB in home runs at the shortstop position. He also ranks top-10 in runs-batted-in (72), batting average (.272), on-base-percentage (.341), and first in slugging percentage (.567) among shortstops. Every other shortstop has completed over 120 games.
On the Rockies, Story is a star. He currently ranks fourth on the entire team in Wins Above Replacement:
More from Call to the Pen
The major issue with Story's offensive production is his tendency to strike out. He is tied for fourth in all of baseball with 130 strikeouts. Story has only had 372 at-bats which make for a 31.3% strikeout rate. But, if he maintains his production rate as well as his above average walk percentage at 8.4%, then the strikeouts won't be a major issue.
Trevor Story is also a valuable player on defense. Fans quickly thought of him as a bat-only type of guy given his incredible start to 2016. But in 442 chances, he has only committed 10 errors, good enough for a fielding percentage of .977. Among all National League shortstops, Story still ranks first in Range Factor per Game at 4.50. Compared to shortstops in all of baseball, he is second. Range Factor per Game measures the number of putouts plus assists per game.
Trevor Story may not win National League Rookie of the Year and he isn't going to return to the lineup this season, but the Colorado Rockies have a stud at SS for years to come. This young shortstop has exceeded all expectations. And he did so despite having to fill the shoes of Troy Tulowitzki, which is no small task. Tulowitzki played for the Rockies for 10 seasons. Fans quickly forgot about him once Story broke onto the scene. But don't forget about Trevor Story. Big things are up ahead for the young star.
This article originally appeared on