Colorado Rockies: Analyzing and Grading the 2016 Catchers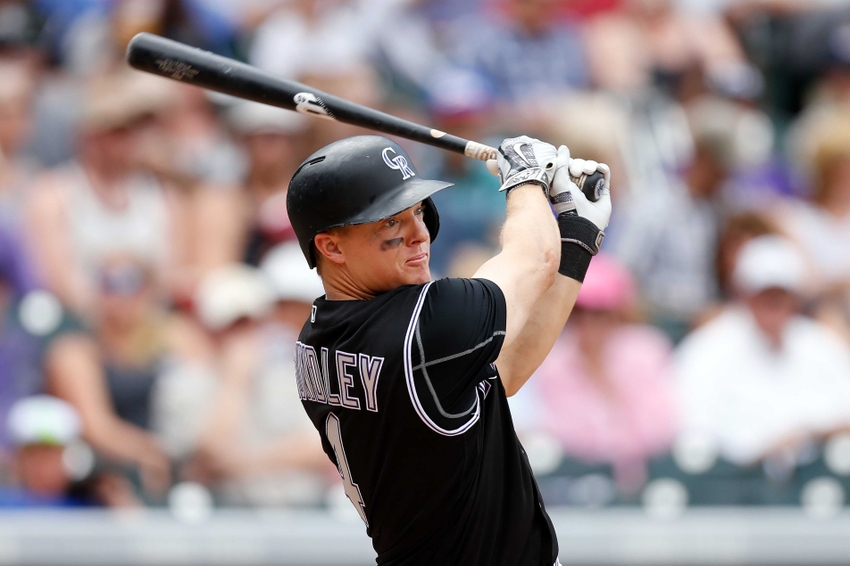 NICK HUNDLEY: 2016 GRADE C-, fWAR 0.3
Now that Nick Hundley is drawing interest from other clubs in free agency, the Colorado Rockies are comfortable that their up-and-coming catching corps are capable of replacing him.
A 33-year-old Hundley put more up a .260/.320/.439 line in 83 games in 2016. Considering that most catchers in the league hit in the bottom of the lineup, Hundley's offensive prowess doesn't look as bad as it felt writing it. To his credit, Hundley's average and power place him firmly among the average Joes of Major League catchers.
If Hundley established himself as an average hitter, his defense left something to be desired. Hundley committed seven errors, had eight passed balls, and only managed to throw out a meager 14% of base stealers in 2016. An unexceptional defensive performance to say the least. Now as a free agent, Hundley's tenure in Colorado was short and not all that sweet.
Going forward, Hundley's days as a starter are most likely behind him, defensive ability being the major factor. Given the current catcher climate, Hundley could be a very solid back-up or emergency plan for teams that are looking for catching depth this winter.
Looking back at the Rockies signing of Hundley, it was clear that his only role for the team was to provide a veteran presence, handle a young pitching staff, and serve as a stop gap until prospects established themselves. If we take his role into context, Hundley handled his role competently but poor defensive earned him a C- performance in 2016.
TONY WOLTERS: 2016 GRADE C+, fWAR 0.9
As one of the better story lines in the Rockies' 2016 campaign, Tony Wolters surprised fans and the front office alike.
As a third round pick in the 2010 MLB draft by the Cleveland Indians, one could say that a lot was expected of Wolters, but that all changed when he was waived prior to 2016. Seeing potential, Wolters was claimed by Colorado but was an extreme longshot to make the Opening Day roster.  Someone forgot to tell Tony that. During Spring Training, Wolters established himself as a force to be reckoned with.
Due to his impressive defensive acumen and his versatility to play the middle infield, Wolters made the Opening Day roster as the backup catcher. Despite not finding a feel for swing until July, Wolters ended 2016 with a .259/.327/.395 line. Adding to offensive numbers, Wolters stole four bases while posting a base running score of 2.0, which was third-best on the club.
Wolters lived up to the praise and expectations that his defense earned him during Spring Training. By throwing out 31% of base stealers (12 out of 39) and only allowing three passed balls, Wolters established himself as the clear-cut defensive choice at catcher. All this praise makes it seem like Wolters is better than a C+ player, but the reality is this.
Wolters is a warming case of an athlete who has been able to maximize his talent in an environment with very little expectations. Can he build on his success? Has he hit his peak? Was 2016 a fluke? There are simply too many unknowns to say Wolters is the permanent answer. Maybe he can surprise us all again.
TOM MURPHY: 2016 GRADE C+, fWAR 0.8
Pending any offseason moves, the Rockies number 10 prospect is expected to win the starting job for the 2017 season. As a September call-up in 2016, Murphy demonstrated his most exciting tool … he can rake. The issue way he hasn't gotten to the Bigs before his year 25 season is his lack of defense, which brings back nightmares of the Wilin Rosario experiment … and now Hundley's inability to play above average defense. This coming Spring, expect the Opening Day catcher slot to be Murphy's to lose.
In 2016, Murphy only played 21 games at the big league level. Obviously, his playing time is not a great indicator of how consistently Murphy will perform but two major things occurred. First, he proved that his hitting and power tools are legit. In 49 plate appearances, Murphy hit 5 dingers to accompany a .273 average. In comparison, Wolters hit 3 home runs in 230 plate appearances.
As a native of New York, Murphy grew up as a Yankee fan and attended Buffalo, where he would be named the Mid-American Conference Player of the Year in 2011. Subsequently, Murphy was drafted in the third round of the 2012 draft and appears poised to lead the Rockies catching corps into the future.
DUSTIN GARNEAU: 2016 GRADE D+, fWAR 0.0
First of all, Dustin Garneau appears to be the odd man out of the catching rotation. At age 29, Dustin is in his prime and can add good depth to the Rockies catching situation. Along with Murphy, Garneau was a late season call up and only appeared in 24 games. In that time, Garneau had a meager .235/.293/.368 line. He clearly is not a "lights out" hitter like Murphy is or the defensive wizard like Wolters. Garneau will mostly likely bounce around the majors and minors in 2017, depending on team needs.
Garneau wasn't the defensive liability that Hundley was. According to Fangraphs' DEF score, Garneau came at 2.4, while Hundley came in at 1.8, the lowest score amongst the four catchers. To Hundley's credit, he did play in 50+ more games than Murphy or Garneau.
In conclusion, the catcher position will be one of the most stable positions that the Rockies will bring into the 2017 season despite losing their starter. Not a lot of teams can say that at any position let alone one as valuable as catcher. The threesome of Murphy, Wolters, and Garneau is the most dynamic in baseball as Murphy can out hit anyone, Wolters can out defense anyone and Garneau can backup anyone.
This article originally appeared on