Cleveland Indians Top 25 in 2016: No. 22, Jeff Manship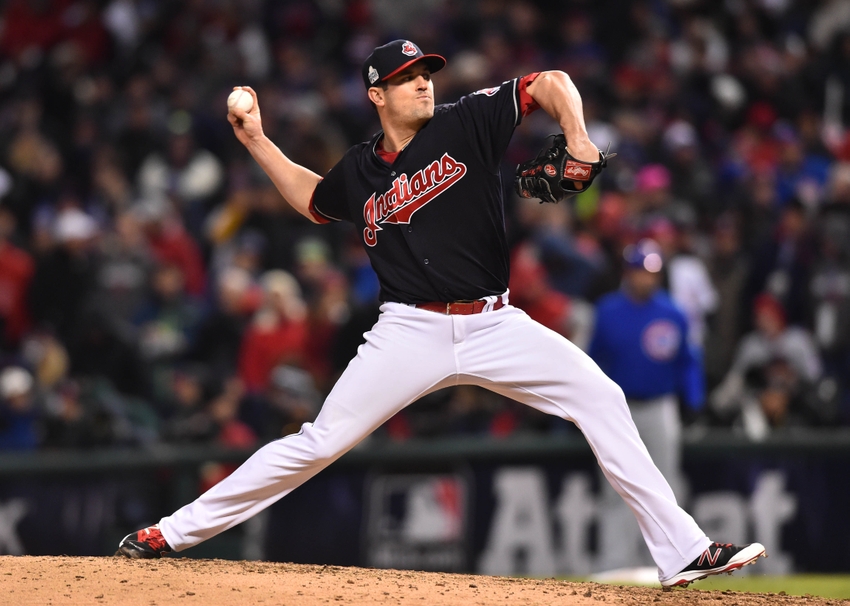 Our look at the top 25 Cleveland Indians in 2016 continues with a look at one of the team's most reliable relievers, Jeff Manship.
The Cleveland Indians impressed fans all around the nation due to some otherworldly pitching out of the bullpen in the postseason. But while fans outside of Cleveland may just think of Andrew Miller, Indians fans know that it was much more of a group effort all season.
Jeff Manship was a key part of the success seen by the bullpen in 2016, although he only appeared in three postseason games.
Manship, who is now a free agent after not being tendered a contract earlier this week, appeared in 53 regular season games in 2016. His 3.12 ERA kept him in the mix as an option out of the bullpen all season, although his WHIP of 1.431 is a bit higher than one would like.
But Manship was also a fan favorite throughout the season. His name (Is he a man or a ship?) helped spawn some fun on social media, while his one loss in 53 games leaves fans without too much anger directed toward him, compared to what is thrown Bryan Shaw's way.
His lack of playing time in the postseason seemed less personal and more of an example of Terry Francona going with the trio of Miller, Shaw, and Allen whenever possible.
Manship did appear in Game 3 of the ALCS, also known as "Dronegate," in which he pitched 1 1/3 innings, allowing no runs and contributing to one of the greatest postseason performances by a bullpen in MLB history.
The decision to let Manship become a free agent may be due to the steep sum already being spent on the bullpen. It is unfair to say he is expendable, but he was not a player the Indians needed to fret about keeping.
2016 was his first season as a featured member of a bullpen, and his season will surely lead to him being picked up by another team. If not for the presence of the trio known as Miller, Shaw, and Allen, letting Manship go may have not even been considered.
Jeff Manship was not a star for the Indians, but he was always reliable. And for that, he ends up on our list of the top 25 Indians in 2016.
Be sure to check out the site tomorrow to see who comes in at No. 21 on our list.
This article originally appeared on