Cleveland Indians Top 25 in 2016: No. 19, Mike Clevinger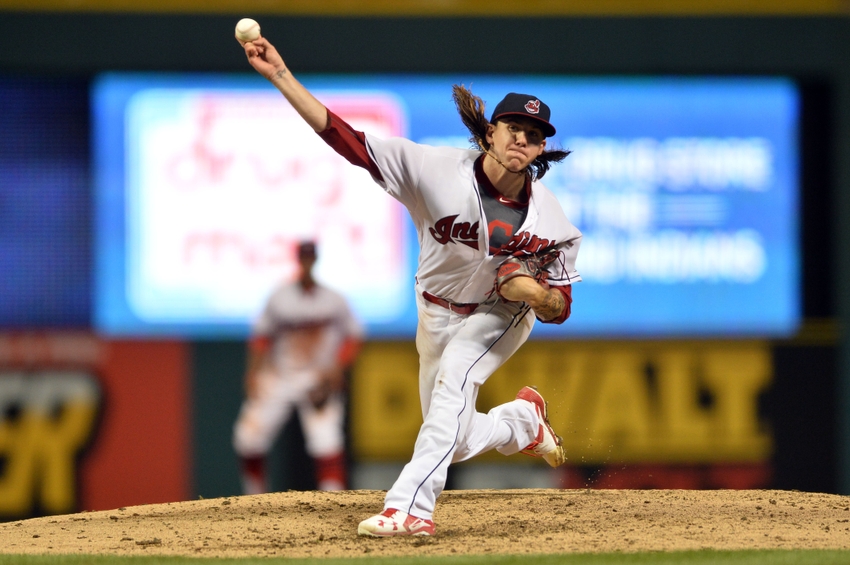 The look back at the Top 25 Cleveland Indians in 2016 continues as Mike Clevinger finds his way to the list after a successful rookie season.
With all the injuries suffered by Cleveland Indians starting pitchers in 2016, the team needed someone to step up in a big way. Mike Clevinger did just that.
Clevinger made his debut on May 18 against the Cincinnati Reds, logging 5 1/3 innings in a game won by the Indians. He did not do great, but he did enough to keep the team in the game. That is essentially the way to describe his entire 2016 season.
He did finish the year with an ERA of 5.26, but that was inflated due to allowing 14 earned runs in his first three starts. He was able to settle in after that, with his only bad outing coming on September 27. That was the day after the Indians clinched the AL Central crown, so preparation for the game was understandably not great.
He ended up appearing in four postseason games, including three in the World Series. Unfortunately, all his appearances came in Tribe losses, but the experience was great for the rookie.
Clevinger entered the year as a top pitching prospect, and did well considering he was called up to start early in the season. Heading into the season, the Indians likely felt the rotation was set for the season, but this is Cleveland so nothing goes according to plan.
He did a great job of pitching well when needed and only allowed four or more runs in four of his 17 appearances. Three of these came in his first three appearances, which were all starts.
Clevinger's role next season should be similar to what it was in 2016. He will likely open the season as a starter in Columbus, ready for a major league start at any moment. The Indians could also put him in the bullpen later on in the year, where he can serve as a long reliever. Keeping him in Columbus for the first few months would be beneficial in case of any injuries or setbacks by anyone in the rotation.
2016 was Clevinger's first year at baseball's highest level, so he should only improve moving forward. So if Trevor Bauer or Josh Tomlin have any extended struggles in 2017, Clevinger could seize the opportunity and assume his spot in the rotation. He showed flashes of greatness in 2016, ultimately putting him on our list of the Top 25 Indians in 2016.
Be sure to check out the site tomorrow to see who comes in at No. 18.
More from Wahoo's on First
This article originally appeared on