Cleveland Indians: To Start Ryan Merritt or Danny Salazar?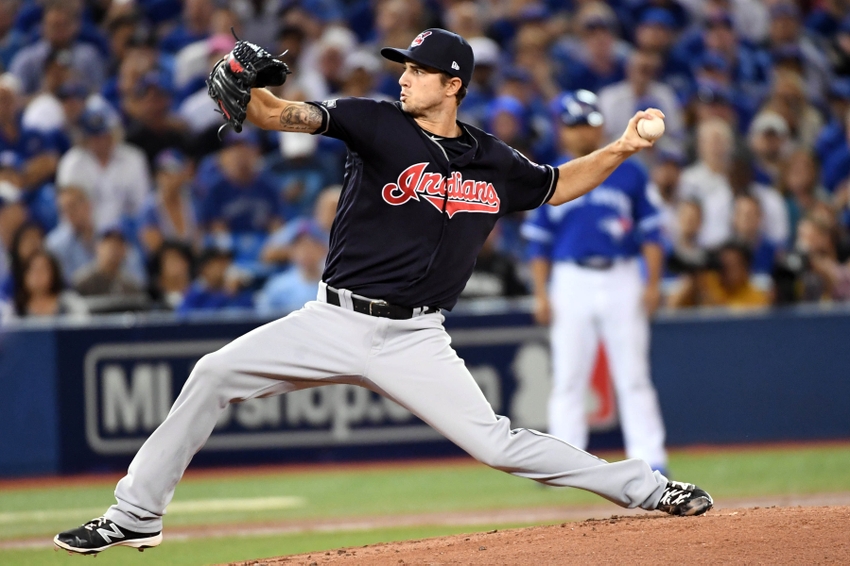 The Cleveland Indians may be faced with a decision on whether to start Danny Salazar or Ryan Merritt in the World Series.
The Cleveland Indians will host a World Series game in just three days, and the speculation on who will be in the starting rotation continues.
Corey Kluber and Josh Tomlin are sure things, while Trevor Bauer should be ready to go, although that's what we were told before his Game 3 start when his finger began pouring blood on the mound.
With those three set to start, that leaves the question of who will start in Game 4. Barring any need for Kluber to start on short rest, that leaves Danny Salazar and Ryan Merritt as the two potential options.
Merritt certainly earned a chance to start after his 4 1/3 scoreless innings in the ALCS Game 5 victory over the Toronto Blue Jays, but if Salazar is healthy, it would be hard to leave him in the bullpen.
Salazar's ability to pitch in the World Series has not yet been ruled out, with his progress being a pleasant surprise to the organization and fans alike. He has not made a start since September 9, but he has been throwing since then in preparation for a postseason return.
But no matter who starts between the two, the situation would likely be the same as what happened in Merritt's Game 5 start. Either Merritt or Salazar would open the game, but would be removed at the first sign of trouble. That did not come until the fifth inning in Merritt's start, but any early runs in a World Series start would get the bullpen up early.
The matchups in the game may also determine who starts, although neither player will have much of anything in the terms of head-to-head meetings against players on either the Chicago Cubs or Los Angeles Dodgers.
If healthy, Salazar looks to be the favorite to receive a start. Game 4 is not until next Saturday, meaning he continue to workout with the team and make sure he is completely healthy. Even though Merritt just had a great outing, Salazar is one of the best pitchers in the American League when healthy.
His presence on the roster may lead to Cody Anderson being left off the roster, meaning Merritt should still be an option out of the bullpen.
So even though Merritt won the hearts of Indians fans nationwide, he may be passed over for another postseason start. However, with Bauer's finger still being a major question, anything can happen in the next two weeks. Perhaps Merritt can step up once again in a big situation and help bring a title back to Cleveland. Then we may need to build him a statue.
More from Wahoo's on First
This article originally appeared on