Cleveland Indians' Michael Brantley: It Must Be Hard Just to Watch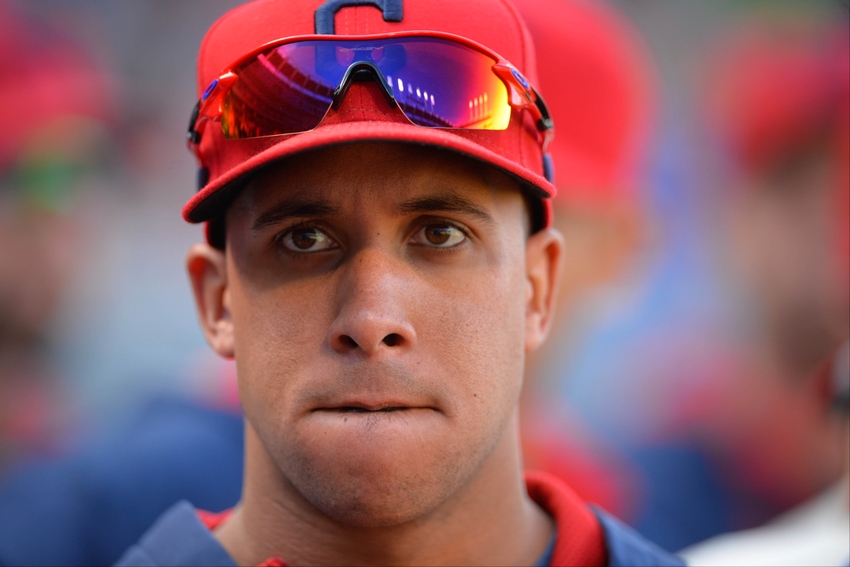 Michael Brantley has played all of his 818 games in a big league uniform for the Cleveland Indians. However, none of those games include the magical postseason ride his team is currently on. And that's because he's been absent from the lineup since April after suffering a shoulder injury that required surgery twice. But he's still doing everything he can to help the Indians win from the outside looking in.
In Game 4 , Cleveland Indians pitcher Corey Kluber hit a little dribbler down the third base line that he managed to run out for a base hit. After the game, Kluber was quoted by MLB.com's Anthony Castrovince on Twitter:
Michael Brantley had 39 ABs all year. Corey Kluber used his bat for key 2nd inning single: "I figured it's got a lot of hits left in it."

— Anthony Castrovince (@castrovince) October 30, 2016
It's a pretty good line and if anything, it shows that Michael Brantley has not been forgotten by his teammates. The reverse is also true and every once in a while you'll see a quick cut to him in the Indians dugout rooting his team on.
But Michael Brantley has always been there for the Indians. Even when reports were circulating that the Indians had mishandled his rehab and forced a second surgery, Brantley refused to buy into it, telling MLB.com:
"Not at all," Brantley said. "I feel like I did everything in my power and so did the Cleveland organization. I felt great at times, and then at times I didn't feel so well. It's something that just happened. I'm not happy that it happened. I wanted to be out there and playing with my team, of course. At the same time, [these are] the cards that I was dealt. I understand that. But, I did everything within this organization that they asked me to do, and I know I gave it my all, myself. So, I don't think it was mishandled at all."
More from Call to the Pen
The projection for his return to the Indians lineup begins in the spring of 2017, but depending on who you believe, that is not even a certainty. In the meantime, Brantley has found other ways to contribute. Shortstop Francisco Lindor, for instance, gave one example to WKYC.com: "He gives me that sense of calmness. I go up to him like, 'Brantley, what do you think? What would you do against this pitcher?' He'll tell me what his approach will be, and I'm like, 'Okay, I'm going to go do that.' We talk and I listen."
His absence from the lineup and the frustration that comes with it has also been noticed by manager Terry Francona, who adds, "Brant has found a way to eclipse that and still be a leader, which is not easy to do. I think it speaks volumes about him. That's why I said that it hurts me a little bit that he's not playing because he should be. He's so much a part of what we do and what we stand for that it hurts that he's not playing."
So for Michael Brantley, maybe the only way to describe this moment in time would be the word bittersweet. But he's only 29 and still in his prime as a big league ballplayer. And both he and the Indians can only hope that this is just a bump in the road. And that when Spring Training rolls around in a few months, Brantley will not be on the outside looking in.
And if you want a quick reminder of what he was like before the injury and what the Indians have to look forward to when he's back, here's what his almost MVP season was like in 2014.
This article originally appeared on