Cleveland Indians Kick Off Roadtrip in Minnesota Against the Twins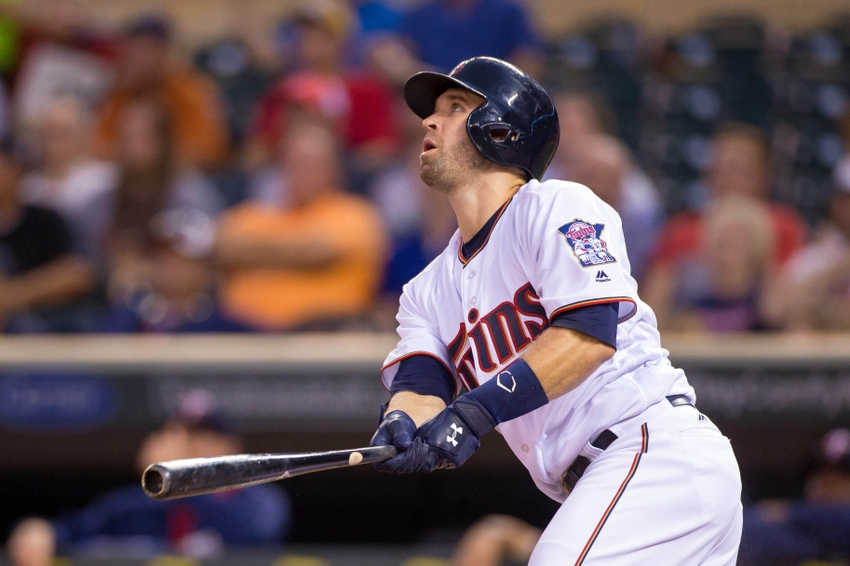 The Cleveland Indians kick off a seven-game roadtrip on Friday night in Minnesota against the Twins. What do you need to know before first pitch?
The Cleveland Indians completed their penultimate homestand of the 2016 season in winning fashion, coming out on top against the Houston Astros in a wild game on Thursday afternoon. The Tribe went 8-2 at Progressive Field, and now hits the road with a six-game lead in the American League Central Division.
Cleveland begins a seven-game roadtrip on Friday against the only team in the Central that it does not have a winning record against, the Minnesota Twins. Through the first 16 meetings, the two sides have played to an even 8-8 split, with the Twins having outscored the Indians 85-79 in those contests.
This will be the final three games the two sides will play in 2016, and the stakes for each couldn't be more different. While Cleveland looks to continue its push towards the postseason, Minnesota is already waiting for next year, sitting 52-88 on the year and 29.5 games out of first place. Paul Molitor's squad is squarely in spoiler mode right now, hoping to make things tough for contenders before going home for the long offseason.
First pitch is slated for 8:10 p.m. ET at Target Field in Minneapolis, with the Tribe looking to keep its winning ways going. Here's what to look for before the series gets started.
Numbers to Know
.371
Minnesota enters play this weekend with the worst record in all of Major League Baseball. After a 2015 season that saw them in contention for a wild card spot down to the very end, the .371 winning percentage in 2016 is a severe disappointment.
The Twins have dealt with more than their fair share of injuries this season, particularly to the pitching staff. Starters Ervin Santana, Kyle Gibson, Phil Hughes, and Tommy Milone, closer Glen Perkins, and reliever Trevor May have all spent various amounts of time on the shelf, contributing to the club having the worst pitching staff in the AL.
There have also been growing pains for many of Minnesota's young players, most notably Miguel Sano, who came in third in Rookie of the Year voting a season ago, top prospect Byron Buxton, and potential future ace Jose Berrios. Sano spent part of the season on the DL with a hamstring issue, and while his power numbers look similar to 2015, he has regressed overall at the plate, seeing significant dips in each of his slash line stats.
Buxton and Berrios have bounced back and forth between the minors and the big leagues, both struggling when given the opportunity at the MLB level. Buxton has slashed just .224/.273/.404 in 70 games, though the raw tools and athleticism have been apparent, and Berrios has posted an earned run average of 9.21 in 42 innings of work, showing serious command issues.
11
Due to the injuries and inconsistencies the Twins have faced in their starting rotation, the team has used 11 different starting pitchers. The lack of continuity goes a long towards explaining a team ERA over 5.00 and an opponents' batting average of .288.
Eight pitchers have made at least eight starts for Molitor, with seven of those having made 10 or more. By contrast, only eight pitchers have started for Cleveland this season, and one of those came from Zach McAllister after the epic 19-inning game in Toronto in early July.
The Indians' regular starting five have all made at least 23 starts this season, displaying consistency and the good fortune of staying mostly healthy. Besides Corey Kluber, Carlos Carrasco, Danny Salazar, Trevor Bauer, and Josh Tomlin, only Cody Anderson (eight) and Mike Clevinger (six) have taken a normal turn in the rotation this season, a fact exemplified by the team being No. 1 in the AL in ERA, shutouts, and batting average against.
Names to Know
Brian Dozier
No one in MLB has been as hot offensively over the course of the second half as Minnesota's slugging 29-year old second baseman. Since the all-star break, Dozier has slashed .323/.367/.755 (1.121 OPS) with 16 doubles, 25 home runs, 49 runs batted in, and an OPS+ of 194. If not for the Twins' woeful record, he would very much be in the mix for AL Most Valuable Player.
On the season in total, Dozier has a .278/.348/.576 slash line and a 143 OPS+, and his 39 homers are closing in on the all-time single season high by a second baseman set by Davey Johnson of the Atlanta Braves in 1973.
A perennial Tribe killer, Dozier is slashing .297/.356/.656 in 15 games played against Cleveland this season, with six home runs, 17 RBIs, and an OPS+ 178. He is the most dangerous hitter in the big leagues right now, and the Indians' pitching staff will have their hands full trying to contain him this weekend.
Hector Santiago
The left-handed starter Santiago, acquired by Minnesota from the Los Angeles Angels at the trade deadline, has already made three starts against Cleveland this season, and they've each been very different. In total, the 28-year old has thrown 12.2 innings against the Tribe in 2016 (one start with the Angels, two with the Twins), yielding 10 runs on 15 hits, with seven walks and eight strikeouts.
Those numbers are good for a 6.39 ERA, with a .288/.367/.481 slash line and an OPS+ of 121 for Indians hitters. Still, in his last start against the team, on August 29th, Santiago went 6.1 innings scoreless, allowing just three hits in what became a 1-0 Cleveland win.
Whether Santiago, who will be on the mound for Saturday's game, can replicate that performance or reverts to the sort of effort he put forth in his first two outings against the Indians will have an impact on how tough this series will be played.
Probable Pitching Matchups
The best pitching staff in the AL against the worst seems like it would portend a winning weekend for the Tribe, but as has been the case all season, the Twins are never an easy out for this club.
In Friday night's series opener, Danny Salazar will take the ball for Cleveland against Tyler Duffy looking to build off the success of his past two starts. After a stint on the DL with elbow soreness and a couple of disastrous starts after coming back, Salazar has looked much more like the pitcher who was named an all-star in the first half of the season. In outings against Texas and Miami, the righty has given up just three runs in 11 innings of work, striking out 10 Rangers and 11 Marlins in those games.
Duffy has been decent in three starts against the Indians this season, allowing nine runs in 19.1 innings of work, good for a 4.19 ERA. The 25-year old was roughed up in his last two starts, though, and was optioned back to Triple-A on August 24th, just being recalled again this past Tuesday.
Saturday looks to be another "bullpen day" for the Tribe, as Clevinger is slated to get the start against Santiago. This is a strategy Cleveland employed the last time through the rotation due to the struggles of Tomlin, and resulted in eight different pitchers combining to face the Astros. Though the Indians lost that game, there were positives to take away, and it seems Francona is content to continue with the strategy for the time being.
The series finale on Sunday will pit Kluber against Berrios, and both guys are in need of a bounce back start. Berrios gave up five runs on nine hits in five innings on Monday in an 11-5 loss to Kansas City, and has allowed four or more runs in five consecutive big league starts.
Kluber pitched a strange game against the Astros on Tuesday, throwing seven strong innings of four-hit ball, but was charged with four earned runs in the loss. The right-hander essentially lost his command for one six-batter stretch in the second and third innings, allowing the Stros all of their offense on the night before returning to being dominant. Kluber is still very much in the thick of the AL Cy Young race, and another quality start against the Twins would help bolster his case.
This article originally appeared on