Cleveland Indians: Corey Kluber injury update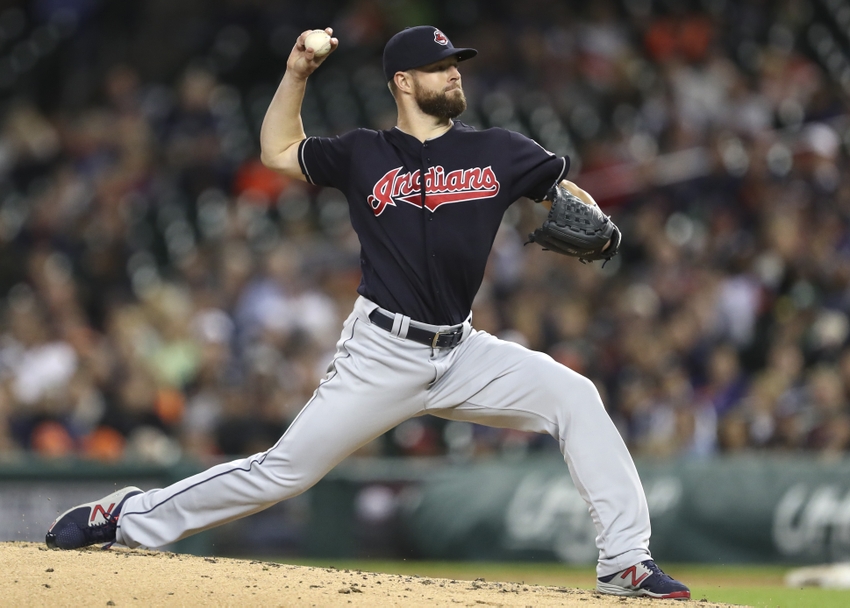 The Cleveland Indians recently had a big scare prior to entering the playoffs with the injury to Corey Kluber. How long will their ace be out for?
After pitching just four innings against the Detroit Tigers on Monday, Cleveland Indians starting pitcher Corey Kluber left the game early. Originally, it was said that Kluber left the game with a groin injury. Luckily, it appears that it is the quadriceps muscle that has been strained and not the groin.
Indians: MRI on Kluber revealed mild strain of quadriceps muscles. Groin injury was ruled out. Timetable for return to games: 7-10 days.

— Jordan Bastian (@MLBastian) September 28, 2016
With Game 1 of the ALDS just nine days away, Kluber's 7-10 day timetable puts him close to being ready for that game. There is still a lot left to be decided in the American League for the playoffs, but the Indians know that they have clinched their division.
One of the reasons for their success this season has been their pitching staff. Kluber is without a doubt the ace of that staff, and the possible absence of him in the postseason would have been a crucial blow.
More MLB from FanSided: 
Mets Steven Matz to have elbow surgery next week
Nationals' catcher Wilson Ramos has torn right ACL
MLB Playoffs: 3 reasons the Cardinals will make it
This season, Kluber has totaled a 18-9 record, 227 strikeouts, and 3.14 ERA. Having a pitcher like Kluber means that the Indians can win any game that he is on the mound for them. Kluber being able pitch in Game 1 is especially important, so the Indians can use him twice if need be.
The groin injury being ruled out was great news for the Indians, as that would have been much worse than a quad strain. Kluber missing the rest of the regular season isn't a huge deal, as he was unlikely to pitch a lot in his next scheduled start.
While getting some home-field advantage would have been nice, the Indians have to focus on having their ace healthy. Despite having a strong rotation this season, the Indians wouldn't go anywhere in the playoffs without Kluber.
This article originally appeared on