Cleveland Indians: Brandon Guyer is the True Hit-By-Pitch King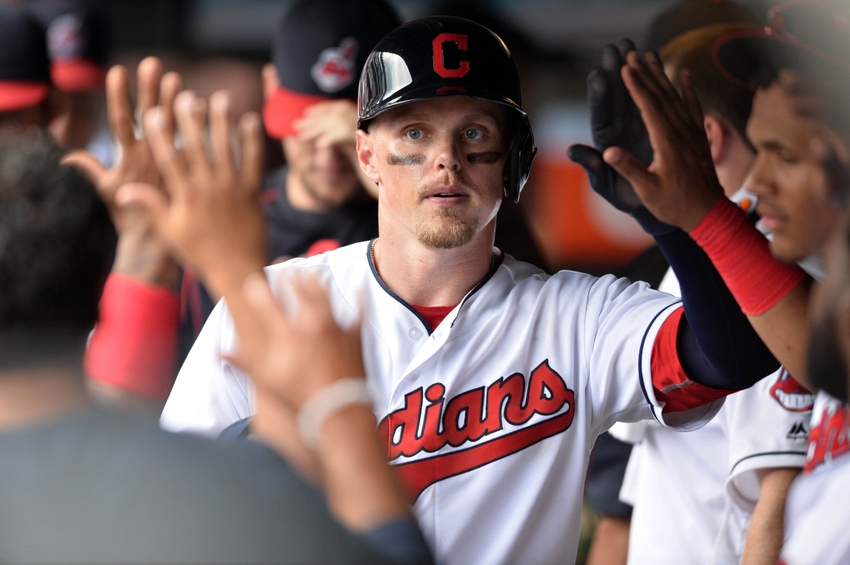 Brandon Guyer, of the Cleveland Indians, is the true hit-by-pitch king. The 30-year-old outfielder has reached base more by getting hit then he has due to walks.
Brandon Guyer hasn't found a new way to get on base, but he has found one that works. He, through 5 major league seasons, has 59 total walks compared to 64 times hit-by-pitch (HBP). This season for the Cleveland Indians, Guyer has 29 bases due to hit-by-pitch through 84 games.
According to August Fagerstrom of Fangraphs, Guyer is the true hit-by-pitch king. In 6 percent of his plate appearances, Guyer was hit. This is the highest rate in baseball's modern history, among players with at least 500 career plate appearances.
Guyer's 29, so far, are the most by an American League hitter since 2002. Depending on how much playing time he receives, he could break the American League record of 35 by Don Baylor in 1986. However, the MLB record is likely out of reach (50). Not to mention, Guyer also led the league in HBP last season with a total of 24.
Many batters that have impressive on-base percentages usually either have a lot of hits or walks. But Guyer has neither. This season he is hitting for a batting average of .252 with 66 hits in 262 at-bats. He also has 17 walks compared to his league-leading 29 HBP with a .362 OBP. And if Guyer continues this trend, he will have his second straight season of an OBP above .350.
So the question is, why is he being hit so much? The answer could very well be that Guyer is trying to get hit. But in an interview with MLB.com, Guyer stated: "There's no plan ever to get hit by a pitch…That's the last thing I want. I just don't know how to move, so it happens."
So now let's take a look at Guyer's approach.
Guyer's high HBP total stems from his stride. Said he just doesn't have knack for getting leg out of way. pic.twitter.com/CvbsVfbJJ7

— Jordan Bastian (@MLBastian) August 27, 2016
In the first frame, Guyer doesn't seem close to the plate at all. But notice in frame two and three that his front leg moves in towards the plate as he steps. His front elbow and shoulder also drop towards the plate. In frame three he's ready to swing and his elbow is in line with the corner of home plate.His original stance provides room off the plate for pitchers to go inside. But once his stride begins and lands, that space shrinks.
Guyer isn't trying to get hit, but he also isn't trying to avoid getting hit. "Some people say you should try to work on not getting hit," Guyer said. "But, if I went up there thinking, 'If it's in, get out of the way,' it'd take away from my hitting. I'd be thinking about moving away from inside pitches, instead of trying to see the ball and hit the ball. If I were to do that, I think my hitting would suffer. So, I try to roll with it."
Guyer doesn't threaten pitchers through speed or power, but he isn't scared to trade a bruise for a base. It'll be interesting to watch his upcoming at-bats and see if pitchers begin to stay away from the inside part of the plate.
The hit-by-pitch king has found success in a much more painful way than most. But, it's working for him and the Indians as they march towards the postseason.
More from Call to the Pen
This article originally appeared on