Cleveland Indians: 5 Untouchable Players This Offseason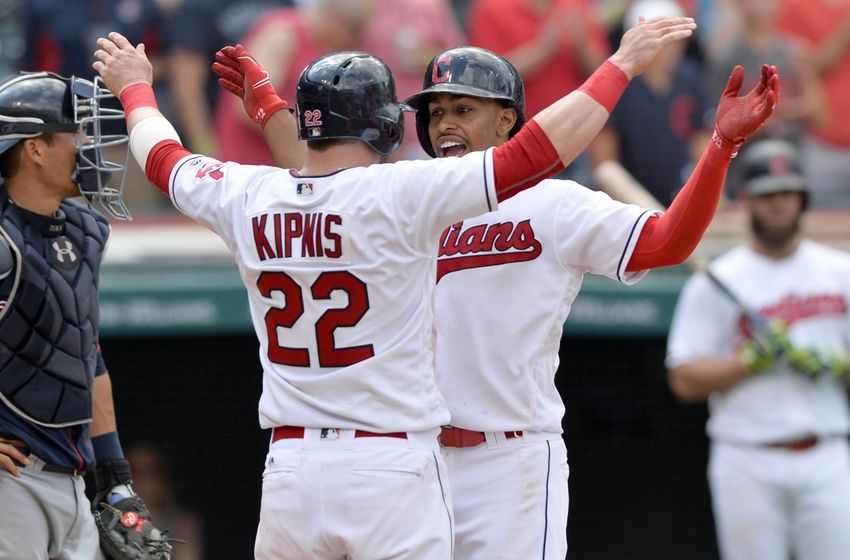 The Cleveland Indians have done a great job at growing talent in the farm system and keeping it under control long term. The results of this became obvious this past season during the team's unbelievable playoff run.
Players that have been developed at least partly in the Cleveland Indians' farm system include Jason Kipnis, Francisco Lindor, Corey Kluber, Carlos Santana and Danny Salazar, among others. The Indians have been able to build a strong core of players that have given the team reason to stay quiet this offseason.
While the recent news reported by Jordan Bastian of MLB.com saying the Indians will likely remain dormant may be disheartening, it comes with good reason.
In terms of free agency, do not expect the Indians to target any players who will command huge contracts or those tied to Draft-pick compensation. It is more likely that the Tribe will once again look for complementary help along the lines of Napoli and Davis, who both remain of interest to the Tribe.
The Indians have only lost two key players to free agency – Mike Napoli and Rajai Davis, although both could still be re-signed by the team. The loss of Napoli would likely hurt the most, as his 34 home runs and 101 RBI both led the team. The loss of Davis woulud mostly be felt on the base paths, as his 43 stolen bases led the American League.
The core of young, controllable talent not only allows the Indians to have quality players while staying under their strict budget, but it also means that most of the 2016 American League Championship squad will be returning.
Much like last offseason, guys like Salazar and Carrasco will likely garner attention from other teams looking to make a trade, but they will not be let go of unless it is for the right price. Reliever Andrew Miller has also drawn a lot of interest, but Indians executives have claimed that a deal is unlikely.
Some players have reached a status of being "untouchable."
Some Indians have become so valuable to the team that it is unimaginable that they will be traded at any point in the near future.
Corey Kluber – SP
As if it were any question before the postseason, the 2016 playoffs assured Corey Kluber's status as the Indians' ace for many years to come.
Having established himself as one of baseball's best starting pitchers in 2014 with a Cy Young Award, Kluber never experienced a drop-off. His record suffered in 2015 due to poor run support, but his ERA remained low.
2016 saw the return of the Cy Young-type numbers. Posting an 18-9 record with a 3.14 ERA, Kluber finished third in the Cy Young Race behind winner Rick Porcello and runner-up Justin Verlander.
Kluber is under control through the 2021 season, and his contract will peak during the 2021 season at $14 million. Kluber's contract is extremely team-friendly and only adds to his "untouchable" status.
With the time left on his contract and him only being 30 years old, his value is at an all-time high and would be tough for any team to match. However, do not expect the Indians to even entertain the idea of dealing Kluber.
Andrew Miller – LRP
Do not take the news that the Indians will listen to offers for Andrew Miller as any indication that the team is looking to move the ALCS MVP. His value to the team was unmatched throughout the playoffs and the team, which is looking to head back to the World Series in 2017, cannot move him if they hope to do that.
It is safe to say that the Indians would not have made it to the World Series if it were not for Miller. His postseason dominance allowed the team to win close games in all three playoff series.
This type of player, especially one that is under control for two more seasons, does not get traded from a team that is still very much contending going into next season.
If Miller were to be dealt, the hole that would be left in the bullpen would not be able to be completely filled. While guys like Bryan Shaw and Cody Allen have proven reliable, the flexibility that Miller gives the team makes him far more valuable than anyone who could attempt to replace him.
Financially, the 31-year-old's $9 million contract is not overwhelming for the team, and they would likely be more than happy to pay him that amount of money for the next two years.
Jason Kipnis – 2B
Since arriving in Cleveland in 2011, Jason Kipnis has become the face of the franchise. Indians fans know that no player represents the team as a whole better than the second baseman.
Hard working, energetic, gritty and passionate are all words that can be used to describe Kipnis, and the same can be said for the team around him.
Now a clubhouse leader, Kipnis is one of the central figures for the team. His leadership and demeanor are traits which young players, such as Francisco Lindor, can look up to.
Kipnis can get it done everywhere on the field. He is a proficient base stealer, a plus defender and hits for a high average at the top of the Indians lineup. This past season Kipnis even displayed some power, slugging 23 home runs.
It is hard to imagine Kipnis in any uniform other than one with Chief Wahoo on the sleeve.
Bradley Zimmer – OF
The buzz around Indians top prospect Bradley Zimmer has only grown this offseason. His arrival in Cleveland will likely happen this coming season.
Still in AAA, at this point in his career, Zimmer is untouchable. Often compared to former Indians now Yankees prospect Clint Frazier, Zimmer is the safer pick of the two, and the Indians chose Zimmer's safety over Frazier's upside in the Miller trade.
When Zimmer was drafted, scouts saw an above average contact hitter, but questioned whether or not his power would develop. In reality, Zimmer's power has developed, but his batting average has gone down.
Still, Zimmer will likely be a major part of the Indians outfield by the end of the 2017 season. He could split time in center field with Tyler Naquin as early as mid-season.
With the Indians potentially losing Davis to free agency, they need to have a fail-safe behind Naquin in the outfield, especially after Naquin's decrease in production after the All-Star break.
For that reason and the fact that he is one of the team's top prospects, Zimmer is untouchable.
Francisco Lindor – SS
Francisco Lindor is going to be a member of the Cleveland Indians for a long time.
The shortstop has already become a household name after just a season and a half in the big leagues.
In his first full season, Lindor won both a Gold and Platinum Glove at the toughest position in baseball. Not to mention, his hitting has been far better than anyone could have ever imagined.
Lindor's work ethic and attitude towards the game were always major upsides, and that continues to show as he works towards his second full season in Cleveland.
With his youth and contract, Lindor's value is right there with Mike Trout, Clayton Kershaw and Kris Bryant.
Expect the Indians to start talking contract extension with Lindor within the next couple of seasons, because the team is not going to want to take a chance of Lindor being in another team's uniform.
This article originally appeared on