Cleveland Indians: 5 Things to be Thankful For in 2016
Taking a look at what Cleveland Indians fans have to be thankful for after an amazing 2016 season that ended just short of a World Series title.
There will be Cleveland Indians fans relaxing at home today after a day filled with food and family. There will be other Indians fans fighting the crowds for some deals on a day that strikes fear into the heart of introverts.
But no matter what the different types of fans are doing, the days surrounding Thanksgiving are a great time for everyone to take time to reflect on the year, and more specifically, the Indians' season.
Yesterday was surely filled with reenactments of Rajai Davis' game-tying home run in Game 7 of the World Series, or vivid descriptions of Trevor Bauer's bloody finger. Perhaps fans even recounted stories of Terry Francona's absurd eating habits.
The celebrations cannot be had without some remorse about the unfinished goal of winning a championship, but it is hard to be too upset as time continues to go on and next season continues to creep up on us.
There are countless reasons to be thankful in 2016, because of both the past season and what next season may hold in store. For now, let's narrow down five specific reasons for Indians fans to feel thankful on this Black Friday.
The ultimate goal every season is to win the World Series. But winning the American League isn't too bad.
The Indians finally won the AL pennant for the first time since 1997, nine years after being one game away from doing so against Terry Francona and the Boston Red Sox.
They were the team that wasn't supposed to be there. The team that was written off by a local journalist after suffering so many injuries. But they proved everyone wrong, and made the nation realize which team is the dominant force in the AL.
The Indians got by the Red Sox with ease, making AL Cy Young award winner Rick Porcello look foolish. David Price didn't fare well either.
Then came the Toronto Blue Jays, who like to talk a lot of smack, but who were only able to take one game from the team that wasn't supposed to be there.
After so many years of hovering around the .500 mark, it was great to capture a division title and follow it up with a league title. And while the final result wasn't ideal, this team is young and should only continue to fight for the AL crown for the next few years.
While some teams are in a rush to win a title due to aging stars, the Indians seem set to compete for the a championship for the foreseeable future.
With talent all over the roster, there are several young players who have yet to even hit their prime. And that should have fans feeling extra thankful this year.
Francisco Lindor is the first name that comes to mind. The shortstop is a star and is only 23 years old, with 2016 being only his first full season with the Indians. All he did was make the All-Star team and win a Gold Glove. He also finished ninth in the AL MVP voting.
Lindor is one of the faces of the franchise and should only continue to get better at the plate, where he hit a respectable .301 in 2016. He finished second on the team, behind another young star.
That star is Jose Ramirez, who had one of the most surprising seasons in franchise history. Originally expected to be a utility player, Ramirez cemented himself as the starting third baseman, and was one of the most dominant offensive players on the roster.
His .312 average was the best on the team among qualifying hitters, while his .363 on-base percentage ranked second behind Carlos Santana.
With Lindor and Ramirez occupying the left side of the infield and Jason Kipnis at second, the Indians are in great hands. Add in Tyler Naquin and his solid rookie season, and fans have a lot to be excited about as the younger players continue to gain experience.
Much of the focus during the trade deadline was surrounding Jonathan Lucroy and his infamous veto, but fans should not have wasted time on the subject. For the Indians acquired Andrew Miller, and all was well in The Land.
Fans who had never seen Miller pitch were in for a treat when he arrived in town, as his pitching made hitters look foolish when facing him. His slider is perhaps the nastiest in all of baseball, being the source of many failed attempts at contact that resulted in comical swings.
He was also a workhorse throughout the postseason, logging 19 1/3 innings and striking out 30 batters. He routinely went multiple innings and has changed the way managers may use relievers in the future.
He only gave up one run before the two he allowed in Game 7, but it is hard to get too upset after seeing what he did all season. He was the go-to guy in any inning, and will be in Cleveland for at least the next two seasons. With the current core of talent in place, Miller should once again be wowing fans across the nation next October.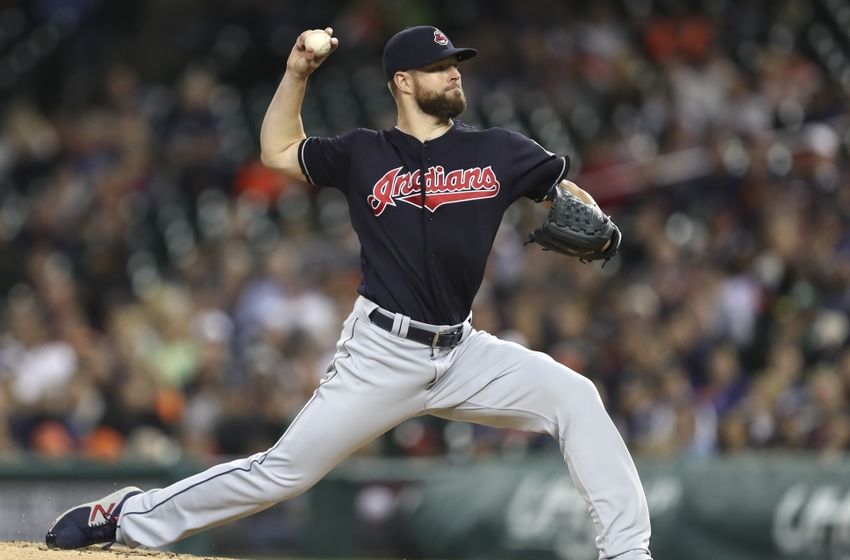 While some teams will look for outside help to find an ace this offseason, the Indians will once again not have to worry about such a thing.
Corey Kluber, who has been a regular starter since 2013, will once again open the season as the number one starter. He is one of the best pitchers in all of baseball, making the fact he is under contract through at least 2019 that much more exciting.
Like Miller, Kluber was a force in the postseason. He started six of the team's 15 games, finishing with an ERA of 1.83, picking up four wins and striking out 35 opposing batters.
The most impressive part of it all were his three World Series starts. He pitched on short rest twice, only faltering in Game 7 due to both fatigue and the Cubs being familiar with him after seeing him for the third time.
Kluber finished third in this year's AL Cy Young award voting, but would have easily finished first if the postseason was taken into account.
But even without the award, fans must be thankful that the Indians were able to lock up such a talent. He is the face of the pitching staff, and gives fans confidence that the team can pick up a win every five days. And when the postseason rolls around, which will hopefully be often, he is there to go whenever he is needed.
Rajai Davis has had a successful MLB career, but nothing in it compares to his game-tying home run in Game 7 of the World Series.
Cubs fans likely felt confident. They had Aroldis Chapman on the mound and were only four outs away from a World Series title. Enter Rajai Davis.
The veteran hit an unforgettable home run over the wall in left field, tying the game at 8-8 and giving the Indians the momentum heading into the ninth.
The final result was devastating, but nothing can take away that magical feeling that came with the home run that will go down as a great moment in franchise history.
It gave the city a spark when things felt hopeless, and provided fans around the nation with one of the most memorable moments in Game 7 history.
Davis was known for his base-stealing abilities all season, which made the home run that much more surprising. But no one in Cleveland will be found complaining about the contact hitter's display of power in such a crucial moment.
In a season filled with so many highs and one monumental low, fans can be thankful that Davis gave us all a reason to believe, even if it only prolonged the inevitable.
More from Wahoo's on First
This article originally appeared on