Cleveland Indians 2016 Player of the Year: Corey Kluber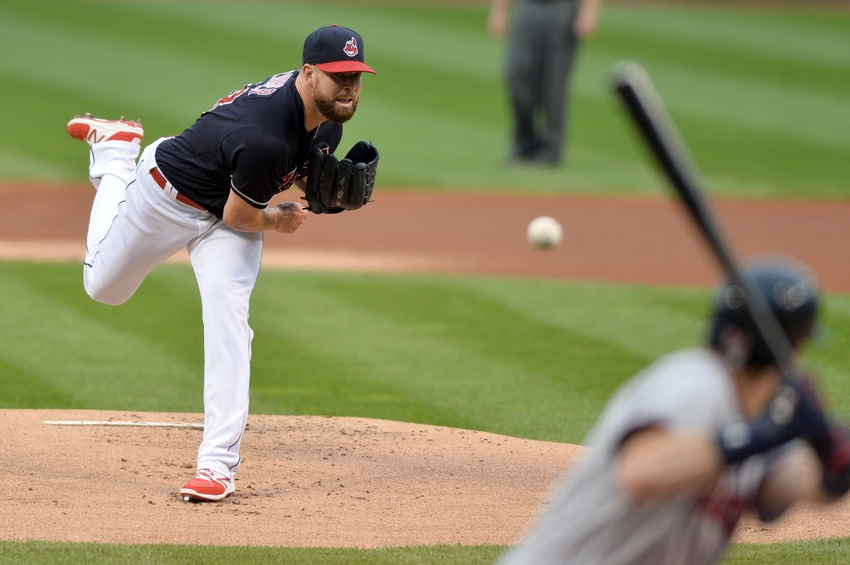 The Cleveland Indians were the champions of both the American League and the AL Central Division, and their ace starting pitcher is their Player of the Year.
The Cleveland Indians had a dream season in 2016, capturing the AL Central Division by eight games and then rolling to the American League pennant.
The dream ended in something of a nightmarish fashion, however. The club took a 3-1 lead in the World Series, only to watch as the Chicago Cubs came roaring back to capture the next three games and win the Fall Classic after a dramatic Game Seven in Cleveland.
In the regular season they recorded the most wins by a Tribe team since the 1997 team, which also lost the World Series in an agonizing Game Seven. As you can imagine, there were many outstanding players this year for manager Terry Francona's 94-67 squad.
Indians 2016 Statistical Leaders
The middle infield keystone combo led the lineup. Second baseman Jason Kipnis banged 23 homers and 41 doubles, and had 82 RBI and 91 runs scored.
Shortstop Francisco Lindor hit .301 with 15 homers, 30 doubles, 78 RBI, 99 runs, and 19 stolen bases. The 22-year old Lindor was an AL All-Star and Gold Glove Award winner for the first time.
More from Call to the Pen
Power was provided by first baseman Mike Napoli with 34 homers, 101 RBI, and 92 runs scored. DH Carlos Santana ripped 34 homers and 31 doubles, with 87 RBI and 89 runs scored.
Rookie center fielder Tyler Naquin became an AL Rookie of the Year Award finalist by hitting for a .296/.372/.514 slash with 14 homers, 43 RBI, and 52 runs over 116 games.
Another quiet key in the lineup was third baseman Jose Ramirez. He hit for a .312/.363/.462 slash line with 76 RBI, 82 runs scored, 46 doubles, 11 homers, and 22 stolen bases.
In the rotation, Josh Tomlin won 13 games,  Trevor Bauer won a dozen, and Carlos Carrasco and Danny Salazar won 11 each, though both missed the most of the final two months.
27-year old closer Cody Allen recorded 32 Saves with a 2.51 ERA and 1.000 WHIP, allowing just 41 hits in 68 games with an 87/27 K:BB ratio.
Dan Otero, Bryan Shaw, Zach McAllister, and Jeff Manship contributed mightily to what was baseball's best and deepest bullpen this season.
That pen got even better and deeper with the trade deadline acquisition of lefty Andrew Miller from the New York Yankees. Over 26 games with the Tribe, Miller went 4-0 and chipped in 3 Saves. He allowed just 14 hits over 29 innings with an incredible 46/2 K:BB ratio.
Kluber is Tribe's 2016 Player of the Year
Among all of these outstanding performances, the best of all and the top player for the Indians this season was 30-year old veteran starting pitching ace Corey Kluber.
Kluber went 18-9 with a 3.14 ERA and 1.056 WHIP. He allowed 170 hits over 215 innings with a 227/57 K:BB ratio, recording three Complete Games and a pair of shutouts. He produced a Quality Start in 22 of his 32 outings this season, and led the team with a 6.5 WAR mark.
"The movement on his ball. His breaking ball is as good as there is in the game," said Miller per Jorge L Ortiz with USA Today.
"He throws that comeback sinker, he cuts the ball a little bit, he locates well. Hitters don't know which way the ball's going to go and they don't know how hard it's going to move. It's impossible to predict. It's impossible to guess because he commands everything so well.''
Hitters found Kluber impossible to predict, guess, or hit at all most of the time this season. For that, the six-year right-handed Corey Kluber is the 2016 Cleveland Indians Player of the Year.
This article originally appeared on