Cincinnati Reds watch center fielder Billy Hamilton lose Gold Glove, again!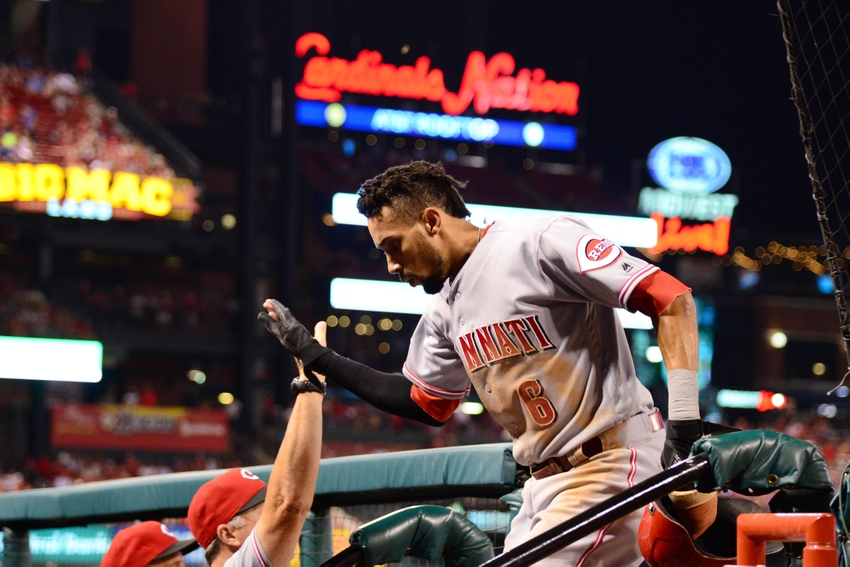 The Cincinnati Reds have the best defensive center fielder in the National League, but no one else seems to know.
Billy Hamilton led all National League center fielders in defensive wins above replacement with 1.8 for the Cincinnati Reds in 2016.  He ranked sixth last year and third in 2014.  Only one player has been higher than him twice in those three years.
That would be this year's Gold Glove winner, Ender Inciarte of the Atlanta Braves.  The past two seasons as an Arizona Diamondback, Inciarte played all three outfield position.  This year, he played just one and won the Gold Glove.
That doesn't mean Hamilton didn't deserve the award this season, even with the missed time.  Only one player has been in the top three in the NL among center fielders in range factor.  That would be Billy Hamilton.
The only other person who finished in the top three twice was Odubel Herrera.  The Philadelphia Phillies' center fielder wasn't the one who took the prize.  It was Inciarte.
The Gold Glove usually seems like a career award a year or two after the person really earns it.  Unlike the Cy Young, the Gold Glove seems to be only open to multi-year success stories.  That shouldn't be holding back Hamilton, though.  He is the real deal in center field.
The Cincinnati Reds should do more to publicize the play of Hamilton in center field, like maybe a musical?
Imagine how great it would be to see Hamilton play Hamilton, Billy as founding father Alexander.  He definitely has the footwork skills to do it.  There's a 2017 tour maybe they could do a stop at Great American Ballpark.
Imagine the scene now.  After a tough fought loss on a Friday night, the players change while the fireworks display is going off.  Then the Reds come out to do a lip-synced version of Hamilton.
It would be great!  The Reds wouldn't even have to change pants, either.  They could come grass stains and all.
Seriously, though, the Reds owe it to Hamilton to do something to help him get his deserved recognition.  That his defense has coincided with the downfall of the Reds is not Hamilton's fault.  If the pitchers could keep more in the park, he'd go chase them down.
Want your voice heard? Join the Blog Red Machine team!
The Reds need to celebrate Hamilton, while they can.  Since he kept his OBP above .300, the Red might only have him around for a couple more seasons.  With Aroldis Chapman gone and Joey Votto aging, Hamilton may finally be the best reason to watch a Reds game beginning to end.
More from Blog Red Machine
This article originally appeared on