Cincinnati Reds to Honor Pete Rose with a Statue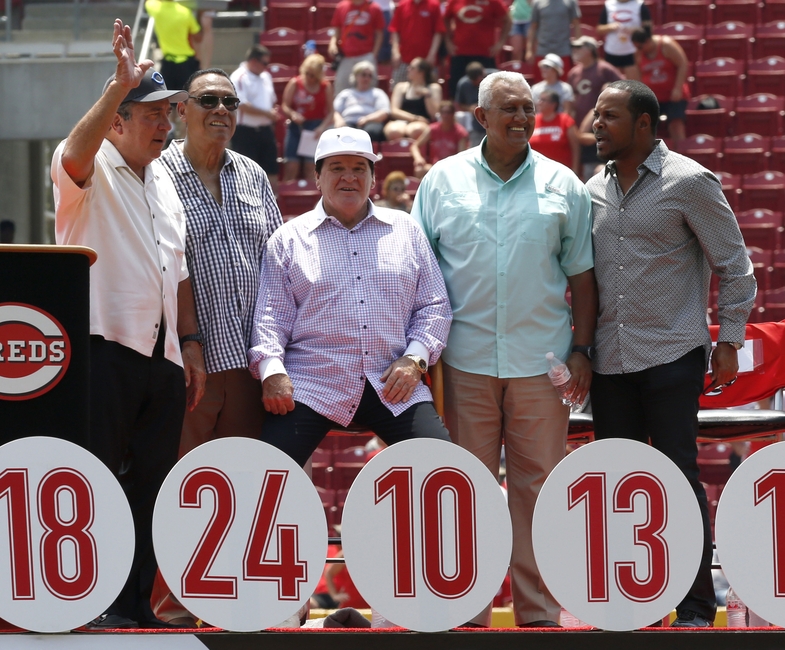 Cincinnati Reds legend Pete Rose will be honored at Great American Ball Park on June 17 with the unveiling of a statue depicting his likeness. He will be joining Big Red Machine team members Johnny Bench, Tony Perez and Joe Morgan on the plaza walkway at Great American.
Pete Rose invites controversy wherever he goes. He's been tagged and called out by Major League Baseball because he was caught gambling on games that even his own team was playing in when he was the manager of the Cincinnati Reds. He has never denied that he did, but he's never admitted that he did either.
Known for brashness and "I don't really give a damn" attitude, Pete Rose has his own website, aptly titled Pete Rose.com "Home of the Hit King". There, you can shop till you drop and make endless contributions to the Pete Rose "retirement fund".
More from Call to the Pen
Essentially, though, Pete Rose is a former big league player whose name is splattered all over the record books of baseball, including the one for most hits ever in a playing career. And the Cincinnati Reds know that and they continue to act on it, as they did this summer, by inducting Pete Rose in their Hall of Fame.
The statue itself will show Rose in his signature "pose" sliding head-first into a base. It will be the work of artist Tom Tsuchiya, who is the official sculptor of the National Baseball Hall of Fame. An interview in the Cincinnati Enquirer describes the figure in more detail: "With his back legs raised high in the air, Tsuchiya captures the very moment his front arms hit the dirt. It's a magic trick as much as it is art. Well, a magic trick using science and math instead of smoke and mirrors."
The statue of Pete Rose will add to the ones on the plaza walkway leading to the main entrance at Great American. Before they began the effort to honor the Big Red Machine with statues, the Reds had already generated the idea with likenesses of players such as Ted Kluszewski, a big hulk of a man whose statue depicts how he wore his sleeves on his shoulders to show off his arm muscles. There's also one of former Reds pitcher and Hall of Fame announcer Joe Nuxhall.
Presumably, Rose will be joined by his former teammates as he was when his Number 14 was retired. It remains to be seen if anyone from the official world of Major League Baseball will be present when the Pete Rose statue is unveiled on June 17.
This article originally appeared on