Cincinnati Reds Star Pete Rose Enjoying New Celebrity Status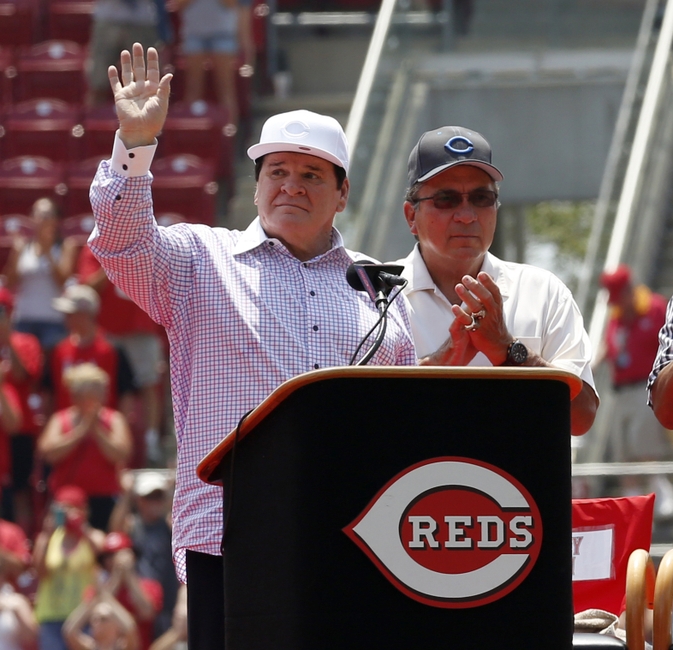 For the longest time, Pete Rose was remembered as the disgraced former Cincinnati Reds great, banned from baseball for betting on the game. However, his star is once again ascending, as Rose continues to be around the periphery of baseball.
It has been a long road back into the good graces of baseball for Pete Rose. The all time hits leader, and the long time star for the Cincinnati Reds had been banished from the game, suspended for life due to his gambling on baseball. On the outside since his banishment in 1989, Rose had been a pariah in the game.
Lately, however, Rose has seen a renaissance. While he is still banned from baseball, he has been allowed to take part in on field ceremonies. Starting with being named as part of the Reds Franchise Four, and through other on field moments, Rose has seen his popularity increase. For Rose, who had been shunned for so long, it has been an enjoyable experience.
That resurgence really began with his inclusion in the FOX MLB pre and postgame shows during the 2015 playoffs. In his own way, he was a voice of reason, providing brilliant insight as he broke down the game. And who could forget his entertaining lean in to the shot while C.J. Nitkowski was talking, making him an instant meme? Knowing where to find comedy gold, Rose reprised that lean again this year.
More from Call to the Pen
Throughout all of his past transgressions, Rose still commands respect from former players. Just look at how Alex Rodriguez and Frank Thomas react while Rose discusses the art of hitting, as he talks about winning the mental chess match against opposing pitching. Even at 75 years old, one could imagine Rose still being able to get a hit or two.
Yes, Rose is still not allowed back in the game in any official capacity. His quest to be reinstated was, again, denied, leaving Rose on the outside. And, perhaps most importantly, he is still ineligible for the Hall of Fame, leaving the Hit King without a plaque in Cooperstown.
He is still getting recognition, however. The Cincinnati Reds are putting a statue of Rose on Crosley Terrace next year, immortalizing him in bronze. He has already had his number retired, and inducted him into the team Hall of Fame, keeping his place in Reds history intact.
Maybe, at some point in time, Pete Rose will be allowed back in the game. However, his increased popularity speaks volumes to how far he has come in public perception over the past few years.
This article originally appeared on