Cincinnati Reds search for back-up outifielder in house and beyond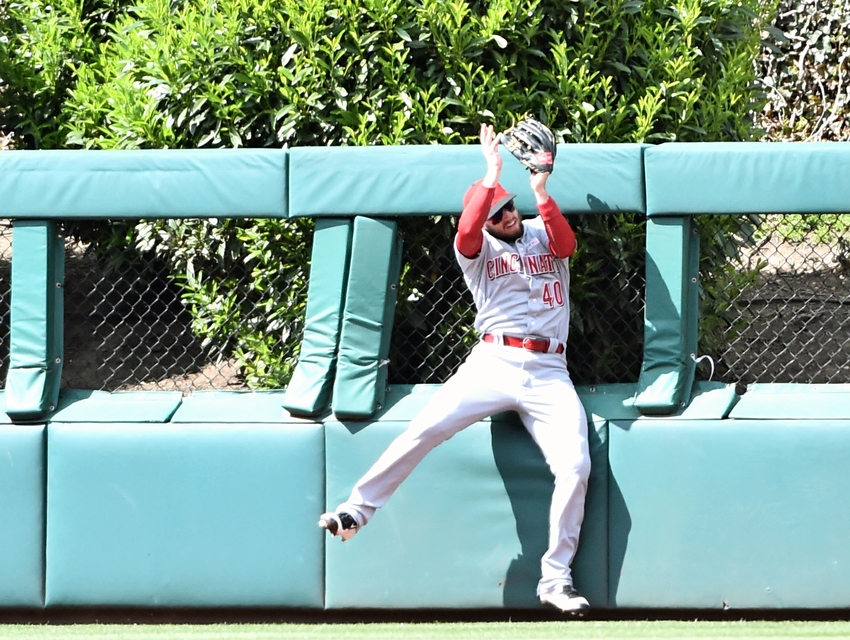 The Cincinnati Reds enter the holiday season looking for a back-up outfielder for the 2017 season.
In 2016 the Cincinnati Reds had Tyler Holt as the back-up outfielder.  Holt is still in the running for the spot, but he was sent outright to Louisville at the end of the season turning into a minor league free agent.  That means that the Reds are looking for something else.
The first person to get a look will be Arismendy Alcantara.  The infielder/outfielder claimed from the Oakland Athletics had the speed and flexibility that they Reds like for their bench players.  Alcantara can play middle infield and all three outfield spots.
That should sound familiar because that is the same set of skills as last year's breakout rookie, Jose Peraza.  Peraza could be asked to do more than just back-up the outfield, though.  He could be the opening day second baseman or he could be the back-up outfielder.
Speaking of people who be challenging for a starting spot in the line-up, there are a pair of outfielders that might end up as the primary back-up if they fail.  Steve Selsky may be the platoon partner of Scott Schebler in right field.  Selsky deserves a chance to get playing time, but isn't good enough defensively to back-up in center.
The other person looking for a starting spot is top prospect Jesse Winker.  He is a left fielder by trade, but could play center field occasionally, if he isn't starting everyday.  He is going to push Schebler in right during spring training, but his lack of power will hold him back.
There are secondary options that seem even less likely, but could end up being the Reds' answer.
One option is Phil Ervin.  He reminds many older fans are Ron Gant during his younger days.  He has speed and power, but is an unpolished outfielder.
Another option could be Jordan Schaeffer or another minor league free agent.  Schaeffer comes to mind because he is a speedy defensive outfielder a la Tyler Holt.  The difference is that Schaeffer bats left-handed which makes him a more natural back-up for left fielder Adam Duvall who appeared to wear down towards the end of the season.
The longest of shots goes to Aristides Aquino.  He was the minor league player of the year and just added to the forty man roster.  He likely can't play center field at the MLB level, so he will face an uphill battle.
Want your voice heard? Join the Blog Red Machine team!
The Reds discovered that Schebler wasn't all that comfortable in center at Great American Ballpark.  That began their search for a back-up outfielder for 2017.  Now they have the holiday season to find some options for the spring.
This article originally appeared on