Cincinnati Reds Rumors – Williams is listening on offers for Adam Duvall in exchange for pitching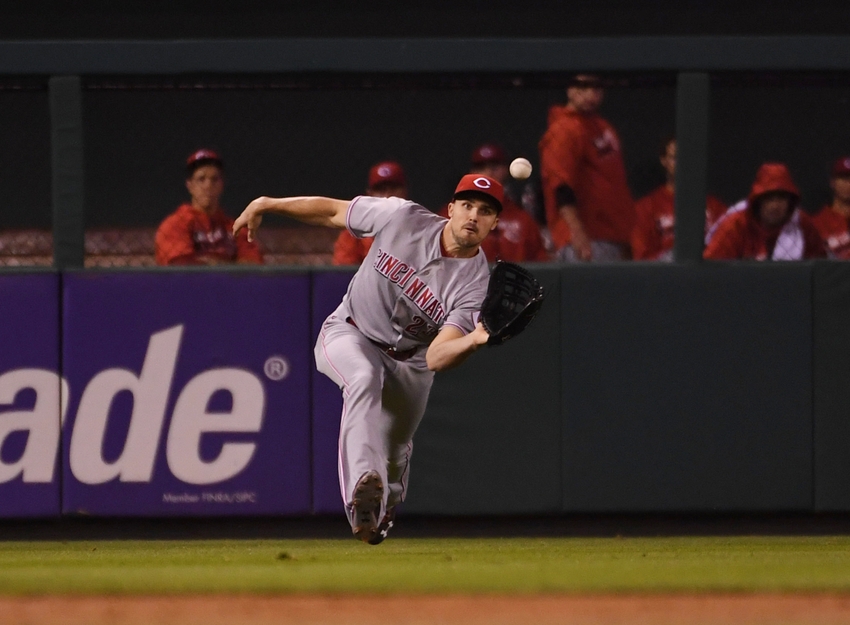 The Cincinnati Reds are looking for more starting pitching to supplement what they have and Adam Duvall is available.
The Cincinnati Reds have come to the realization that their vaunted young pitchers are not as good as they have been advertising.  Since the end of the season, the Reds have gone from guaranteeing every starting pitcher is already in house, to saying that they are looking for one starter and depth in the free agent market.  This look for starting pitching extends to the trade market.
With Jesse Winker supposedly ready to play everyday and Jose Peraza still potentially blocked in the middle infield, the Reds have two players and no positions.  One solution would be to create a position by trading  a current starter.  Adam Duvall is the most likely outfielder to be moved as he just had a career year both offensively and defensively.
Duvall was a finalist for the Gold Glove in left field and the Reds' lone All-Star this season.  Besides his skill in left, Duvall plays both corner infield positions.  With this being only his second year in the majors, Duvall is also inexpensive.  Duvall would definitely garner trade interest this off-season.
Just because teams are interested in Duvall, it doesn't mean the Cincinnati Reds should trade him right now.
The new front office configuration has caused a bunch of nervous nellies.  There is plenty of pitching depth, if they need it on the roster.  Keyvius Sampson and Tim Adleman are both just hanging around.
Trading a key component of the future doesn't make sense.  Duvall may not end up being a piece of the Reds resurgence, but it appears like he is for now.  Trading youth that fits into the current system doesn't make sense.
More importantly, there are other pieces that are more extraneous than Duvall.  Remember the Reds are not competing in 2017.  That makes Tony Cingrani, Blake Wood, and especially Raisel Iglesias extra pieces.
Trading Wood would bring back a prospect starter and trading Iglesias should bring back a middle of the rotation pitcher.  Cingrani wouldn't bring back too much, but it should be better than Sampson.  None of these three is likely to be in the picture the next time the Reds are in the playoffs.
Want your voice heard? Join the Blog Red Machine team!
The Reds finally have enough talent to worry about where specifically they need more.  Now they need to take a deep breath.  There is plenty of pitching coming through the pipeline in time for 2017.
More from Blog Red Machine
This article originally appeared on