Cincinnati Reds' offense finally has a signature game in 2016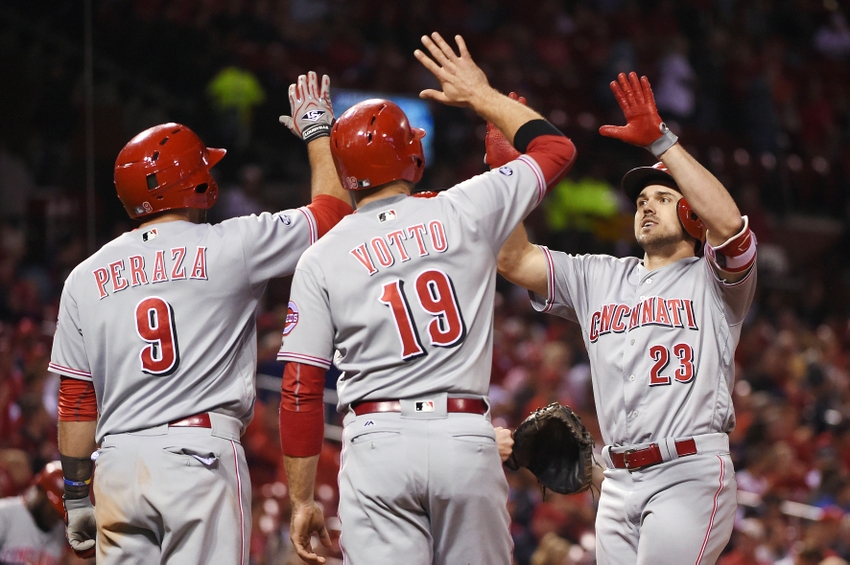 As the Cincinnati Reds' offense slowly turned around, it needed a breakout game.
Ever since the Cincinnati Reds traded Jay Bruce and called up Jose Peraza, the offense has been a different beast.  Since the All-Star Game, the Reds are fifth in the National League in runs scored.  They are also second in OBP.  In the first half they were second from last in the NL.
That was before the breakout game in Saint Louis.  The Reds took the game's starter Jaime Garcia and fellow starter Michael Wacha to the end of their limits.  In 3 2/3 the duo surrendered nine earned runs.
Although it can be tough to give Brandon Phillips credit, he did have a great night.  He had 2 stolen bases, while going 4-for-5 from the plate.  He added two RBIs as well.
Perhaps more impressive was the night of rookie Steve Selsky, going 5-for-5 with 4 RBIs and two runs scored.  That's the first time that a Reds' rookie has had five hits in a game since Wade Rowdon did it in 1986.  Rowdon was a skinny uber sub.  Selsky is looking to be an everyday outfielder.  One of Selsky's hit was a home run, the second of his career.
The offense didn't stop there, either.  Left fielder Adam Duvall, who looked exhausted the past few weeks, hit two home runs, while going 4-of-6 with five RBIs and 4 runs scored.  This is why he went to the All-Star Game this year.
This was a whole team effort.  The Reds' players combined for 22 hits, which is the most for the franchise since June 13, 2003.  That was so long ago that Jimmy Haynes was the winning pitcher and Adam Dunn was batting lead-off.
Want your voice heard? Join the Blog Red Machine team!
Tim Adleman had another solid start.
Speaking of pitching, Tim Adleman threw another solid game to go along with this offensive outburst.  Yet to get to .500 in his career, Adleman got his first ever MLB road win.  He went seven innings allowing only two earned runs.
This explosion was necessary for the Reds.  Everyone who started the game had at least one hit.  Jose Peraza and Phillips both had steals.  In addition to Selsky and Duvall, Joey Votto also had a home run.
No In-Editor Preview for 120 Sports Videos
Video Details
ID: 203529516
Source: 120 Sports
As the Reds come down the home stretch, they need positive reinforcement.  With this victory they are guaranteed being at least two games better than last year.  It also kept a 70-win season in sight.  Whether it's the speed of Peraza or the power of Duvall, the Reds need focus on the positive this last week of the 2016 season.
More from Blog Red Machine
This article originally appeared on