Cincinnati Reds need Eugenio Suarez to touch the ball more at the plate and in the field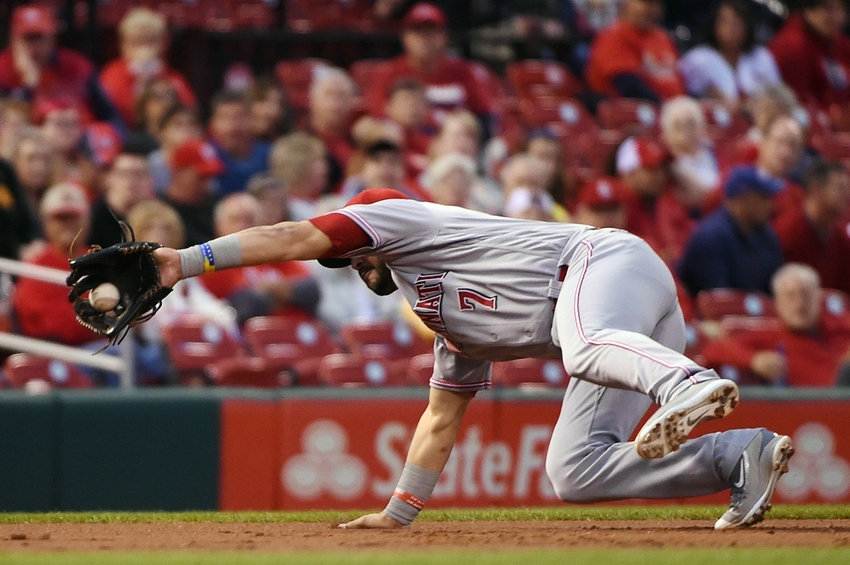 The Cincinnati Reds' third baseman Eugenio Suarez has to have fewer errors and fewer strikeouts if he wants to play everyday at third.
Eugenio Suarez had an interesting season for the Cincinnati Reds.  He was replacing the defending Home Run Derby Champion and changing from short to third.  He was also starting his first season at the MLB level.
2016 was the third MLB season for Suarez at an age when many players are just getting their first taste of big league action.  He played half of a season in relief of an injured Jose Iglesias for Detroit in 2014 and pulled a similar job off for the Reds in 2015 when Zack Cozart went down.  This year, though, Suarez started at third and stayed there all season long.
In impressive fashion Suarez went from never playing 100 big league games in one season to playing more games than any Reds in 2016 at 159.  He also finished fourth in home runs, behind All-Star Adam Duvall, MVP candidate Joey Votto, and superstar outfielder Jay Bruce.  In a less glorious way, Suarez also finished second on the team with 155 strikeouts.  In another negative number, Suarez had more errors than anyone else in MLB.  He beat out Kyle Seager of the Seattle Mariners by one error.
In 2017 the Reds are going to need something else out of Suarez if the team wants to continue to move forward.
in 2017 Suarez needs to be the connection between Billy Hamilton and Joey Votto, if the Reds are going to be successful.  They need someone who can provide enough of a threat after Hamilton to make teams pitch to Hamilton.  They also need someone with enough talent to get on base ahead of Votto.
Suarez got on base at a .317 clip despite only batting .248.  If he can cut down on his strikeouts, both his average and OBP will go up.  If he can consistently keep that OBP over .315, he should be able to sustain that two hole spot.
He also needs to tighten up his defense.  The Reds have a pair of interesting options besides Suarez at third in Duvall and Jose Peraza.  Duvall will likely stay in left, since he is a Gold Glove finalist.  The option remains there, though, if Suarez can't improve his glove work.
Want your voice heard? Join the Blog Red Machine team!
Suarez had a great first year in replacing Todd Frazier.  He had enough power that fans didn't miss Frazier too much at the plate.  Suarez still has much work to do to catch up to Frazier on the field, though.
More from Blog Red Machine
This article originally appeared on