Cincinnati Reds look befuddled again as they turn to Josh Smith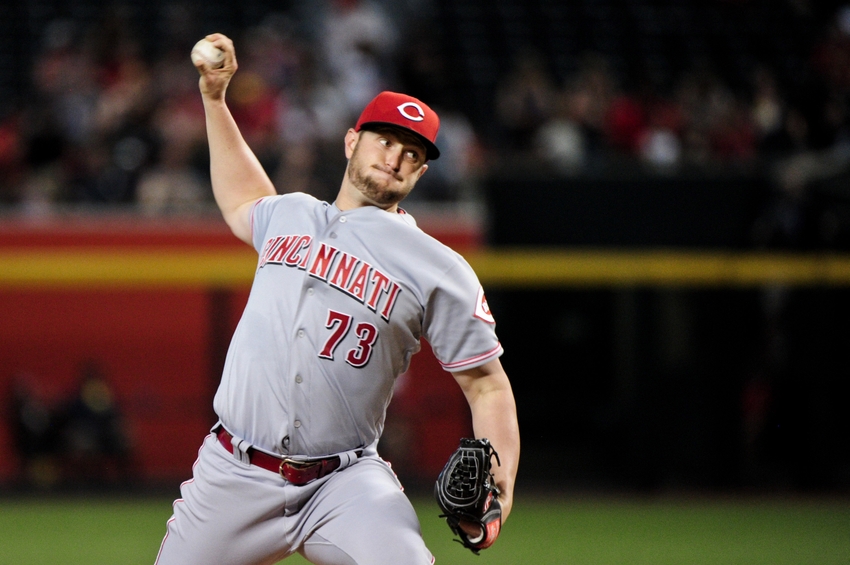 Cincinnati Reds can't find anyone else to start with Jon Lester going for the Cubs.
Where does it even start with the Cincinnati Reds?  The reaction to seeing Josh Smith's name on the probable starting pitcher list for a game in Wrigley is to have someone called up from the minors.  Jon Moscot and John Lamb are both out of the question.  Moscot had Tommy John surgery and Lamb has a flexor mass strain that the Reds hope doesn't require surgery.
The Reds also didn't plan well through the weekend.  They had Anthony DeSclafani and Brandon Finnegan both start games in a weekend double header against the Pittsburgh Pirates.  That meant they were going to be forced to use a sixth starter on Tuesday.  Then they overused their usual spot starter, Keyvius Sampson in the double header.  There's nothing like both front end starting pitchers having bad starts on the same day.
Both Josh Smith and Sampson pitched in relief against the Pirates on Saturday.  Smith went 3 2/3 using 62 pitches.  Sampson, meanwhile, threw 54 pitches over 1 1/3.  Traditionally speaking, Smith wouldn't go on two days rest after pitching so much on Saturday and Sampson would be a bullpen only option.
Want your voice heard? Join the Blog Red Machine team!
What's the point of forcing the issue with Smith?
Why are the Reds forcing Smith to pitch on short rest?  He began the season as a starter in Louisville before joining the Reds at the end of May.  He essentially replaced Dan Straily as the long man in the pen, once Straily joined the rotation.  This would be a tryout for the fifth starter spot next year, but it doesn't appear that way.  He's been passed over too much to be in serious consideration for a spot in the rotation.
The Reds need to get creative.  This late in the season they can move Cody Reed or Billy Hamilton to the 60-day disabled list to make room on the roster for an unusual suspect.  There aren't too many options available, though.
No In-Editor Preview for 120 Sports Videos
Video Details
ID: 202237646
Source: 120 Sports
A.J. Morris is free to help out.  Like Smith he was a starter at the beginning of the season in Triple-A before transitioning to the bullpen.  He pitched seven innings of relief at the end of May for the Reds before missing time due to injuries.  When he returned, he pitched exclusively relief for the Louisville Bats.  Giving him a chance with Smith as back-up makes more sense than sending a potential piece of next year's bullpen out to flounder needlessly.
More from Blog Red Machine
This article originally appeared on