Cincinnati Reds' lefty Amir Garrett is missing piece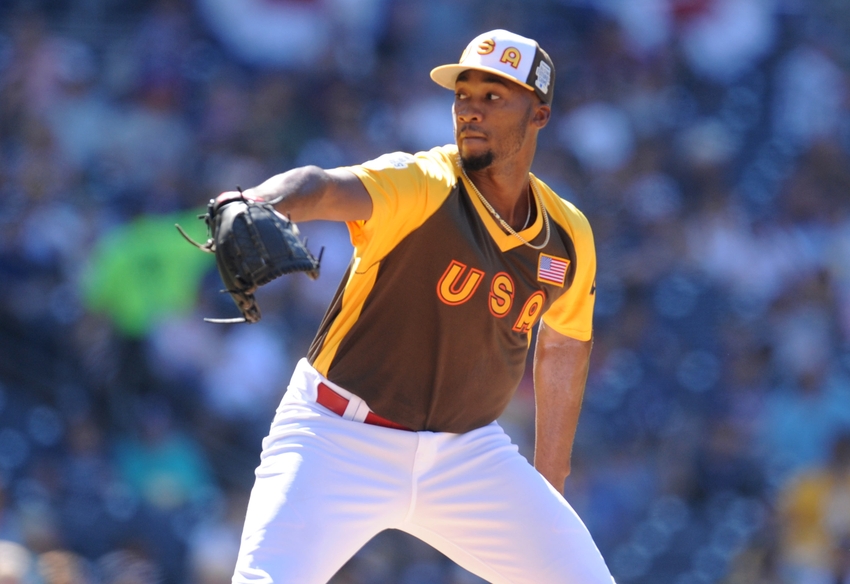 The Cincinnati Reds have a hole in their pitching rotation and they don't know how to fix it.
The Cincinnati Reds have found four solid starters for their pitching rotation in 2017 – the big three  Anthony DeSclafani, Brandon Finnegan, and Dan Straily – and youngster Robert Stephenson.  After these four the Reds ran out a mix of veterans and rookies the likes of which have rarely been seen in MLB.  Late spring training signing, Alfredo Simon, was probably the most unfortunate of them all.
The Reds could rely on Homer Bailey.  He will be the second highest paid Reds entering the 2017 season, barring a surprising trade or free agent acquisition.  Of course Bailey only made six starts in 2016 and none in September.
That brings the Reds to their minor league system.  They have been trying to load it will talent for the past few years, particularly with pitching talent.  They do have some successes to look upon.
Get the FanSided App
The Reds have seen the rise of Michael Lorenzen and Raisel Iglesias, first as starters and more recently as relievers.
They have seen the debuts of John Lamb and Cody Reed after getting the pair from the Kansas City Royals.  Perhaps most importantly, the Reds have seen the development of young lefty, Amir Garrett.
Garrett is the top Reds pitching prospect and #2 player in their minor league system.
Garrett is a top of the line prospect.  He has been moving up the Reds system, finally landing in Triple A this season.  Garrett made 23 starts this year between two different minor league levels.
Garrett has struck out 442 batters in 496 innings over five seasons.  The innings number is low because, while at Saint John's Garrett pitched short seasons.  In the last three years Garrett unleashed his potential.
76 of Garrett's 96 minor league starts have come in the last three years.  He has average 140 innings pitched and 130 strike outs per season over that time frame.  Therefore, he has begun to turn the corner to become a starting pitcher.
The Reds need that.  Slotting Garrett between Straily and Stephenson could allow the Reds to let Bailey rehab on his own time.  Even if Garrett is just a five inning pitcher at this point, his 1.09 WHIP of 2016 is an immeasurable improvement over the 2.05 number that Simon put up over 11 starts.
Want your voice heard? Join the Blog Red Machine team!
Finally, the Reds are inching towards turning things around.  They need to let the talent flourish.  Putting Garrett in the 2017 rotation is just one more step in that direction.
More from Blog Red Machine
This article originally appeared on