Cincinnati Reds go south of the border to find next catcher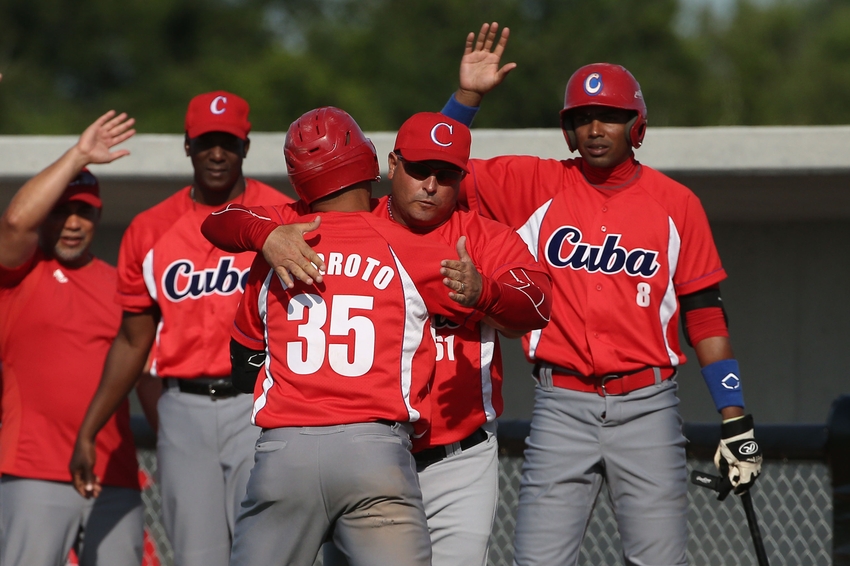 The Cincinnati Reds are looking far and wide to find a catcher for the next generation in Victor Ruiz.
Victor Ruiz is a 16-year old prospect that the Cincinnati Reds signed from the Mexican League.  The Mexican League is usually filled with a combination of fringe major leaguers looking for spring training invites and Mexican nationals looking to represent their country.  Ruiz is Mexican, having played on the U18 team for Mexico in the Pan-American Tournament.
The reports on Ruiz show some significant variation.  Some scouts see his upside as a low end Evan Gattis type player.  Some one who can catch and play passable outfield with enough power to run into some home runs.  Right now, Ruiz appears to be more of a an OBP threat than a slugger.
Then the other scouts come into the foray.  They project Victor to be like longtime Philadelphia Phillies catcher, Carlos Ruiz, a plus defender with OBP skills.  An issue the scouts are already talking about from this camp is whether Victor will outgrow catching.
Minor League Baseball: 2016 Gold Glove Winners
Given his OBP skills and young age, you'd love to see him stay in that role.  As a result, given the Reds' experience with Devin Mesoraco,  Ruiz will likely to move to third.  That places him right behind this year's first round pick and top prospect, Nick Senzel.
The Reds have been hot on the international scene this year, signing three of the top prospects.
In addition to Ruiz, two of the Reds' top ten prospects came from the international market.  Ruiz didn't quite make the top thirty international prospects list.  However, the other two did.  This is how the Reds will compete going into the future.
The Reds' number five ranked prospect is Vladimir Gutierrez.  Gutierrez is from Cuba.  He projects similarly to current Red Raisel Iglesias.
Yet Gutierrez is more likely to be a starter as he has a plus change-up and a developing curve.
The other top international prospect the Reds signed this year is their number six ranked prospect, Alfredo Rodriguez.  Another Cuban, Rodriguez signed for $7-million as the seventh ranked international prospect.  Furthermore he projects as a potential gold glove winning shortstop with offensive upside.
Want your voice heard? Join the Blog Red Machine team!
Right now the Reds are doing great internationally under Tony Arias.  Remember that the Dominican Republican Aristides Aquino is the Reds' minor leaguer of the year.  Aquino is another young signing that was floundering before this year.  Then he came out of the gates.  He is now a legitimate slugging prospect.
More from Blog Red Machine
This article originally appeared on