Cincinnati Reds' front office is conning itself as far as Devin Mesoraco goes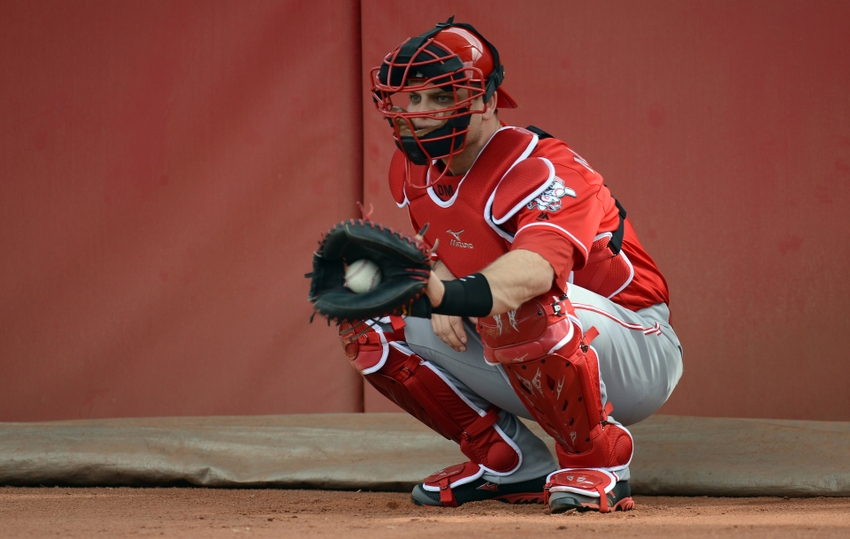 The Cincinnati Reds' front office refuses to admit that Devin Mesoraco will never be an MLB catcher again.
The Cincinnati Reds have a problem when it comes to looking in the mirror.  They never do it.  Now is a good time to start.
Devin Mesoraco, this is your career!  You have been in the majors for six years now and have played 328 games.  That's 55 per season.
Mesoraco has a career OPS of .718.  That would rank him fifth in the National League and eighth in MLB for the 2016 season.  That is not half bad.
Of course, that is among qualifying catchers.  You have to play approximately 130 games to qualify.  Mesoraco has never done that in his professional career, never.  His torn labrum keeps haunting the Reds.  Supposedly, his rehab is coming along nicely once again.
This is the player that the Reds keep hanging their hat on to be their primary catcher year, after year.  Somehow this is the year that Mesoraco becomes the man.  He hasn't been the man since he was in high school.
Minor League Baseball: 2016 Gold Glove Winners
Why do they insist on believing what everyone else can see to be false?  Is there a crystal ball at 100 Joe Nuxhall Way that shows Mesoraco miraculously having a great career after years of injuries?  What else could be driving them to this ill-fated confidence?
Mesoraco has shown himself to be a potentially elite back-up player, but until he stays healthy nothing more.
To be fair, the Reds are in a difficult position.  Mesoraco would be a great back-up catcher for an American League team that could also play him at DH.  He could be another Evan Gattis type player.
What the Atlanta Braves did with Gattis, though, was to make him a serviceable left fielder and first baseman.  Then they were able to move him to the Housto Astros.
Given the state of the Reds currently, they should do something similar with Mesoraco.
The best idea right now is to make him one starter's personal catcher and platoon him in right field with Scott Schebler.  That would take advantage of his plus arm and allow him to slowly transition to being a catcher again.  Maybe he was just unlucky the past few years.
Want your voice heard? Join the Blog Red Machine team!
There is no need for the Reds to trade him right now.  He is only making seven million dollars per year.  That also doesn't mean that they need to rely on him.  They need someone to partner with Tucker Barnhart to be a successful tandem behind home plate for the young staff already in place.
This article originally appeared on