Cincinnati Reds' fans are thankful for a team that is active in the community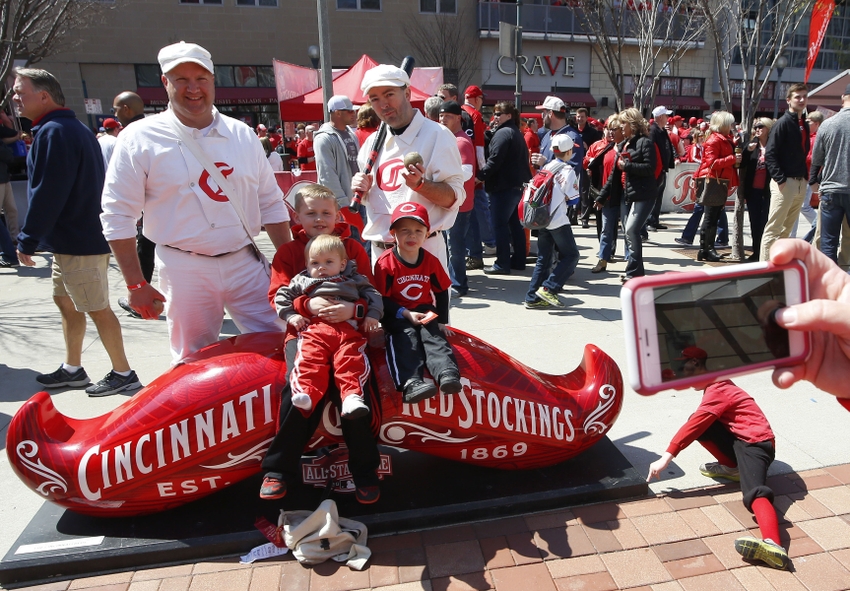 The Cincinnati Reds, as a team and as an organization, make an effort to get out among the fans in support of community.
The cornerstone of this movement is the Cincinnati Reds Community Fund.  It focuses on helping Cincinnati area youth get into programs.  That includes coaching opportunities by the Reds' players and coaches.  The fund has grown into five unique outreach programs.
They range in design from intensive baseball training to social exchanges between rural and urban baseball squads.  The fund runs camps and works directly with schools.  They also still help in the upkeep of many of the fields that they initially renovated or more recently helped to build.  The Reds are also active as an organization with many of the MLB initiatives.
Beyond the Community Fund several players go out into the community.  They actively help out other organizations like Children's Hospital and Make-A-Wish.  For those children lucky enough to get healthy after being part of Make-A-Wish, there is often an opportunity to reconnect with their player at Great American Ballpark.  Many of these meetings go unnoticed. It is these meetings that can mean so much to the children involved.
Even during a bad year on the field in 2016, the Reds connected with the community over 700 times.
These numbers can be attributed to the support of the Castellini family as the owners of the Reds.  During the 2007 Phil Castellini made it known that the entire organization was behind community.  In his role as senior vice president of business operations he has maintained this commitment.  Bob Castellini's charitable work extends prior to his day as the majority owner of the Reds.  They're the men that made honoring Pete Rose possible.
Joey Votto is often ridiculed for being too reclusive. He donated $1,500 to each of the Cincinnati Public Schools' baseball and softball programs with little publicity .  People don't realize that there are 55 schools in the CPS.  That's over $80,000 that Votto donated with very little fanfare.
Votto has long committed acts of charity like that.  His partner on the right side of the infield, Brandon Phillips has also been part of this.  He has long supported the field renovation initiatives.  Both Votto and Phillips have donated equipment to teams and individuals outside of the normal framework for the Reds' organization.
Want your voice heard? Join the Blog Red Machine team!
It can be easy to look on the field and see the down seasons as lost time.  Life moves on beyond the field.  The Reds' fans and Cincinnati in general is thankful for the good hearted players.  The team and fans share the summers on the Ohio River every year.
This article originally appeared on