Cincinnati Reds designate Keyvius Sampson and Ramon Cabrera for assignment to make space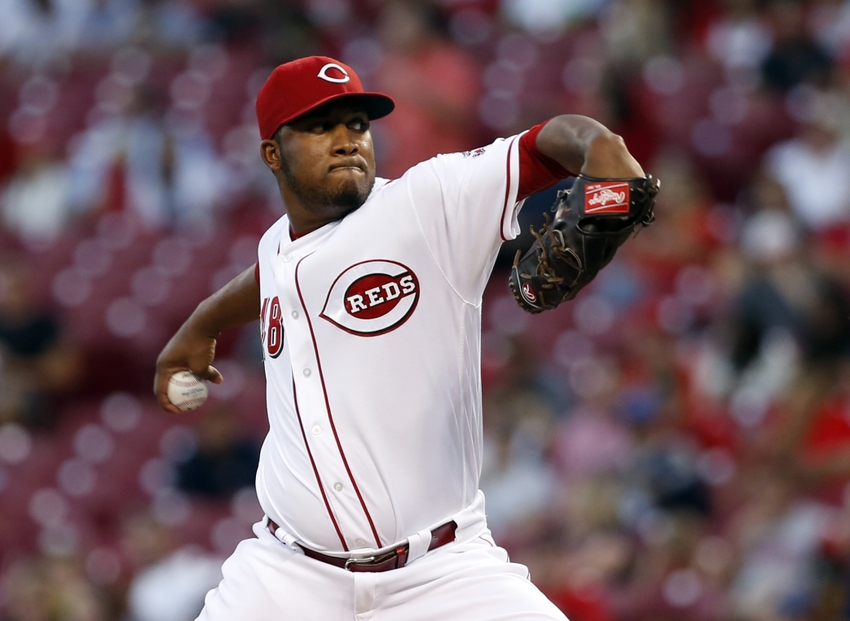 The Cincinnati Reds designated two of the important parts of their 2016 for assignment to clear roster space.
The Cincinnati Reds claimed Juan Graterol from the Los Angeles Angels.  Graterol is a catcher who made his MLB debut in 2016.  He batted .300 in 68 games in Triple-A.
They also claimed Gabriel Guerrero from the Arizona Diamondbacks.  He is an outfielder and ranked as Arizona's tenth best prospect.  He is a high talent, low output prospect.
This time of year teams try to sneak minor league players off of their forty man roster and down to their Triple-A teams.  The Reds lost Josh Smith this way, but were able to get Arismendy Alcantara in the same manner.
Getting Graterol is a role of the dice in case Devin Mesoraco isn't healthy.  Graterol can provide offense if the Reds need support for Tucker Barnhart behind the plate.  Ramon Cabrera did a good job behind Barnhart, but they are too alike.
Guerrero's role isn't as clear.  The Reds lack a place for him on the big league roster as it stands now.  They also lack enough depth that anyone on the forty man could end up on the opening day roster.
Losing Keyvius Sampson on the mound and Ramon Cabrera behind the plate could have unintended consequences.
While the Reds had a bad season, perhaps nothing was worse than their inability down the stretch to find enough pitchers to start games.  They literally had Josh Smith start a game a few days after he pitched extended relief innings.  Sampson made a handful of emergency starts for the Reds this year.
Cabrera also stepped up big time.  He was too similar to Barnhart to shine on his own, but he was passable both offensive and defensively as Barnhart's back-up.  The Reds will be hoping that Cabrera will sneak through waivers.
The Reds will also hope that Sampson sneaks through waivers.  Their only other true long reliever is Tim Adleman.  The Reds will also rely on him to be the spot starter.  Hopefully, the Reds can keep adding the talent.
Want your voice heard? Join the Blog Red Machine team!
The Reds' timing was good, as teams are preparing for the Winter Meetings and Rule 5 Draft.  That means that they are trying to clear roster space wherever possible.  Sampson is more in the danger zone given his flexibility, but he may get through.  The Reds would find Cabrera much more desirable if Barnhart wasn't also a switch-hitter.  In any case the Reds just got younger and more talented.
More from Blog Red Machine
This article originally appeared on