Cincinnati Reds are all in on Dilson Herrera after outrighting Tony Renda to Louisville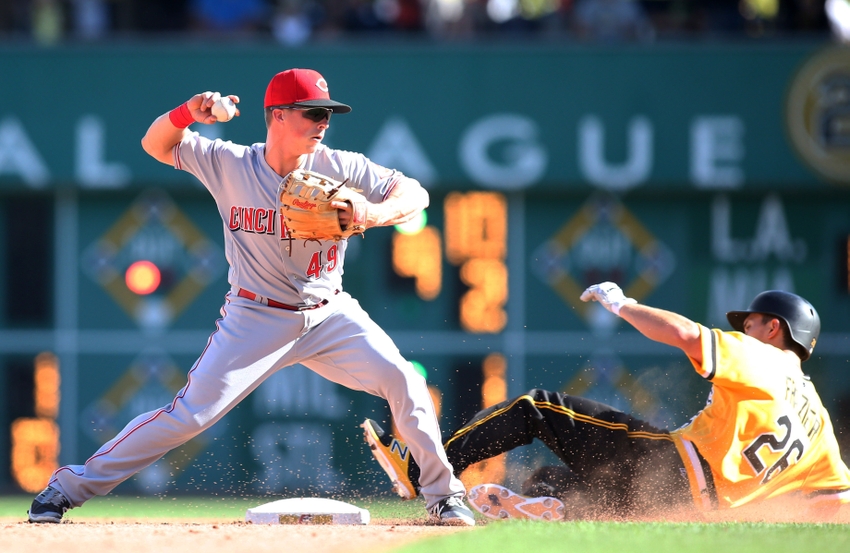 The Cincinnati Reds optioned Tony Renda to Louisville showing how much faith they have in Dilson Herrera.
Prior to the Rule 5 Draft, the Cincinnati Reds optioned back-up infielder Tony Renda to Louisville, leaving Jose Peraza has the only true back-up infielder on the roster for a week.  They shows a ton of faith in Dilson Herrera to become the second baseman, whether Brandon Phillips gets traded or injured.  The Reds have since added Josh VanMeter from the San Diego Padres.
Renda was given a chance to get a leg up in winning the utility man role for 2017.  He started games in left field, right field, second base, and third base in his first taste of the majors in 2016.  Unfortunately, Renda only batted .183 with an OPS of .463.
Renda has a good minor league batting record.  Over the course of five seasons, Renda batted .289 with an OBP of .361.  With little power Renda appeared set to be a back-up infielder with a decent OBP.
Instead, Renda now appears to be battling for his MLB career.  The Reds have eleven infielders coming to spring training to fight for starting and bench roles.  Renda's flexibility and defense helps him, but his lack of power, highlighted by a bad stretch in 2016, could cost him a regular role.
With Renda's disappointing audition the Cincinnati Reds looked to Dilson Herrera as their infield answer.
Herrera came over in the deal for Jay Bruce.  He had a cup of coffee each of the past two seasons prior to 2016 with the New York Mets.  He only batted .215, but maintained a .308 OBP.
Over six minor league seasons, Herrera batted .298 with an OBP of .362.  Herrera has also averaged ten home runs per season. He has also seen an upward trajectory in the number of home runs.
Herrera is a true second baseman.  He has played 59 games at third base on his way up, but over 400 games at second.  He has also played a handful of games at short.
Looking forward to 2017, Herrera will only be in Cincinnati if he is starting every day.  Likely that would be limited to second base.  They could start him at third in a pinch.
Want your voice heard? Join the Blog Red Machine team!
After Renda, the back-up infielder option is Peraza or recently acquired Josh VanMeter.  Those are the Reds' two options, unless they want to go with a non-roster player.  That's how Renda still has a chance along with several others to make the opening day roster.
This article originally appeared on