5 ridiculous facts about Chris Sale's dominant 9-win pitching streak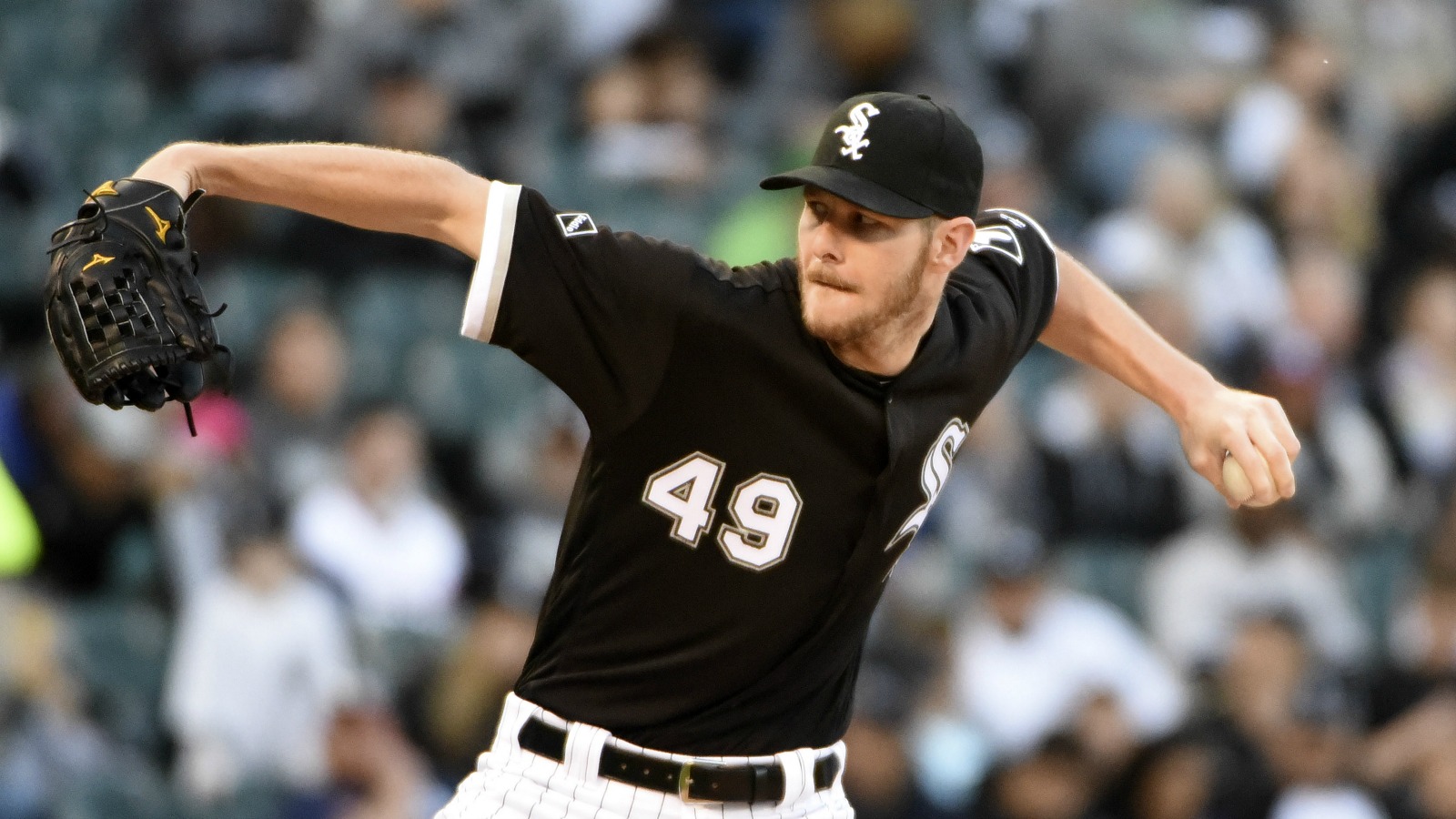 Chris Sale's current state of being and/or play is what scientists often refer to as "on one."
That is, the Chicago White Sox ace is operating in extremely rarified air, stroking a sterling 1.58 ERA through nine games—or nine wins, if you prescribe to that metric.
The reason for Sale's success is manyfold. The White Sox are playing out of their gourds on multiple fronts, and until Friday night, Sale wasn't (technically) even the top banana in his own rotation. That honor belonged to Jose Quintana, who ran into trouble against the Kansas City Royals Friday night, but before that had been shutting down hitters with a 1.52 ERA.
How Sale has managed this huge start is through a tweaking of strategy, and the following are five facts you may not know about the incredible season Chicago's lanky lefty is having. Spoiler alert: this man has evolved.
Sale's average fastball has dropped from 94.8 mph to 92.4 in 2016. His other pitches have seen similar drops so far.
No surprises here – 85% of you voted #CHRISSALE's final K as the #StepUp Play of the Game! 🐐https://t.co/CouaL2VWMR

— #VoteWhiteSox (@whitesox) May 20, 2016
In April and May of 2015, Sale's sliders were averaging 81 mph flat. Through the first two months of the 2016 season, he's throwing them at 78.6 . In the same span, Sale has toned his sinker down from 93.2 mph to 91.9.
This week, Sale told SportsIllustrated's Ben Reiter that this drop in velocity has come from a shift in tactics: he's thinking less about throwing the hot, sexy stuff, and trying more to be efficient.
"I was throwing it as hard as I can, and wherever it goes, it goes," Sale said. "I just had [expleteive] going everywhere…[now] I'm looking for efficiency."
Sale's MLB-leading 11.8 strikeouts per nine innings has dropped to 8.2, which is in part due to the aforementioned pullback of stuff.
It's also due to Sale trusting his defense, including Adam Eaton, who's made the shift from center to right field and was awarded ESPN's Defensive Player of the Month for April.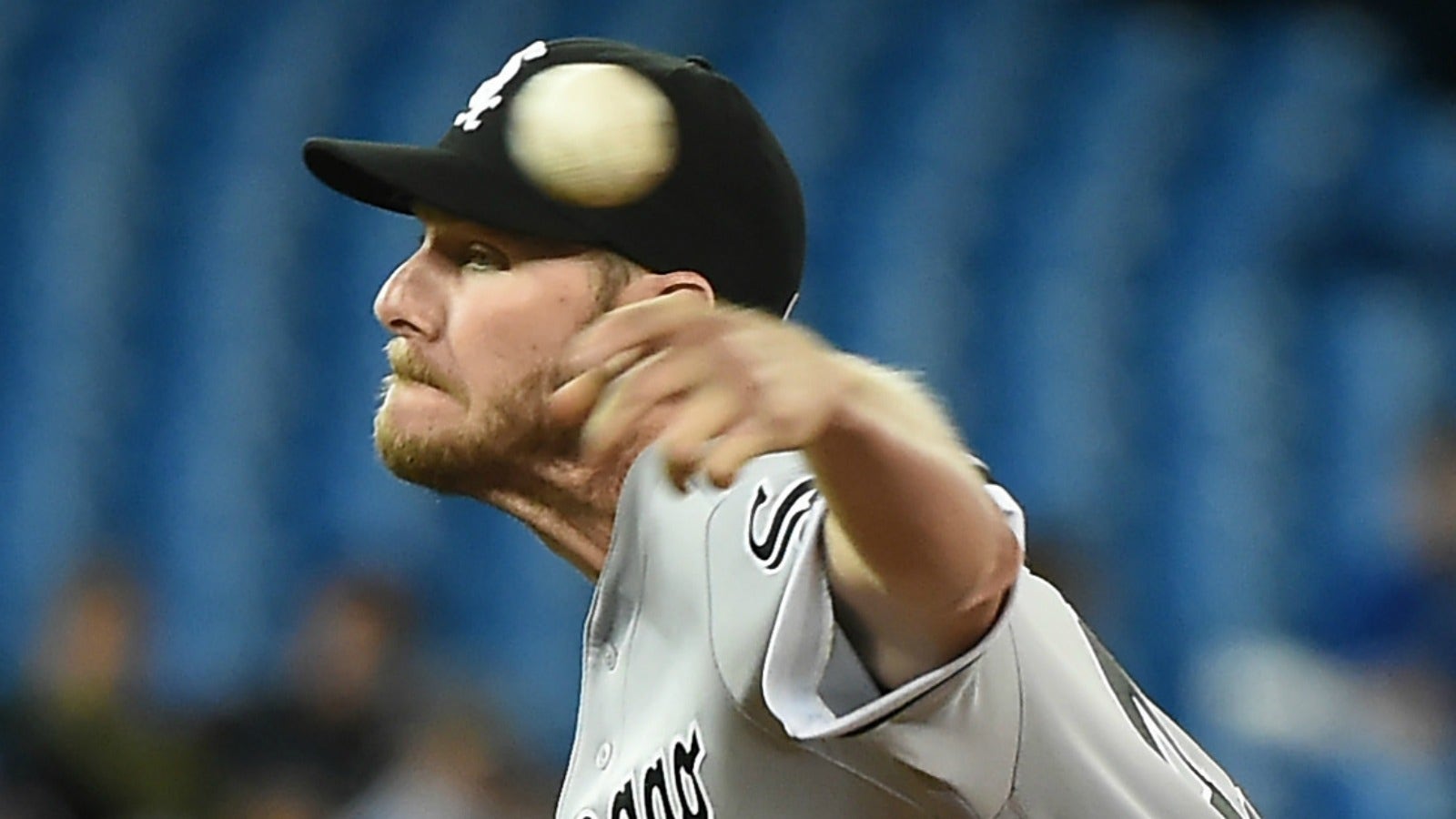 "It's incredible," Sale said of the White Sox defense after a 2-1 win over the Athletics in April – – his fourth win of the season. "It saves runs and saves pitches, more importantly. It's a big factor. Guys diving around, making plays, running stuff down in the outfield. I want to say my defense probably saved me at least an inning out there. Hats off to them."
Sale's gone from 15.9 to 14.4 pitchers per inning, which isn't a tectonic shift on its face, but over the course of a game can be the difference between a phone call to the bullpen or another inning of pitching.
This makes sense, of course. You tend to throw fewer pitches when all you throw is money.
"[Sale] throws everything for strikes," Carlos Correa said after getting blanked by Sale during Thursday's 2-1 loss to the White Sox.
Chris Sale is now 8-0 and has no time for your puny Gatorade showers: https://t.co/VCMg2JCBcU pic.twitter.com/zOjiJUGtah

— Cut4 (@Cut4) May 14, 2016
The 21-year-old shortstop watched as his team managed only four hits off the White Sox lefty. Two of those were singles.
"[Sale] can miss his spots and still get you out," Correa said. "That's what makes him special."
Sale's thrown 223 sinkers in the 2016 season, and those pitches resulted in strikes a whopping 28.7 percent of the time and a foul ball 17.9 percent of the time. So every sinker he throws carries roughly even odds of putting him up in the count.
And Sale knows it's working.The sinker has shifted from Sale's least historically used pitch to virtually even with his slider as his second most trusted option after the four-seamer. It's his second most popular pitch when the batter is the ahead.
In 2015, nearly 28 percent of Sale's pitches were changeups. That's all done now.
As it stands, Sale has cut his changeups roughly in half, grabbing into his bag for the pitch a spare 13.6 percent of the time. It's his least-used pitch by a wide margin, and down seven
Bonus facts:
So interesting company for our man Chris, who is undoubtedly becoming a one-man force of nature.
Dan is on Twitter. Chris Sale's most popular pitch is the one that leaves you angry and confused.