Chicago White Sox: What to Do with James Shields?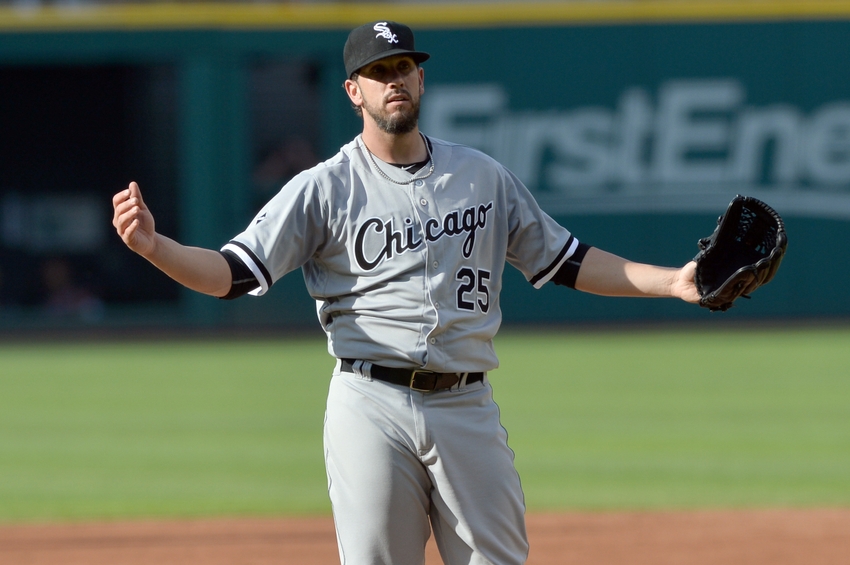 Earlier this week veteran pitcher James Shields opted into the final two years of his deal with the Chicago White Sox. Now the White Sox are on the hook for roughly $20 million over the next two seasons, for a pitcher seemingly beyond his prime.
As it stands, the Chicago White Sox projected 2017 starting rotation will include James Shields in the fifth spot, set to make about $10 million and coming off the worst season of his professional career.
In 2015 Shields was nothing short of awful, posting a 6-19 record with a monstrous 5.85 ERA over the course of 181.2 innings of work for the San Diego Padres and the Chicago White Sox. Shields was 4-12 with a 6.77 ERA during his time with the White Sox, allowing a whopping 35 long balls.
Now entering his age 35 season in 2017, Shields is a gaping concern for the White Sox rotation, with his fastball diminished and his command equally as bad. So what are the options for the White Sox regarding the future of the pitcher once dubbed "Big Game James"?
There's probably a more likely chance at capturing bigfoot than securing a trade partner for Shields at this point, so we can definitely eliminate the idea that the White Sox could trade Shields this winter.
No one will be clamoring at the idea of absorbing $20 million against their cap and giving up a prospect in return for a 35-year-old starting pitcher who hasn't done anything positive since 2014, coupled with a diminishing skill set. Unless, of course, Kenny Williams takes a job with another franchise between now and then, in which case we would probably be able to swing a deal for a second-tier prospect or two with our old buddy KW.
More from Call to the Pen
Maybe – a really big maybe – if Shields has a less than awful first half of the 2017 season in the White Sox rotation, someone in a pennant race would ring Rick Hahn in an effort to enlist his services. Even at that rate, the White Sox would get little to no return, and likely be required to eat most of the salary owed to Shields. The upside would obviously be just ridding the White Sox of Shields on the roster, and some small salary relief.
Realistically, the White Sox have three options for Shields moving forward, with two of them including him on the roster for the 2017 season at least. The White Sox could decide that Shields is of absolutely no value to the team on the field and hand him his walking papers by designating him for assignment like they did with John Danks, Mat Latos and Jimmy Rollins in 2016. That would be my favorite option of the bunch, personally.
If the White Sox decide that they're just not ready to give Shields the boot, they could slot him into  the fifth spot in the starting rotation, or even use him in a bullpen role depending on what the White Sox address this winter in free agency, or what the progression of Carson Fulmer looks like come next spring.
If the White Sox keep Shields in the rotation, which at this point in time seems like the ultimate decision, we can expect Shields to perform at or below the level that we saw John Danks perform in 2016 before being DFA'd. Shields' average fastball in 2016 was 91 MPH, and according to Fangraphs, the hard contact rate on his fastball was near 35 percent, with his medium contact rate being above 50 percent. In fact, less than 15 percent of batted fastballs were considered of the soft or weak contact rate.
A fastball that resembles one of the batting practice variety, coupled with opponents posting a .308 batting average on ball in play in 2016 and 1.98 home runs allowed per nine innings, and you have yourself a recipe for a loss nearly every fifth day out of the aging right-hander.
This article originally appeared on