Chicago White Sox: Making the Case for Rebuilding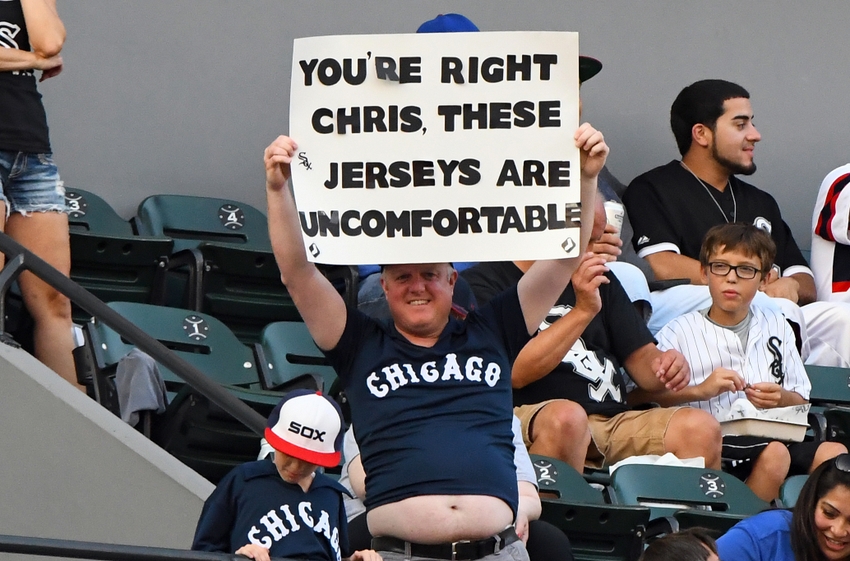 Coming off of the heels of a 78-84 finish in 2016 the Chicago White Sox need to realize that the current plan is broken. In 2005, then General Manager Kenny Williams struck lighting in a bottle with a talented young core group combined with some low risk acquisitions like Jose Contreras, Freddy Garcia, Carl Everett and Jermaine Dye.
Since that time, now President of Baseball Operations Kenny Williams has attempted to build the team around low risk, cheap, past their prime players. Manny Ramirez, Ken Griffey, Jr., Adam Dunn, Adam LaRoche, James Shields and many, many others.
Newsflash Kenny, the plan is not working! The White Sox have not seen the postseason since 2008, and have a roster with gaping holes at center-field, catcher, designated hitter, as well as the back-end of the starting rotation and nearly the entire bullpen.
Even if the White Sox front office opened up the wallet this winter, which they probably won't, the 2017 free-agent class is one of the worst in recent memory. Jeremy Hellickson, Andrew Cashner, Rich Hill and Edinson Volquez make up the top available starting pitchers this offseason. The crop of position players isn't much better either, with Mike Napoli, Edwin Encarnacion, Matt Wieters, Mark Trumbo and Kendrys Morales among the names that will be most sought after this offseason.
With an abundance of gaping holes that can't be adequately addressed through free-agency, it's time for the White Sox to get on board with a rebuild while they still have some very valuable trade assets in-house.
Chris Sale is arguably one of the best starting pitchers in all of baseball, and has one of the most team friendly deals in all of baseball for a player of his caliber. The 27-year-old southpaw is under contract for the 2017 season at $12 Million dollars with team options in 2018 and 2019 at $12.5 Million and $13.5 Million respectively.
A 27-year-old left-handed starting pitcher under team control for the next three seasons at a very reasonable price, with little-to-no starting pitching available via free-agency makes the White Sox chances of netting a handful of pieces for the future highly likely if they deal Sale.
The Boston Red Sox have been mentioned among other teams in talks regarding a Chris Sale trade, and definitely have the farm system to make a deal happen. The Yankees, Rangers, and Cubs are three other teams that would be possible landing spots for the lanky lefty.
More from Call to the Pen
Jose Quintana would also net a valuable return in a trade, given the scarce market for starting pitching in this years free agent class. The White Sox could also see a return, as well as some salary relief if they traded the likes of Todd Frazier, Adam Eaton, or Jose Abreu this winter. Brett Lawrie is projected to make around $5 Million this offseason, but becomes expendable if the White Sox acquire the likes of a Yoan Moncada from the Red Sox in a Chris Sale deal.
Let's imagine that the White Sox trade Sale to the Red Sox for Jackie Bradley, Yoan Moncada, Michael Kopech, and another lower tier prospect or two. Seems fair. The Red Sox add Sale to a starter pool of David Price, Rick Porcello, Drew Pomeranz, and Eduardo Rodriguez. Bradley, became expendable for the Red Sox with the emergence of Andrew Benintendi late in 2016, and the White Sox get a major league ready center-fielder, top tier second-base prospect and a solid starting pitching prospect at the minimum.
This is how the notable organizational depth for the White Sox would look after the trade, including MLB Pipeline Top-100 Rankings:
C- Omar Narvaez, Zack Collins (80)
1B- Jose Abreu, Zack Collins (80)
2B- Brett Lawrie, Yoan Moncada (1)
3B- Todd Frazier, Matt Davidson
SS- Tim Anderson, Tyler Saladino
LF- Melky Cabrera
CF-Jackie Bradley, Charlie Tilson
RF- Adam Eaton
SP- Jose Quintana, Carlos Rodon, James Shields, Miguel Gonzalez, Carson Fulmer (57), Michael Kopech (67), Alec Hansen, Spencer Adams
RP- David Robertson, Nate Jones, Dan Jennings, Zack Burdi, Zach Putnam, Michael Ynoa, Tommy Kahnle
One move would give the White Sox four MLB Pipeline Top-100 prospects in the system minimally, and open the door to feel comfortable moving their other valuable trade pieces such as Jose Quintana, Jose Abreu, and Todd Frazier to name a few.
Imagine the possibilities. Quintana to the Cubs who need another top-end starting pitcher netting the White Sox Ian Happ (21), or super-utility player Javier Baez. Or Todd Frazier to the Yankees who desperately need a power hitting third-baseman in exchange for James Kaprielian and Drew Finley.
It's time for the White Sox to change course, liquidate their assets while they have the most value, and begin to rebuild a farm system that has been neglected for many years. The White Sox struggle mightily in attendance year after year, and are ahead of only the Oakland Athletics in Major League Baseball television ratings, so what does the front office have to lose at this point?
This article originally appeared on