Chicago White Sox: GM Rick Hahn Outlines Offseason Direction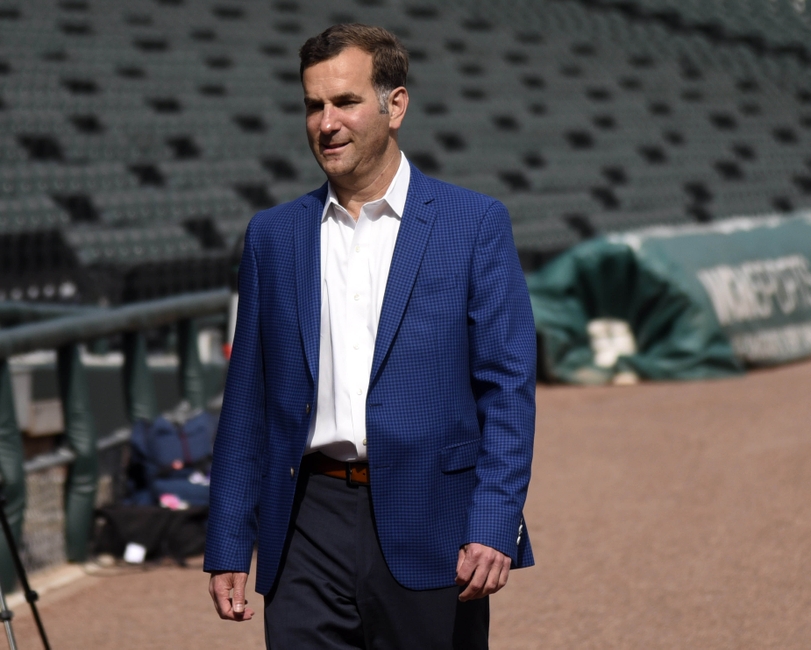 For weeks the Chicago White Sox have left us in the dark as to what their direction will be this winter after another losing season in 2016. Today Rick Hahn outlined the teams plans during the GM meetings in Scottsdale, Arizona.
Chicago White Sox General Manager Rick Hahn said in October that White Sox fans would learn the direction of the team after the first major transaction was made, well he gave fans a sneak peek this afternoon in Arizona in an interview with Bruce Levine of CBS Sports.
The signs have been written on the walls, dating all the way back to July when Rick Hahn attempted to shop White Sox ace Chris Sale before the trade deadline. The second sign was one that most of us missed. We were all so focused on whether or not Robin Ventura would be retained, when he wasn't no one realized that maybe the reason the White Sox didn't interview an outside candidate was because they didn't plan on competing in 2017.
Newly appointed manager Rick Renteria, is well regarded as a manager that does well with young players in the development stage, and has been in the same situation before with the Chicago Cubs. Had Joe Maddon not became available, Renteria would likely still be the Cubs skipper.
Now it seems that Renteria will get his second chance at grooming a young core of talent with the White Sox over the next few years. Here's what Rick Hahn had to say on the White Sox plans for this offseason,
"I think our goal is to put ourselves in a position to win on a sustainable basis," Hahn said with a strong sense of purpose in his tone. "We have taken the approach for a number of years that we were focused on a short-term success. We have gotten to the point when we have had our conversations internally with Jerry (Reinsdorf) and Kenny (Williams) where we realize a better position for the long-term is a more prudent path."
That statement from White Sox General Manager Rick Hahn should give the vast majority of White Sox fans hoping that the team would change course this winter and begin to rebuild the team some hope, and e degree of relief. That statement also points to the notion that Rick Hahn has the approval of his two bosses Kenny Williams and Jerry Reinsdorf to move forward with his plan for rebuilding.
More from Call to the Pen
Many fans have had trouble buying into the idea that the White Sox will actually sell off their valuable assets and begin to acquire a youthful core of talent, largely in part due to the past experience that Kenny Williams and Jerry Reinsdorf prefer to do their team building via free-agency. Hahn continued to outline the plan by saying,
"We have always been focused on putting ourselves in the best position to win," Hahn stated. "At the same time, I think we are veering away from looking for stop gaps. A lot of what we did in the past few years was to add to the short-term potential of the club. That was we put ourselves in a position to win right away. I feel the approach now is focusing on longer-term benefits."
Hahn reinforced that he will be moving away from the direction of filling holes on a need by need basis with temporary solutions, which has kept the White Sox as Hahn as said, "Mired in mediocrity" for the last decade.
As far as how Hahn will approach moving the assets that the White Sox hold such as Chris Sale, Jose Quintana and Todd Frazier Hahn had this to say,
"I think the market is hugely important to understand," Hahn said. "First, from the standpoint of setting your direction. Doing what you have to be realistic where you stand as a club. When you make a fair assessment of your chances in 2017, it sends you on a certain way down a path. Should we go to the position of selling off assets, looking toward a more long-term future, the market will dictate how deep of a cut that is.

"That would also be based on the return for some of our players (in trade talks). The market plays a huge role. Part of that is being patient. You must be sure of what is out there.

"The other part is how your players are valued by the industry. We would not be just trading a younger piece for a younger piece. We would want to diversify the use of players, depending on the depth and strength of the roster. You may look at five or six spots to improve on."
Hahn seems like he has a clear direction that he will be heading this winter, and all signs point to the White Sox commencing the much speculated rebuild. Given the crop of talent, or lack thereof in this years free-agent class, this direction is seen by many as the only sensible way to move forward for a team that hasn't had much success at all since winning the World Series back in 2005. It's been nearly 20 years since the last rebuild effort by the White Sox, and it's long overdue.
The most important takeaway from Hahn's statements today is of course, the assurance that Kenny Williams, and Jerry Reinsdorf will not be running interference on his plans to rebuild, as it was speculated they did this past July when Hahn shopped Chris Sale and Jose Quintana around.
I don't anticipate the moves coming fast, as Hahn stated that he will make sure that he gets what he believes to be the fair return value, but they will be coming and this should make for an interesting winter on the south side of Chicago.
This article originally appeared on