Chicago White Sox: Chris Sale Sweepstakes Should Be "No Sale" for Both Sides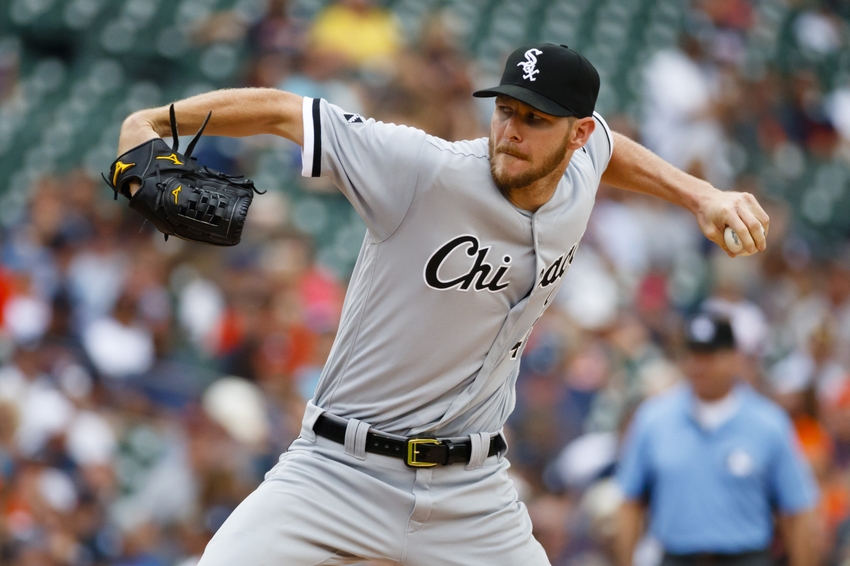 Chris Sale is the talk of baseball and we're only in November. Will the Chicago White Sox trade him? Well, of course they will if the return is right. Will a team overpay for him? Well, of course they will because as P.T. Barnum said so simply, "There's a sucker born every minute." But maybe not this time.
From the perspective of the Chicago White Sox, trading Chris Sale is a lose-lose situation. Because how can they expect to get a Chris Sale back in return? They can't, unless they trade him for Zack Greinke (intriguing, huh?), which is not likely to happen. But otherwise, all they can hope for is three or four prospects who might make a difference somewhere down the road. The lightning in the bottle wish and a prayer.
And if you are the buyer, it comes down to what percent of your top 10 rated prospects are you willing to give up. Because that's the price the White Sox will be looking for you to pay. Unless they are still stung by the Adam LaRoche/Chris Sale episode this past spring, when Sale called his own front office liars in the media, and they just want to dump him and his insubordination on another team.
Chris Sale: From the White Sox Perspective
And if that's the case, let the buyer really beware. But all indications are that the White Sox are figuring like a lot of teams do when they reach this juncture with a player. And that is… we haven't won with him, so we can certainly do the same without him.
Which speaks of desperation to anyone listening. Because the White Sox happen to operate in a division that contains the World Series runner-up Cleveland Indians, the Detroit Tigers (if they can come up with Plan A and what to do or not do with their aging team), plus the Kansas City Royals, who have something to prove after last season's mediocre performance. And with all this, the White Sox and everyone else will have to contend with the sleepers of the division, the Minnesota Twins… leading to one big mess that no one can sort out in November.
Chris Sale: From a Buyer's Perspective
More from Call to the Pen
If you are interested in adding a pitcher with the caliber of a Chris Sale, you need to have an idea of what the other team is looking for. Will they take a couple of players who already have proven major league ability, or do they want three or more of your top 10 or 15 minor league prospects? If it's the latter, do you even have that kind of talent in your organization, and if you do, is the deal still worth it?
You also know that the White Sox are in the driver's seat on this one. And you would hope that they have scouted your system to get the conversation going with the suggestion of players they would be interested in acquiring. If you are the New York Yankees, for instance, and the first name they shoot at you is Gleyber Torres, you might as well end the call because you know that either they're not serious about trading Sale, or they're delirious and are looking to rob someone blind while they're asleep.
A More Likely Scenario Involving Chris Sale
So while the sale of Sale is good fodder for the Hot Stove league, it hardly makes sense for anyone in the real world for the simple reason that he costs too much for both sides. And for once, we are not talking about money because Sale is a bargain no matter who has him at least for a couple of years.
What he is, though, is a good conversation starter. Often, two teams begin by talking about one player and the conversation leads to other players, and sometimes even other teams, creating one of those "blockbuster" deals that often takes years to sort out before anyone can figure out the winners and losers.
It takes a lot of energy to trade a Chris Sale. And teams including the White Sox may see that their time and energy could be better spent building in other areas besides a premier starting pitcher.
This article originally appeared on