Chicago White Sox: Carlos Rodon's K-Streak Bodes Well for Future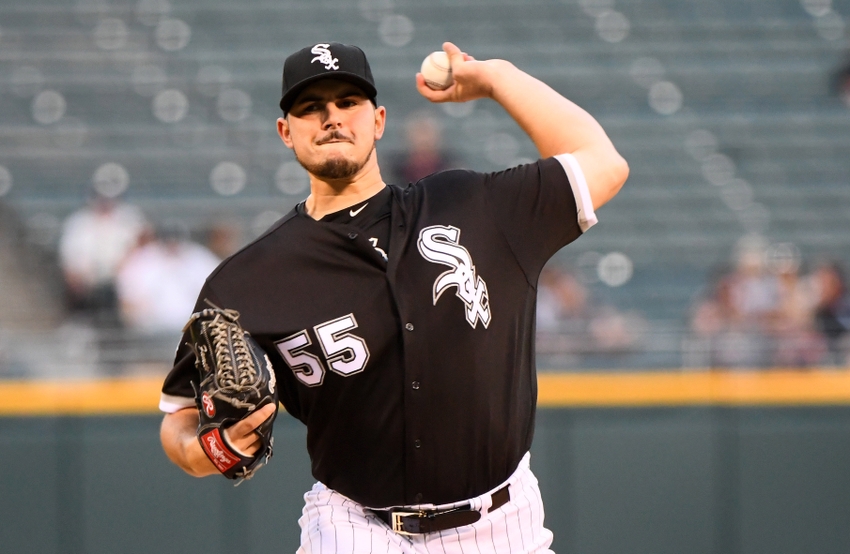 Chicago White Sox pitcher Carlos Rodon matched a 30-year-old record by striking out the first seven batters to begin a game. His team will hope he rides that momentum into next season.
Striking out the side is a pretty good way for a pitcher to start a game. Doing it again in the second inning and then nabbing another K to lead off the third is even better. Chicago White Sox starter Carlos Rodon did exactly that during his outing on Friday night against the Minnesota Twins at U.S. Cellular Field.
Rodon's feat tied the American League record for consecutive strikeouts to begin a game. In 1986, Joe Cowley fanned the first seven batters he faced in a start, also for the White Sox. The major league record is eight, held by Jim Deshaies (Astros, 1986) and Jacob deGrom (Mets, 2014).
The 23-year-old hurler racked up 10 Ks over six frames on the evening, allowing three runs (two earned) on three hits. It was a solid outing to finish Rodon's second major league season, and one to help right the ship somewhat after an up-and-down month for the power-throwing lefty.
In consecutive starts on September 14 and 19, Rodon surrendered 12 runs over a total of nine innings. He served up a whopping 17 hits in that span, four of them home runs. He bounced back in a big way on the 25th, however, holding the playoff-bound Indians scoreless over eight frames. Rodon allowed just two hits and struck out 11 in that contest. Last night's performance was another step in the right direction.
Rodon's final numbers for the 2016 campaign may not be terribly impressive. He ends with a 9-10 record, 4.04 ERA, 1.39 WHIP and 3.11 K/BB ratio in 165 innings. But the southpaw has definitely shown flashes of the pitcher the White Sox hoped he would be after drafting him third overall in 2014. In fact, before his ugly outing on September 14, he had spun off seven consecutive quality starts.
More from Call to the Pen
Rodon's four-seam fastball sits around 93-94 mph, but it can approach the 100 mark. His most valuable tool is undoubtedly his slider; opponents have managed just a .148 average against it this season according to Fangraphs' PitchFx. He also relies on his two-seamer and mixes in a changeup as well. Refining his repertoire, his changeup in particular, has been a key part of improving his results this year.
One way or another, the White Sox will likely need Rodon to take another leap forward next season. There has been a lot of talk about the team continuing to listen to potential trade ideas for ace Chris Sale during the offseason. While there's no guarantee anything will happen, the Sox should probably at least see what other clubs are willing to offer, especially considering the vast weakness of the free agent market.
If Sale exits, Jose Quintana easily takes over the role of top dog. But Rodon would suddenly be counted on as the number-two starter rather than a middle-of-the-pack arm. His progress in the second half this year (4.50 ERA before the break; 3.45 after) suggests he could be ready to rise to the task.
Trade speculation is just that at this point – speculation. Chicago might instead prefer to keep its trio of talented lefty starters together and build around them. After a disappointing season, the White Sox will have many questions to answer. An improving Carlos Rodon certainly makes things a bit easier.
This article originally appeared on