Chicago White Sox Asking Price for Jose Quintana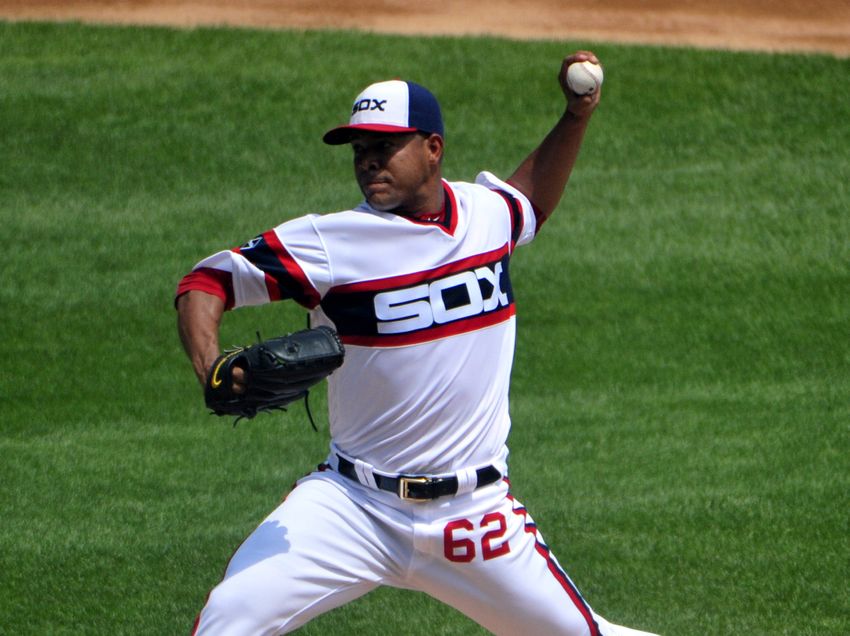 The Chicago White Sox have already dealt their ace in Chris Sale and an outfielder with a 6.0 fWAR in 2016 in Adam Eaton. That leaves Jose Quintana and Jose Abreu as the two big pieces left on the club that have yet to be moved, but now we have an idea of what the team is asking for in return for Quintana.
So you want to improve your starting rotation? According to Peter Gammons, the Houston Astros were told by the Chicago White Sox that it was going to cost them.
When Astros askewd on Jose Quintana, Chisox asked 3 names:Francis Martes, Kyle Tucker, Joe Musgrove

— Peter Gammons (@pgammo) December 10, 2016
According to MLB Pipeline, Martes and Tucker are the club's top two prospects (#29, #50 overall) and a pitcher in Musgrove that has flown under the radar because he relies more on control than stuff.
Martes was seemingly a throw-in in the deal that sent Jarred Cosart to Miami in exchange for Colin Moran, Jake Marisnick and a compensation pick that ended up being the Astros #6 prospect Daz Cameron. Miami also received Austin Wates and Enrique Hernandez (now with the Dodgers) in the deal.
Martes ended the 2015 season in Double-A and struggled for the first time since being acquired by Houston. He came back and pitched a full season with the club in 2016 to the tune of a 3.60 ERA, 9.4 K/9 and a 3.4 BB/9.
Tucker spent the majority of his 2016 season in A Ball with the Quad Cities River Bandits, but got a taste of High-A Lancaster for a couple of weeks at the end of the year. He took full advantage of the California League, mashing three home runs and driving in 13 while batting .339 in 16 games. By comparison, in 101 games in the Midwest League Tucker hit 6 homers and drove in 56 while batting .276. Still just 19, he'll come into some power before long and has shown that he can get on base with a .338 OBP in his two years of pro ball. He's also a threat to swipe some bags, racking up 50 thus far in 180 games played.
More from Call to the Pen
Musgrove totaled 62 innings with the Astros in 2016 and held a 4.06 ERA, and while his BB/9 rate of 2.3 is nothing to balk at, it was more than double the rate of his pro career to that point. For the Astros, Musgrove is a solid depth option to have on the roster, while with the White Sox he could have some time to get acclimated to the big leagues outside of the win-now spotlight while they rebuild for the future.
This would be a solid return for the Chicago White Sox, especially when you add parts from other trades that they've made in the past week like Lucas Giolito and Yoan Moncada among many, many others.
For the Astros, they'd be getting at least two years of one of the more underrated pitchers in baseball, with two years of team options at very reasonable prices. Over the past three seasons, Quintana has averaged a fWAR of 4.9. His 14.6 fWAR since 2014 ranks eighth among pitchers in that span, just behind Jon Lester and right in front of Johnny Cueto and Madison Bumgarner. In those terms, the asking price for Quintana almost sounds reasonable.
If these are indeed the terms, the Astros should go for it. They've already started pushing their chips into the middle of the table but they could still use an upgrade in the rotation. The Red Sox are currently sporting a rotation that includes both David Price and Chris Sale, along with the reigning AL Cy Young in Rick Porcello. The Astros are hoping for a bounce back year from Dallas Keuchel, another solid season from number three starter Collin McHugh, a healthy year from Lance McCullers, and then for the last two spots to be league average or slightly better.
They have the offense to make it work in the regular season, especially in the AL West, and potentially the bullpen to make it all work in the playoffs, but adding Quintana gives Houston something of a sure bet that provides them some leeway for injuries along the way.
This article originally appeared on