Chicago Cubs' Zobrist 'lost consciousness' in 10th inning at-bat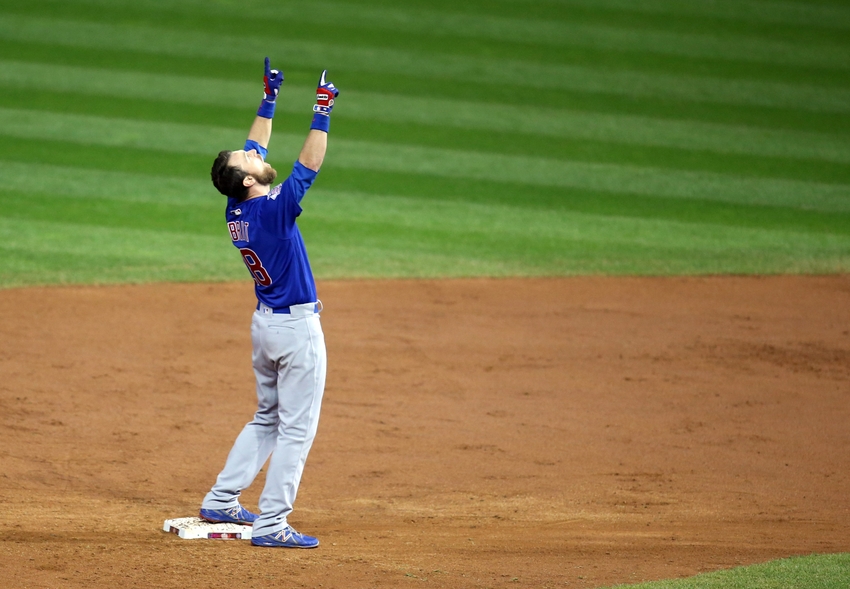 Chicago Cubs' utilityman, Zobrist is a major league veteran.
Ben Zobrist has been in tough situations before for the Chicago Cubs. But the one he faced in the top of the tenth inning in Game 7 of the World Series after the rain delay was the most pressure-packed at-bat in his career.
He came through with a double down the third base line that scored pinch runner Albert Almora Jr. and sent Cubs fans into a roar.
The Cubs got off the mat, from having the game tied in the bottom of the eighth inning on a two-run home run by Rajai Davis off of closer Aroldis Chapman. The game was tied at 6-6 and honestly, I was in a state of shock. "This couldn't be happening again!" I pleaded.
The Chicago Cubs came back because players made plays. And perhaps the biggest of the night, and there were many big ones by the Cubs, was Zobrist's double with one out in the top of the tenth inning.
Zobrist, who won a ring with last year's World Champs, the Kansas City Royals, was picked up in free-agency by Theo Epstein with the full blessing of manager Joe Maddon.
Ben played for Maddon in Tampa Bay, and Epstein thought highly of him.
O'Brien Appearance
On his late night appearance with Conan O'Brien the other night, Zobrist admitted he 'lost consciousness'. From the time he hit the ball to when he stood on second where his helmet fell off and he jumped up and down on the bag.
Ben spoke about the tough at-bat where Indian's pitcher Bryan Shaw had him fighting just to stay in the at-bat. Zobrist said to Conan that his pride was hurt a bit when Shaw intentionally walked Rizzo.
Zobrist hung in there. He made contact with the ball on a pitch he could handle and sent it past the third baseman into left field. Almora scored and the Cubs took the lead.
He hit .391 during the Series but was 0-for-4 prior to his big hit in the top of the tenth inning. Zobrist, 35, a native of Illinois, had come home, so to speak, to play on the Chicago Cubs. He was an integral part of the Cubs fantastic season.
At times he hit for power, other times, he got a key base hit. He is alert on the field, playing left field, and second base as well as a smart, contact hitter. That is exactly what he did in Game 7 and won the World Series MVP trophy.
It was a huge hit and couldn't have happened to a nicer guy. Whatever else he does as a Chicago Cub, Zobrist will go down in Cubs history with that clutch base hit.
Here is Ben's appearance on Conan courtesy of Conan O'Brien's official YouTube Channel.
This article originally appeared on