Chicago Cubs: World Series celebration at Soldier Field put on hold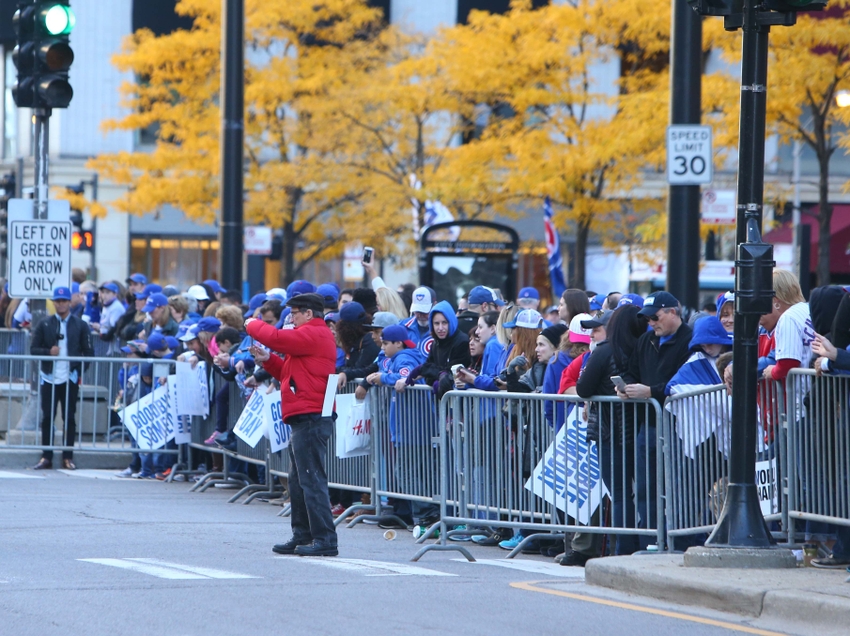 The Chicago Cubs are doing their best to keep up with appearances across the country. After winning the World Series in seven games over the Cleveland Indians, other opportunities present themselves.
Such as David Ross, Dexter Fowler, and Anthony Rizzo appearing on Saturday Night Live with Chicago Cubs' fan, Bill Murray. From Jimmy Fallon, Jimmy Kimmel, Ellen, and Live with Kelly (guest host Alex Rodriguez) — it has been a long month for the Cubbies.
Also, Carl Edwards Jr. served as honorary Carolina Panthers drummer for their Thursday night showdown against the New Orleans Saints. Pretty cool if you ask me. Edwards grew up a Panther fan and knew how much it meant to pound on that drum.
Aside from appearances for other teams away from Chicago, the Cubs were honored by the Chicago Blackhawks.
The Blackhawks have been huge supporters of the Cubs throughout the postseason, wearing jerseys on trips. Can't forget that after the Cubs won it all, they lit up the ice with W flags and played Go Cubs Go.
Then it was time for the Chicago Cubs to join in on the fun. The 2-8 Bears host the Tennessee Titans tomorrow afternoon at Soldier Field. At first, World Series MVP Ben Zobrist was scheduled to make an appearance.
Illness
However, Zobrist tweeted that he was unable to attend the Bears game due to an illness, as reported by NBC Chicago. The Monsters of the Midway have found themselves in a bit of a sinkhole in 2016.
An injury bug hit them hard, wiping out multiple key players with a few suspensions in the mix. Last time they were at home, they took down the Minnesota Vikings on Monday Night Football.
Just a night before the Cubs inched closer to their first World Series title in over 108-years. Sadly, that passes the Chicago championship drought over to the Bears who last won in 1985. Hopefully, they can use the Cubs as their blueprint.
Now, the Bears have stated on Twitter that they will do what they can to make sure to reschedule sometime this year. With only six games left in the season, the Cubs and Bears have four home games available to work with.
Let's see if they can make something happen when the Green Bay Packers come to town on December 18th.
This article originally appeared on