Chicago Cubs: What to know ahead of the Winter Meetings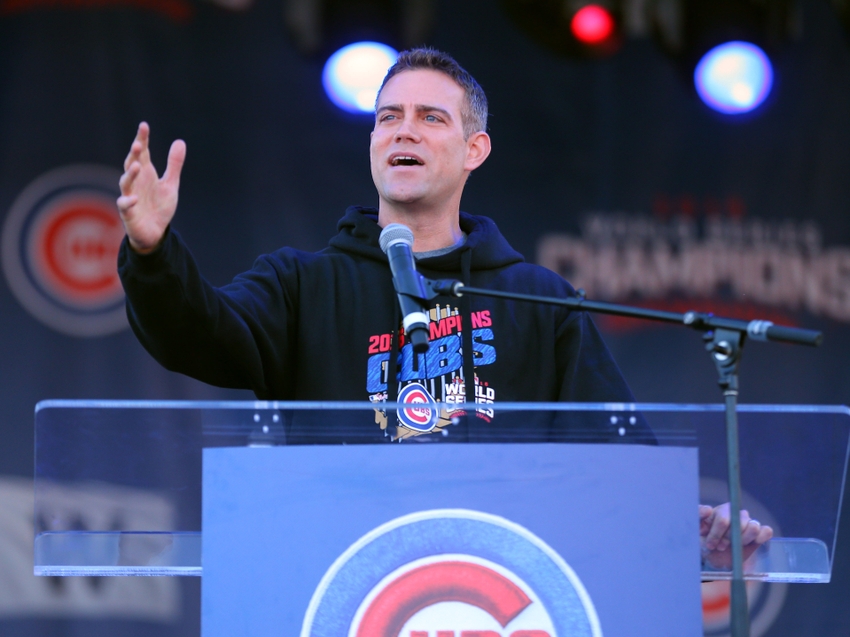 We're a few weeks out from the Winter Meetings and the Chicago Cubs will be busy, as always. Theo Epstein and Jed Hoyer have managed to land some key free agents over the past couple of years but may not make a huge splash this year.
And honestly, they don't really need to. This Chicago Cubs club is stacked with talent from the active roster down to the minor league circuit. Sooner or later, another big league star is going to make his major league debut.
Although, that may not happen for a while. We have been spoiled with the likes of Javier Baez, Jorge Soler, Junior Lake, Carl Edwards Jr., Addison Russell, Kyle Schwarber, Willson Contreras, and Kris Bryant.
While Lake was shipped off to another team, the rest of the men listed above played huge roles in the Chicago Cubs winning the World Series.
Once the 2014 campaign wrapped, Theo Epstein went out and made one of the biggest splashes in Cubs history. By signing Jon Lester, David Ross, and Joe Maddon, this club was looking to make a statement.
That's exactly what they did in 2015. Ending the year with 97 wins and the third-best record in baseball, they found themselves in the LCS. However, the New York Mets proved to be too strong, sending the Cubs on a short trip to their homes.
Bigger, Badder, Hungrier
Little did they know, the Mets woke up a sleeping giant. As a result of their elimination, Epstein, and that front-office went back to work. This time around, they landed Jason Heyward, John Lackey, and Ben Zobrist.
Yet while Heyward's bat was almost non-existent throughout the regular season, his defense earned him another Gold Glove. Lackey provided the Cubs with another postseason veteran and Zobrist emerged as the World Series MVP.
Great moves that resulted in a World Series title for the Chicago Cubs. So, what's next? Now that they are champions, the journey is just beginning. Obviously, Chicago is going to be a destination of choice for free agents across the league.
Here are a few things you should know heading into the Winter Meetings. Which takes place on December 4th through the 8th at the Gaylord National Resort & Convention Center in Maryland.
Unfinished Business, Finished
Last year, outfielder Dexter Fowler rejected a qualifying offer from the Chicago Cubs but later agreed to another deal. The reason behind it? Fowler felt like he had unfinished business on the North Side of Chicago.
From starting out as an underdog to being four wins away from the World Series in 2015 was a huge step in the right direction. As mentioned before, or we all know, the Mets had other plans in store, ending the "Back to the Future" prediction.
Just when it looked as if Fowler was heading to Baltimore, that familiar face and smile came strolling to the mound in Mesa, Arizona.
History Repeats
Now that the season is over, Fowler rejected another qualifying offer extended by the Cubs which was a little under $20 million. He is now a free agent and is seeking up to four years that could equal anywhere between $13-$17 million a year.
At least, that's my prediction. Not too crazy bad a guy who was spectacular both in the batter's box and out in center field. The St. Louis Cardinals are going to be very active this year and they may end up looking to add Fowler to their mix.
St. Louis was on the heels of the Cubs until September when they clinched the National League Central. So expect the Cardinals to make a strong push for Fowler. They could very well end up competing with the Chicago White Sox, Cleveland Indians, and a few other teams for his services.
With that being said, don't count on Fowler to make another surprise return to the Chicago Cubs for 2017 and beyond.
Arbitration Eligible
Right now, the Chicago Cubs have five men on this short list. Which isn't all too bad considering the list they had in 2015. Headlining the list is none other than 2015 National League Cy Young winner, Jake Arrieta.
Arrieta was hoping to land himself a brand new contract with a few extra zeros at the end, but he agreed to $10.7 million instead. After another great season, not to mention, postseason performances, Jake could be looking to cash in, in what is his final year of arbitration.
That means he'll end up becoming a free agent unless the front office puts together a deal that will keep him in Chicago for a very long time. His one-year deal could be anywhere between $14-$18 million — which is a lot but won't break the bank.
Other names on the list include Pedro Strop, Justin Grimm, Hector Rondon, and Munenori Kawasaki. Now, Kawasaki will more than likely be let go from the organization but Strop, Grimm, and Rondon should receive a bump in pay.
Strop received $4.4 million, Grimm, $1.2 million, and Rondon picked up $4.2 million. All of which should expect at least another million to what they earned for 2016. That'll put Strop and Rondon up to above $5 million while Grimm could sit at either $2 or $3 million.
Remember, the Cubs are looking to keep most of their bullpen together as much as they can. Which brings us to our next topic.
Gone, Baby, Gone
It's going to be a busy offseason for both Aroldis Chapman and Travis Wood. Both men are free agents and should receive decent payouts. There is a solid chance that the Chicago Cubs miss out on the two of them moving forward.
Wood was a veteran southpaw who has been with the Chicago Cubs for several seasons. At one point, he was pitching out of the starting rotation until he was demoted to the pen. That is where he started to shine, coming in and chewing up multiple innings at a time and found success in doing so.
And you can't forget his home run against the Los Angele Dodgers. Which reminded me of Kerry Wood who homered in the LCS back in 2003 with the Florida Marlins in town.
We all had a feeling that Chapman was a short-term deal. Honestly, coming to terms with that sucks considering what the Cubs gave up to acquire him. Sending away Billy McKinney and Gleyber Torres in return for the former Cincinnati Red.
While Wood should receive offers from multiple teams, the New York Yankees will more than likely be the destination of choice for Chapman. Chapman winning a World Series will land him a bigger deal with a team that could end up competing over the next couple of seasons.
How does a World Series matchup between the Cubs and Yankees sound? Starlin Castro, Torres, McKinney, Chapman on one side of the dugout. That would be one hell of a series.
Much Deserved
You can't win a World Series all by yourself. For Joe Maddon, bench coach Dave Martinez has been by his side for a very long time. The two are very close friends that were reunited with the Chicago Cubs.
With a few possible openings across the league, Martinez will more than likely end up leaving the Chicago Cubs as well. Not to our surprise considering how well he has performed under Maddon, having to step in and run the ship whenever Joe was tossed.
Even working with the guys in general.
This is something that we all should have expected from the start. Martinez has interviewed for multiple skipper positions dating back to his time with the Tampa Bay Rays. Martinez has played a huge part in the Cubs winning it all.
Before the Dodgers hired Dave Roberts, Martinez interviewed for the position. He emerged as a strong candidate to get the job but was passed up, opening the door for Roberts. Martinez, like Dave, has what it takes to led a team to the LCS and beyond.
Not to mention, earning a few Manager of the Year awards while he's at it.
If You Can't Beat 'Em, Join 'Em
What are the odds of the Chicago Cubs losing Aroldis Chapman only to turn around and sign Kenley Jansen? Well, if you're Theo Epstein, they have to be pretty high. Jansen was dominant throughout the season, picking up 47 saves and cruising through lineups in the postseason.
Jansen, who declined L.A.'s $17.2 million offer, is testing the market and could pick up the biggest contract out of everyone. Despite the Cubs eliminating the Dodgers, Jansen limited the Cubs and Nationals to four earned runs on five hits, 19 strikeouts, and five walks in 11 2/3 innings.
Yes, you guessed it, the Cubs were unable to score, little alone hit off him in three encounters. Jansen picked up the save in Game 2 of the LCS behind Clayton Kershaw's gem. His final appearance in the series came in the 5-0 loss where he hurled three scoreless innings, bringing his LCS total to 6 1/3.
Clearly, the Los Angeles Dodgers have a very good team. Not to mention, Dave Roberts won Manager of the Year. However, the Chicago Cubs could end up becoming favorites to repeat in 2017.
This could be enough to grab Jansen's attention and sway him to sign a multi-year deal with the North Siders. Totally worth losing a draft pick, if you ask me. I mean, the Cubs already have enough talent in the minor league circuit to survive a few years.
This article originally appeared on