Chicago Cubs: What's in store for Miguel Montero?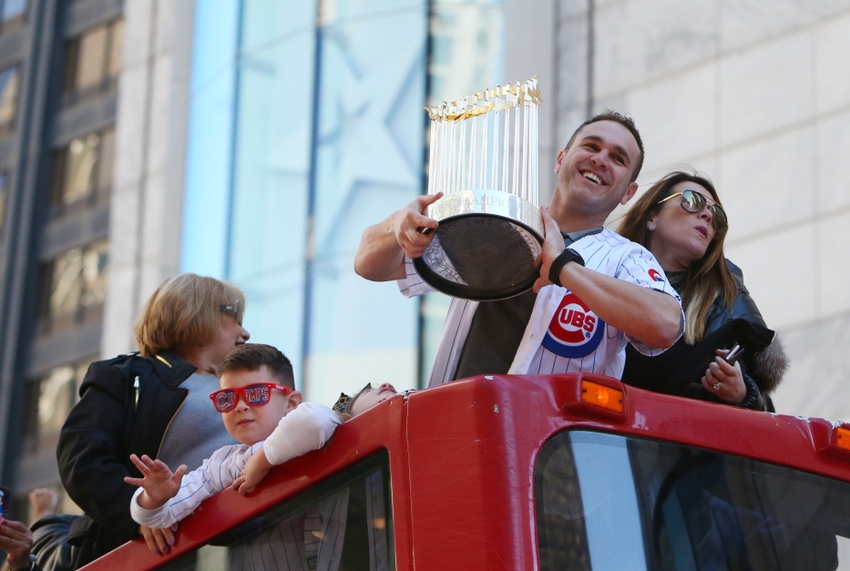 Chicago Cubs catcher Miguel Montero was a bit critical of the team's use of him in the World Series. He didn't feel they "communicated" with him what his role would be.  Joe Maddon didn't seem upset, but will this hurt his role for next season?
While the Chicago Cubs and their fans were in the middle of the World Series celebration, there was a bit of a dark cloud cast over the joy. Cubs' catcher Miguel Montero, who had a diminished role in the playoffs, made his displeasure known to the public. It's was something not many saw coming. Especially after he admitted that he thought the Cubs were going to release him during the season. 
The Cubs never gave any inkling that was the case. But Montero's "venting" to the media caught many off guard, especially skipper Joe Maddon.
"I have no idea," Maddon said on 670 The Score. "I wish he'd come and talked to me. Because I didn't realize I'd hurt his feelings. I didn't know about it. I did not. Because we had talked a lot prior to the end of the season, you go into the playoffs, I didn't really read anything negative of him coming toward me or whatever. So I'm kind of surprised with that."
So here we are. Just a few weeks after the World Series win by the Cubs. Maddon seems more curious than upset. Montero gave no ultimatums or anything of that sort. But you have to wonder, is this going to affect Montero's role going into the offseason? This Cubs organization doesn't tend to let things like this stew. And Maddon and Montero may have already spoken about this and buried it.
The remaining veteran presence behind the plate
But Montero has one year left at $14 million. Willson Contreras has clearly moved to the top of the catching totem pole in Chicago. And then there's always Kyle Schwarber. He's going to likely continue in that part-time catcher role. But, would the Cubs be confident in him as their backup? Not likely.
And the "next" top prospect at the catcher position is Victor Caratini. He had a solid season at Tennessee in Double-A, batting .291 (120-for-412), six home runs and 47 RBIs. He's a converted third baseman that is splitting time between first base and catching. Caratini is much more developed behind the plate when compared to Schwarber, but nowhere near Contreras. And not to forget, having a veteran catcher–even in a backup role–is a smart thing to do.
The Cubs knew what they were getting into when they took on Montero's salary. But even if they went to the extreme and released him, it wouldn't help much. There just simply isn't much money to spend this winter. Montero's release would hurt the team more than it would help it.
The Cubs acquired Montero for his offense, which was mostly absent this season. But in September, he found that swing that has made him a two-time All-Star. He slashed .283/.353/.546 with three home runs and seven RBIs. Add to that his grand slam in the NLCS and his RBI single which proved to be the deciding run in Game 7 against the Indians? He may have enough left in the tank to prove valuable.
Schwarber will indeed catch next season, but how much is to be determined. Aside from that, the Cubs love versatility. Having two catchers that can play other positions simply gives Maddon more options. I wouldn't expect to see Montero anywhere else but Chicago–unless he ends up part of a blockbuster deal during the winter. But even then, whatever team gets him would expect the Cubs to pick up most of his $14 million.
This article originally appeared on