Chicago Cubs vs. Cleveland Indians Game 7 Recap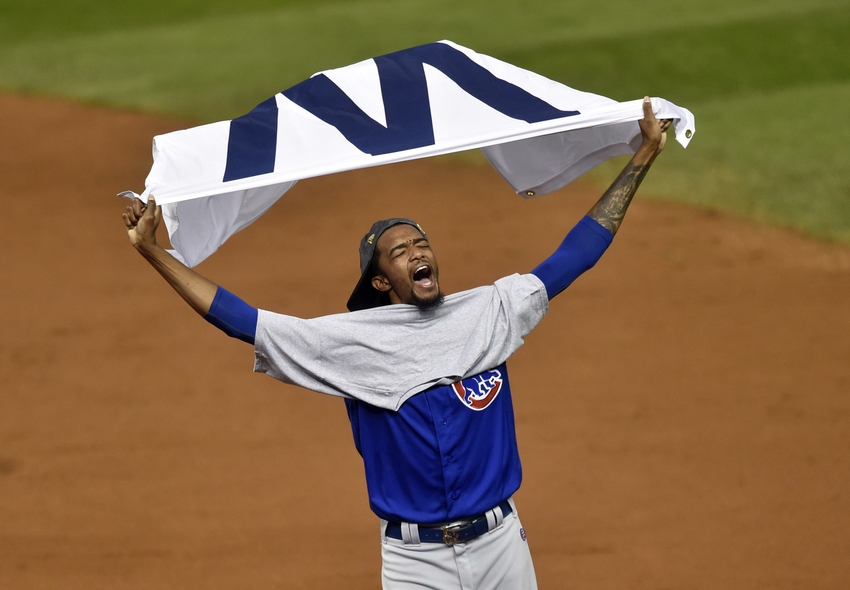 The Chicago Cubs are World Series champions. They broke the 108-yearlong standing curse of the Billy Goat.
History was witnessed on Wednesday night as the Chicago Cubs fought of a resilient Cleveland Indians team. The Cubs were down three games to one and came back to end the 108-year championship drought with an 8-7, 10-inning win in Game 7 of the World Series over the Indians.
This game was one of the greatest all-time and it started with a first inning leadoff home run by Dexter Fowler off of Corey Kluber. His home run was the first Game 7 leadoff home run in World Series history.
.@DexterFowler out here making #Game7 history. pic.twitter.com/n7MwVPjxMt

— MLB (@MLB) November 3, 2016
However, the Indians didn't take long to tie things up against Kyle Hendricks and the Cubs. In the third inning, Coco Crisp led off with a double, was moved to third on a sacrifice bunt by Roberto Perez, and then scored on a Carlos Santana RBI single to right field.
The 1-1 tie also didn't last long. In the fourth inning, Kluber ran into more trouble by allowing a leadoff single to Kris Bryant. Anthony Rizzo followed it up by taking a pitch off the elbow and then Ben Zobrist hit into a fielder's choice, sending Bryant to third. Addison Russell flew out to Rajai Davis, allowing Bryant to score on a sac-fly despite a close play at the plate. Starting catcher, Willson Contreras, then followed it up with a deep double to score Zobrist and give the Cubs a 3-1 lead.
SAFE! Under the tag! #Game7 pic.twitter.com/ausiWLqXCQ

— MLB (@MLB) November 3, 2016
In the fifth inning, the Cubs decided to score a few more. Javier Baez hit a home run that chased Corey Kluber out of the game. He was replaced by left-handed star reliever Andrew Miller. Miller ended up allowing another run after walking Bryant and allowing an RBI hit to Rizzo. It was now 5-1.
However, the Cleveland Indians bounced back slightly in the bottom of the fifth. Cubs starter Kyle Hendricks got the first two outs but then walked Carlos Santana before being replaced by Jon Lester. Lester got Jason Kipnis to hit a weak ground ball up the third base line but David Ross threw the ball away past Rizzo and into right field. After Ross's throwing error, Lester threw a wild pitch to Francisco Lindor that bounced up and struck Ross in the catcher's mask, stunning him. The ball deflected away into no-man's land and both Indians' baserunners scored making it 5-3.
Never. Stop. Running. #Game7 pic.twitter.com/UDaiZeAQTN

— MLB (@MLB) November 3, 2016
The Cubs responded quickly and Ross redeemed himself by hitting a solo home run to center in the top of the sixth inning off of Miller. Chicago led 6-3.
Say goodbye, @D_Ross3. #Game7 pic.twitter.com/lJLblgpvlB

— MLB (@MLB) November 3, 2016
Lester pitched into the eighth inning before giving up a single to Jose Ramirez. With a runner on first, Aroldis Chapman entered the game to face Brandon Guyer. Guyer doubled to right center which scored Ramirez and cut the lead 6-4.
Rajai Davis was now up to bat with two outs and two strikes against him. Davis, who had 12 home runs during the regular season, tied the game at 6-6 with a line drive home run that just barely got up over the wall in left field.
Rajai. Davis.

Cleveland. Legend. #Game7 pic.twitter.com/PptzTVwcu5

— MLB (@MLB) November 3, 2016
The ninth inning went by scoreless and the game was headed to extra innings. There was a brief rain delay before the tenth inning began which only extended everyone's anxiety. Ben Zobrist and Miguel Montero both seemed unaffected by the delay or by nerves as they both had RBI hits in the 10th putting the Cubs up 8-6.
After Chapman's underwhelming display, Carl Edwards Jr. came in to pitch the tenth inning and attempt to earn the save. He got two quick, easy outs but ended up walking Guyer who later stole second. Rajai Davis was at the plate…again. Davis again brought the stadium to life with an RBI single up the middle.
Edwards Jr. was then replaced by Mike Montgomery to get the final out. Michael Martinez, who came into the game earlier for Coco Crisp, was up to bat but failed to get the ball out of the infield. Bryant fielded a weak grounder and threw the ball to Rizzo for the final out of arguably the greatest Game 7 ever.
The Chicago Cubs are champions for the first time since 1908 and have ended their 108 year drought. The Indians, however, will have to wait until next season to try and end theirs. They haven't won since 1948.
More from Call to the Pen
This article originally appeared on