Chicago Cubs: Valuing the legend of Kyle Schwarber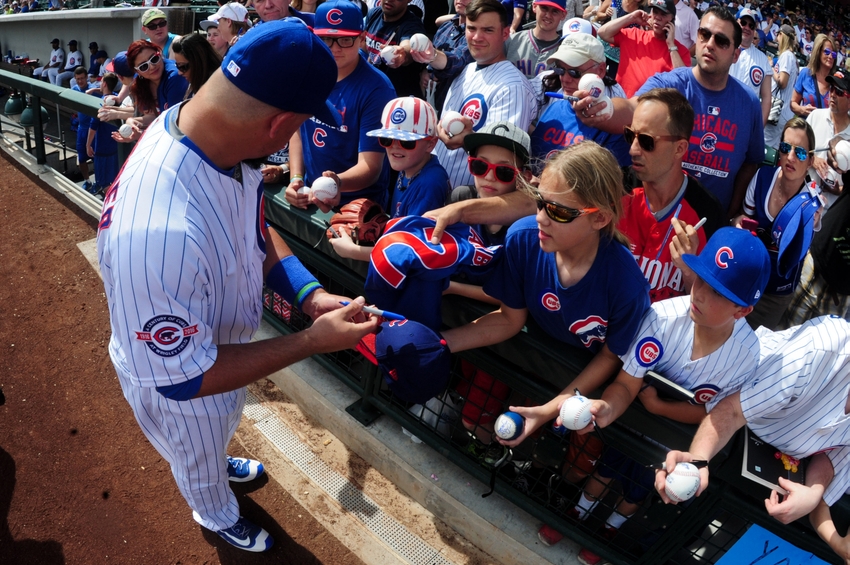 Businesses (in this case, the Chicago Cubs) quantify the value of an employee by weighing their productivity against the direct and incidental expenses assumed during employment to arrive at a net worth.
Essentially, this is a question of "what have you done for me lately?", versus "what can you contribute to my future?" In the case of Kyle Schwarber and the 2016 World Series Champion Chicago Cubs, this expression doesn't favor the young slugger.
Both the game of baseball and the business of baseball rely on numerical expressions to generate value. Both the fan and Front Office employee rely on such expressions to deduce a player's perceived value from their real value.
Lately…
If I told a fan about a 22-year-old who slugged .487 and had an OPS of .842 in the first 72 games of his major league career, they'd be interested for many different reasons than someone in an organization's Front Office.
There is no denying that Schwarber's offensive numbers are the crutch of his real value. No team would encase a home run ball hit onto one of their sponsorship signs if this wasn't the case.
Six months after tearing both his ACL and MCL, Schwarber returned to the Cubs for the biggest series of the franchise's modern history. He slashed .417/.417/.971 in 17 at bats during the 2016 World Series, collecting eight total bases, seven hits, and two crucial RBI.
Even with the buffet of offensive stats to base a solid argument for his real-value, Schwarber's defensive play is the normalizing factor. The National League necessitates a manager play two-way players because the pitcher hits for himself. Only in interleague play could we measure Schwarber's everyday offensive input. Otherwise, he's a very talented platoon player.
He spoke in September about wanting to continue catching when he returns full-time. Even with his powerful lefty bat, the successes of Willson Contreras, may limit Schwarber's appearances to once a week.
Future…
If Schwarber is willing to cede an everyday role for a rotational spot, that speaks volumes of his value as a teammate. Consequentially, it limits his statistical input, which is in turn used to value contract extensions and trade value.
Mike Petriello of MLB.com recently wrote an article considering how a Schwarber trade could bolster a soon-to-be questionable pitching staff.
"Jake Arrieta and John Lackey are free agents after 2017, and Jon Lester, as great as he is, turns 33 in January," Petriello writes. "The Legend of Schwarber is at an all-time high, and the Value of Schwarber may never catch up."
Diving further, Petriello suggests that Schwarber's value would be maximized if he was traded to an America League team for a young star like Chris Archer or Chris Sale. This would give the team controlled long-term assets to compliment Kyle Hendricks.
This argument demonstrates the basic tenants separating real and perceived player value. The story of Kyle Schwarber is much more developed than his statistical qualifiers in his current situation.
Value in Chicago
Part of running a business is capitalizing on the value of your assets. However, value is a market-driven quantification. So, when speaking of value, one must ignore discussing quantifiable conditions. Instead, focus on what bears a difference in the market itself.
Schwarber is immensely important to Chicago because of his mythic existence in the hearts of the Cubs fan-base. He embodies everything that sports teaches: strength, enduring will, and the importance of Team.
And thus, has a story-line which transcends the baseball diamond and is easy to sell to a family-oriented consumer base. This kind of story is one that resonates and builds interest for baseball for generations.
Because of the value, Schwarber brings to the Cubs, a trade seems unlikely. Even more unlikely is a deal going one-for-one for Schwarber. But, as Theo Epstein has stated, he doesn't believe in true untouchables.
This article originally appeared on