Chicago Cubs: This World Series Championship is more than just a trophy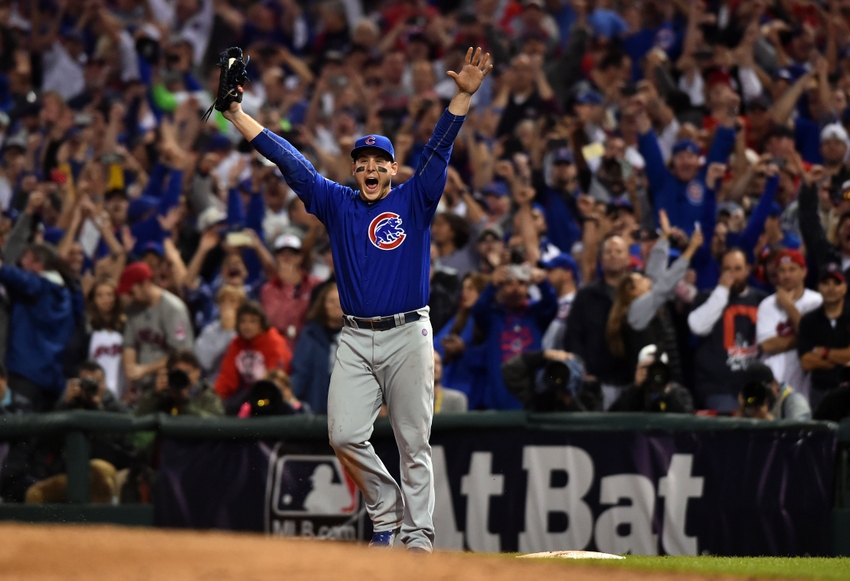 Normally, this is where you'd find the Chicago Cubs recap for the night's game. But this is more than a recap. It's a celebration that has been 108 years in the making. And tonight? Chicago isn't going to sleep.
Let me start by saying congratulations to the Chicago Cubs, 2016 World Series Champions. This ride has been..it's been something else. And I'll follow that by saying that as a fan, I am emotionally drained. I can't imagine what it's like for the players. As I sat on the other end of the television screen watching the ups and downs of this game? I'm simply spent. I'm hoping that the Cubs sick not for today is legit because I'm going to need it.
This game left me on the highest of highs, but at times I broke from my "Trust in Joe" mantra. The removal of Kyle Hendricks early after a walk (which was a strikeout). Leaving Aroldis Chapman in beyond where I thought he should be. Taking out Willson Contreras to put in David Ross. That move quickly paid dividends, though. In the end? I should have simply trusted in Joe Maddon. For the last five years, I pushed for Cubs' fans to trust the plan. It's wasn't always easy, but the payoff was WELL worth it.
Just like the regular season, players had their highs and lows as well. After winning the NLCS co-MVP, Javier Baez was missing in action for most of the World Series. Then he hits a solo home run tonight. Dexter Fowler? Hits a lead-off home run and goes 3-for-5. But the man of this series was Ben Zobrist. The addition of John Lackey and Jason Heyward garnered most of the press last winter. It was an exciting signing, but people seemed to dismiss it as a "utilityman" type signing. Well, turned out to be a little more than that.
And the comeback kid in Kyle Schwarber. He gets an honorable mention from me for Series MVP. His four games in Cleveland were huge for the Cubs. The kid hadn't played since April and hit .412 in the World Series. Honestly, the best thing that happened for the Cubs was heading back to Cleveland. Of course, I wanted to see the Cubs win in Wrigley–but the pressure was evident, even if no one admits it.
Not a single starter went five innings for either team. Maddon continued to mix and match. He became quite dependent on Jon Lester and Chapman, and it almost backfired. But just like most of this season, the Cubs battled back. After Game 5 at Wrigley Field, it all changed. The last two games of the World Series were amazing, but the Cubs won this in Game 5.
This win was for more than just this team and this generation of Cubs' fans. It was for those before us who brought us into the family. For the ones who never got the chance to see the Cubs win. It was for fathers, mothers, grandparents, sisters, brothers and everyone who has bled Cubbie Blue at some point in their life.
This was the best I could give you right now because I'm still in shock–a good shock–that the Cubs are World Series Champions. Tonight, we get to enjoy this moment. To take that mental picture to always have with us. The stories we tell our kids won't be about the '69 Mets or Bartman–it'll be about these Cubs. And the series that they trailed 3 to 1–and went on a three-game winning streak–again–to be able to call themselves champions.
To the Chicago Cubs, their fans–bandwagon ones too–enjoy this moment. It's the last time you get to #FlyTheW until next year. Such a sweet joy that is.
This article originally appeared on