Chicago Cubs: The new CBA and what it means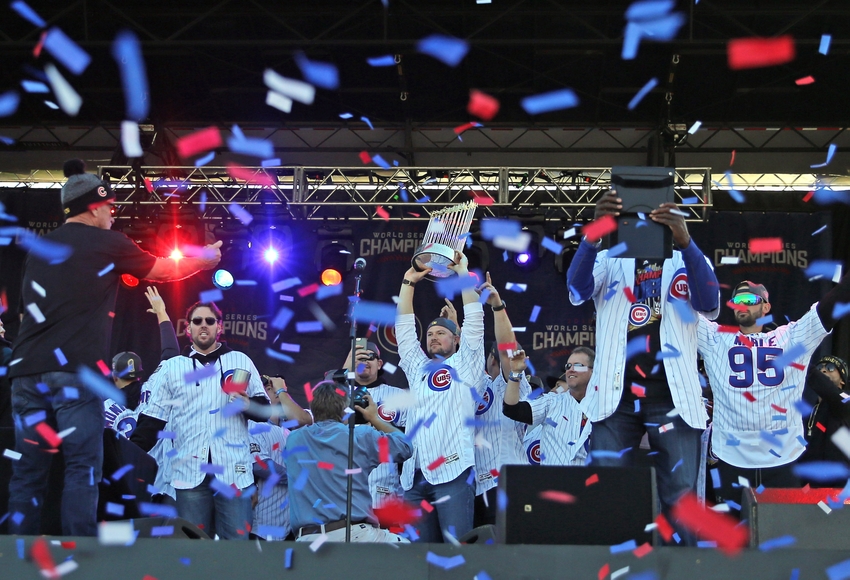 MLB and the MLB Players Association agreed on a new collective bargaining agreement on Wednesday night. With MLB avoiding a work stoppage, how does the new CBA affect the Chicago Cubs?
We already knew that the biggest topics for debate were the qualifying offer system, international draft and luxury tax thresholds. However, two changes were made that were less talked about but are changes that the Chicago Cubs will like.
The first big change is that the winner of the All-Star Game will no longer decide home field
advantage in the World Series. With the Chicago Cubs expected to be one of the best teams in baseball for the next several years, this is huge for the Cubs. The Cubs benefitted from not having home field advantage this year. However, most teams want the home field advantage. Back in 2003, then-commissioner Bud Selig made the All-Star game determine home field advantage to avoid a repeat of the 2002 All-Star Game. That game ended in a tie because both teams ran out of pitchers. This will likely mean less players will actually want to play in the game, since it means nothing. The players risk getting hurt if they play in the game.
Secondly, the disabled list is shrinking from 15 days to 10 days. This will be a change that will take some time getting used to but will see more players on the DL. This benefits the Cubs because now when a player has a day to day injury, they could place him on the DL right away. That allows the Cubs to get the extra player.
Other tidbits
The qualifying offer remains but it's no longer tied to the first round draft picks. The rules are little complex. Without going into to much detail, the Chicago Cubs would only lose a third round draft pick now. Since the Cubs are under the luxury tax threshold, only having to give up that third round pick. Additionally,  a player is only eligible for a qualifying offer once. This rule won't take effect until next offseason.
Also starting in 2018, the seasons will be lengthened by five games. The schedule will be increased by five games. This should hopefully eliminate the twenty-four game stretch the Cubs had to play in 2016.
Other things like the luxury tax threshold (increasing to $195 million) won't affect the Cubs for at least a few years. International draft spending is also set at $5-6 million per year. The Cubs will likely be on the lower end of that since they are a high market team.
There is obviously a lot more regarding the CBA. You can head over to mlb.com to get the full information as it becomes released.
This article originally appeared on