Chicago Cubs: Sports history could unfold before our very eyes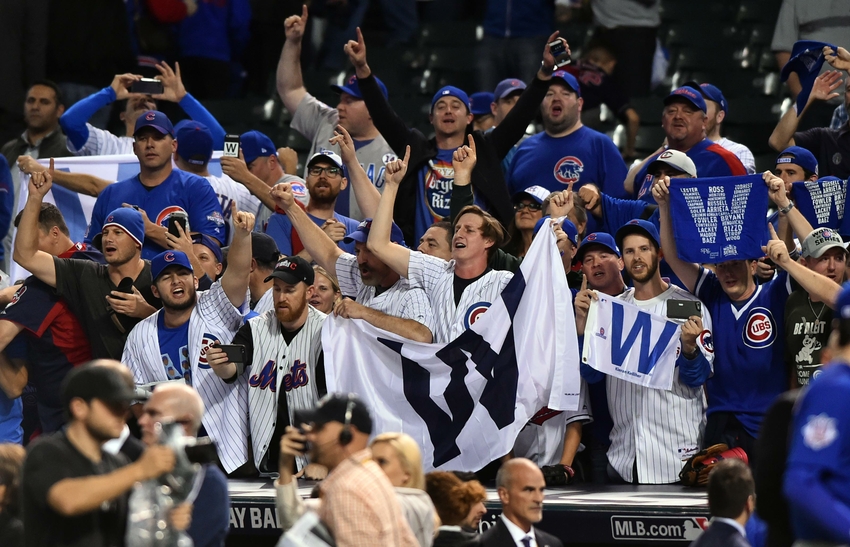 The moment has finally arrived.  A moment many Chicago Cubs' fans felt they would never live to see.  Game 7 of the World Series will take place tonight in Cleveland.
Can the Chicago Cubs finally exercise their demons?  They'll have that chance tonight.  The Cleveland Indians and Chicago Cubs have gone a combined 176 years without winning a championship.  One team's drought is going to end tonight.  Another will continue to live on.
Game 6 was filled with excitement.  From Kris Bryant getting things started early with a solo shot in the first, to Addison Russell becoming the first Cub to hit a grand slam in the World Series.  Jake Arrieta looked sharp once again, getting the win for himself and his team.
Now it's up to Kyle Hendricks.  A 26-year-old right-hander who exceeded everyone's expectations in 2016 by winning the NL ERA title (2.13).  That success has carried over into the postseason for Hendricks, as he's helped his team get to this point.  Any kid whoever played baseball growing up has dreamed about being in a moment like this.  And now Hendricks gets to live that moment.  Can he out-duel Indians' ace Corey Kluber?
Historical significance of this Game 7
It can't be stressed enough how huge this game is.  Not just for the Cubs, not just for baseball, but for sports as a whole.  This will be one of the greatest games, if not the greatest game in sports history.  It has that potential, anyway.
I would not be surprised one bit if this game becomes the most viewed game in MLB history.  The Ottoman Empire still existed the last time the Cubs won the World Series!  Tonight they have a chance to erase all the 1908 jokes and eradicate their reputation as "lovable losers."
It's not a whole lot different for Cleveland, either.  A sports town that has had nothing but bottom-feeding teams for decades now has a chance to win a second championship for the city in the last year.  Their 68-year drought doesn't hold a candle to the Cubs' 108-year drought, but it's still significant.
Fan reaction
People have literally waited an entire lifetime for this day to come.  Cubs' fans have proven themselves to be some of the best in sports.  Through all the down years, and there's been plenty of those, fans stood by their team.
It's nothing short of amazing that a team with such a deep history of losing has managed to create and maintain a fanbase of true die-hards.  You wouldn't be able to say the same for a lot of other professional sports franchises across the US.
No matter what happens tonight, this series has been an absolute joy to watch.  It will undoubtedly go down as a classic.  It's been filled with just about as much tension and drama as one could hope for.  One thing is certain; the fans deserved this.  Win or lose, Cubs' fans got to see their team push it all the way to Game 7 of the World Series.
I wanted to know what Cubs' fans were thinking prior to this monumental Game 7.  Here's what they had to say:
@adammcginnisFS I think the cubs bats stay hot.Maybe not 9 runs but 5-6.Remember its the 3rd time seeing kluber in 8days.Kyle does his thing

— Garrett Tinsley (@ItsjUstG_05) November 2, 2016
@ItsjUstG_05 @adammcginnisFS Ideal: scratch across a couple off Klubs and let Kyle/Lester do their thing.

— Erik Mauro (@mauro_erik) November 2, 2016
@adammcginnisFS I really don't know what to think. I can't help but remember that it was a game 7 in 1945 that didn't go the Cubs' way

— Cathy Y (@grlnxtdr29) November 2, 2016
@adammcginnisFS I'm thinking @kylehendricks28 pulls a gem out of his hat. Maybe 6 innings 1 run. @Cubs win 3-1. Yes JHey 2 run double late.

— NL Champions 1More (@sincityroofr) November 2, 2016
@adammcginnisFS so glad and proud of this ride the team has put on. It's been successful either way tonight but man please let it end w/a 🏆

— Cubs NL Champs '16 (@SCFATL) November 2, 2016
@adammcginnisFS Not sure what to think… Know what I want, not sure what I'll get!!! Think I'll enjoy last night and just see what happens

— Everything Niners (@Ninerfan4Martin) November 2, 2016
@adammcginnisFS can you not sleep too?! Lol but man I got a good feeling, it was just awesome that we got to this point, I'm proud of them

— moffy (@Moffy143) November 2, 2016
@adammcginnisFS warriors blew a 3-1 lead so go Cubs

— Zach Gray (@zgray429) November 2, 2016
@adammcginnisFS If Cleveland loses this game, Cubs promise to lose the next TWO games to them. * #Bargain

* Spring Training Games Count

— (((Mike McElwee))) (@MJMcElwee) November 2, 2016
It's time to Fly the W one last time.  Eamus Catuli!
This article originally appeared on